Communication has always and will always be the stronghold of any form of connection. Any form of communication, including hot things to say in bed to a man, shouldn't be overlooked.
In a relationship, everything should be up for discussion; career, finances, even the bedroom, and today we will be all about the communication that goes on in the bedroom.
In a few words I will be discussing with you a few things to say in bed to turn him on; by him I mean your man. There are hot things to say in bed to a man but how and when you say it is what determines if it works for you or just makes you look dumb or weird in his eyes.
A little naughty here and there when it comes to communication in the bedroom is not only focused at your partner and how we can get them doing what you want but it is also about your needs and what you enjoy doing.
It is all about mutual experiences and satisfaction and some of the benefits could be the fact that it leads to wonderful foreplay due to an increase in sensual tension which can resonate with better and longer lovemaking.
Talking dirty will always be a difficult task because some things work for some people and some things don't. Even when you find what works, mood and timing become factors to determine the effectiveness of whatever you are trying to do.
It then has to do with the right tone, facial expression, and body movement. It is just like say 'I am about to come' to your man without the eyes rolling and sheet grabbing – nobody is going to believe that.
So while many of you may already see the value in adding some dirty talk to your relationships, the hardest part is always going to be trying to figure out the right way to start the whole process and make it work exactly how you've programmed it in your head.
There are so many different scenes you can find yourself needing to use one or two naughty lines just to build up the sensual tension and turn your man on. The key is figuring out the right kind to say to your man at the right time.
Loudly asking him if he can make love to you or saying you are aroused during Christmas lunch at your parent's house is not a good idea but at the same occasion, it's going to sink in more if you rest on his shoulders and whisper sweetly into his ears, "I think you should know that my thighs are itching and pant is dripping".
This is just a little demonstration to show you how complicated and delicate the process of word and tone selection is to turn him on.
I have broken down my 30 hot things to say in bed to a man and freaky things to say to your boyfriend into four categories.
30 Hot Things To Say In Bed To A Man To Turn Him On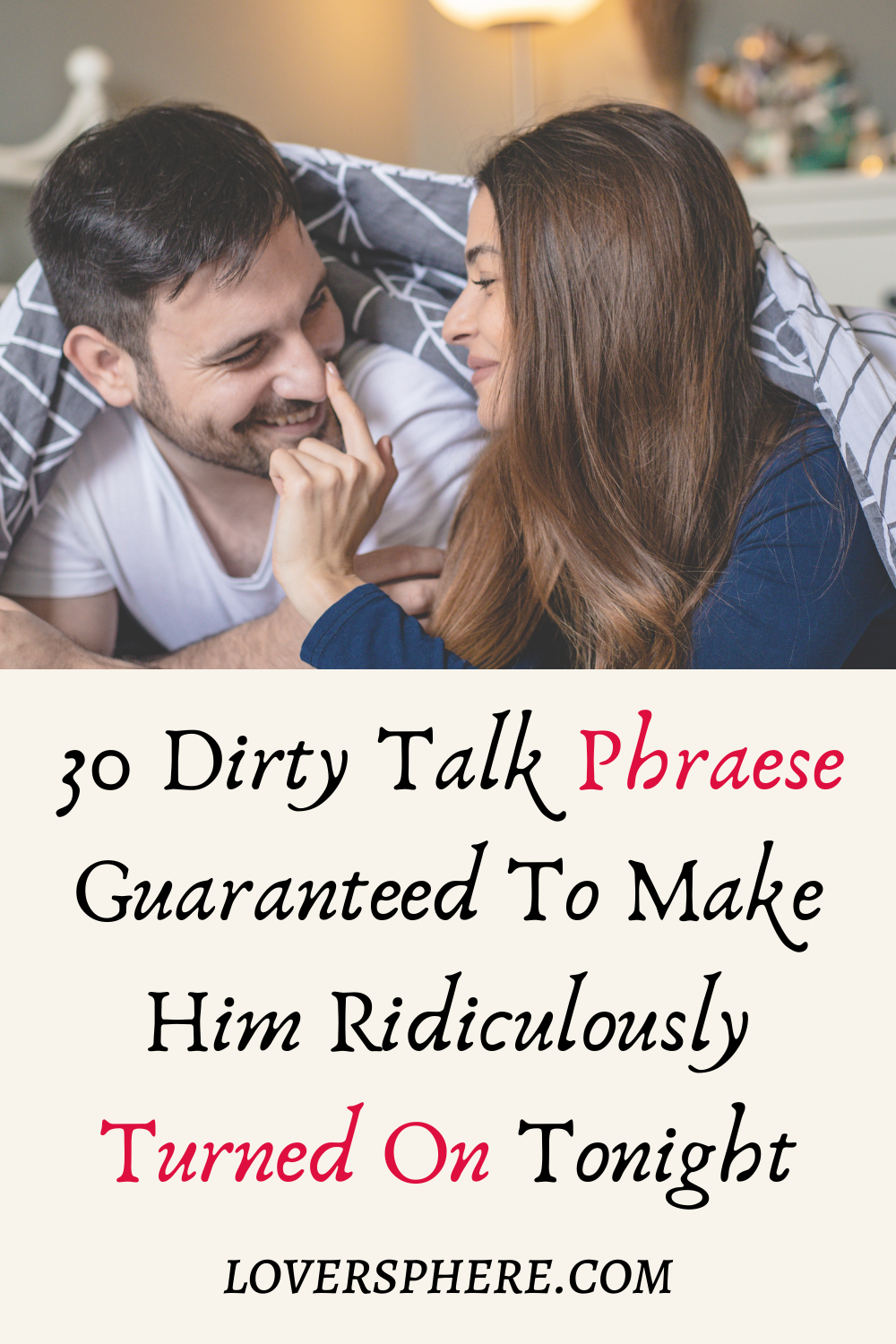 Things To Say In Public
This first category of hot things to say in bed to a man is for times when you are far from home or lack the privacy needed for some naughty play.
With this, you have to be as discreet as possible because none of us would like your man to get a very visible boner out in public (it is going to be disrespectful to himself and the event).
However, if you are out on a family dinner, if he takes you to a party at his office, if his boys are over for the big game on Saturday or he is just at work, below are a few of the naughtiest things to say to a guy.
This category could also work if you are in a long-distance relationship, you can also have a lot of fun with your man with the right words.
Making love through the phone can make for an excellent replacement, and this dirty talking is surely a way to make sure it is an amazing experience.
1 .  Can't wait to show you what I am wearing under this gown, I think you will like it – it is your favorite color.
2.  Can we go home, so I can pleasure you in ways you didn't think existed.
3.  I think this feeling will make me fall sick if I wait any longer, I need you back home immediately.
4.  I love touching myself to your voice on phone but what I would love right now is you in between my thighs.
5.  I can't concentrate at work; all I am thinking about is how you made me feel last night.
6.  If you don't stop looking at me like that, we are going to have to go somewhere private.
7.  If this wasn't your parent's house. I swear I would be on my knees now with you in my mouth
8.  But why am I always so around when there are people around us?
9.  I wish we were home, I would have done terrible things to you.
Things To Say To Turn Your Man On
Now, your magic has worked and he is home – what do you do to make sure you get what you are entitled to?
There are a lot of hot things to say in bed to a man but you have to be careful because you are not actually in bed yet.
He probably just finished the food you served him at the dinner table or he just got back from work. Maybe you are seeing a movie on Netflix, playing some card games, or talking about some random issue on your front lawn.
The tone for this mood depends on him, some men love spontaneous women, so going straight to the point here won't be a problem whereas some want to be warmed up before anything happens. When you find yourself in such a position look below for some of the hot things to say in bed to a man;
10.  Looking deep into your blue/green/brown eyes makes me weak at the knees.
11.  Boy, you look so fine in that suit – almost makes me want to rip it all apart.
12.  Would you let me cook your breakfast wearing only that red lingerie you like and a pair of heels?
13.  You know pleasing you is my only purpose for life – do whatever you want with me, I am yours forever.
14.  Why can't we just quit our jobs, live together, and make love to each other all day, every day.
15.  Honey, I am going to take a shower now – what do you want me to wear to bed tonight?
16.  I feel so tiny yet so safe in your arm.
17.  Can you help me with something in the bedroom and?
18.  I am thinking of a number between zero and twenty, you have five guesses – guess the number and win yourself a wet and sloppy head (no matter what his fourth guess is, that is the number).
19.  You know I am not wearing anything under this nightgown, right?
What To Say To A Man When Making Love
The first room when talking dirty to your man would come to play is on the bed. Do you know what to say to a man in bed to spice up the bedroom? Try out some dirty things to say to your boyfriend!
If you want the bedroom to be a few degrees hotter, then make it a hobby to always say something dirty and naughty to him but I must warn you – this is no magic, you can't just wake up on the day and begin to sound like a passionate lover when you haven't been doing it before. It comes out as weird instead of it being sweet and romantic.
So, I would suggest that you start with slightly tamer phrases and build up to the filthy stuff over time. Whenever you tell your man anything while in bed, the goal should be to increase his level of arousal, boost his confidence, and make you feel good in a way.
When dishing out these phrases and sentences, I would advise that you try to be honest, be precise, keep it short and sweet.
Talking dirty isn't just about saying naughty things to your man; being more sensual also works well as a very good way to spice things up during lovemaking. Some of the things to say while making love to a man includes;
20.  I want to see all the magic tricks your tongue can perform.
21.  I can't wait to feel all of you inside of me.
22.  Lie down and shut up; do not say a word, just enjoy.
23.  Damn boy, you are huge and you taste so good.
24.  Tonight, it is all about you, my king.
25.  That feels so good, please don't stop.
What To Say To A Man After Making Love
You are lying next to him after an intense lovemaking session and you are wondering what to say to a man after making love.
If you want another round of explosive lovemaking or you just want to make sure tomorrow morning lovemaking is as explosive as this then you need to drop a word or two words to feed his bedroom confidence and ego.
There are so many hot things to say in bed to a man but post lovemaking should be more of a complimenting and reminiscing moment. Below are a few of the phrases that can suffice;
26.  Feeling you overpower and dominate me like that felt so hot.
27.  When you did that thing, you did with your tongue; I almost exploded with pleasure.
28.  I don't think there will ever be anything better than watching your face while you bring me to climax.
29.  This is honestly the best climax I have ever had.
30.  It was amazing when you…… (highlight a moment from your last intercourse).
It has been a fact that talking dirty is a man's thing but I think this is becoming a factor against us women. Men prep you up with their naughty talk and you end up satisfying them while leaving yourself unsatisfied.
Think about it for a second without looking at with from a biological point of view, this may be another reason why men reach climax faster than women?
It may be a factor and there is no harm in trying – so when next you want to get them with him, do not forget the hot things to say in bed to a man.
Quick Summary: Hot Things To Say In Bed To A Man
Like I said earlier, 'saying' doesn't just cut it – it is in your tone and the body movement that follows the words.
I have given you a list of 30 hot things to say in bed to a man, categorizing them based on the four most common situations you may find yourself but the truth is, what tickles the right places for Tom may not be what does it for Jerry – because of this, I have created some sort of guide to help you create your very own phrase or sentence to use on him.
First, I would have you question yourself, what turns you on about him (his smile or his butt), it can be anything weird, use things as your base when thinking of the phrase – letting him know how you feel about that particular body part.
This in a way makes him feel good and also makes him subconsciously fluent that body part or do that thing that turns you on which as the words state will turn you on and get you ready also for action.
Then, you give him some information regarding your immediate future, tell him what you plan to do to him (works better with whispering).
By this time, his imagination is in your hands and the remote control is your words – tell him what he would have to do to make you reach climax right now, let him play the full movie in his head before he gets the chance to act it out.
Lastly, when he is finally at it don't shrink into your shells with pleasure and turn mute. Tell him what to do and when he does it, do not hold back on yourself – scream if you have to, squeeze the sheets and beg him not to stop.
I know these words are already making you want him, so let's do it this way – is he home? If he's not, then call him and use your newly acquired superpowers to bring him home.
If he is, then it is time to get dirty with your words. Don't close this tab, when you finish, I would love to see your feedback in the comment section. Enjoy!!!
You can check out Ways To Spice Up Your Marriage, Things A Man Wants From You, and 7 Activities The Happiest Couples Do On Weekends for more spice. Ciao!
Pin this for later!