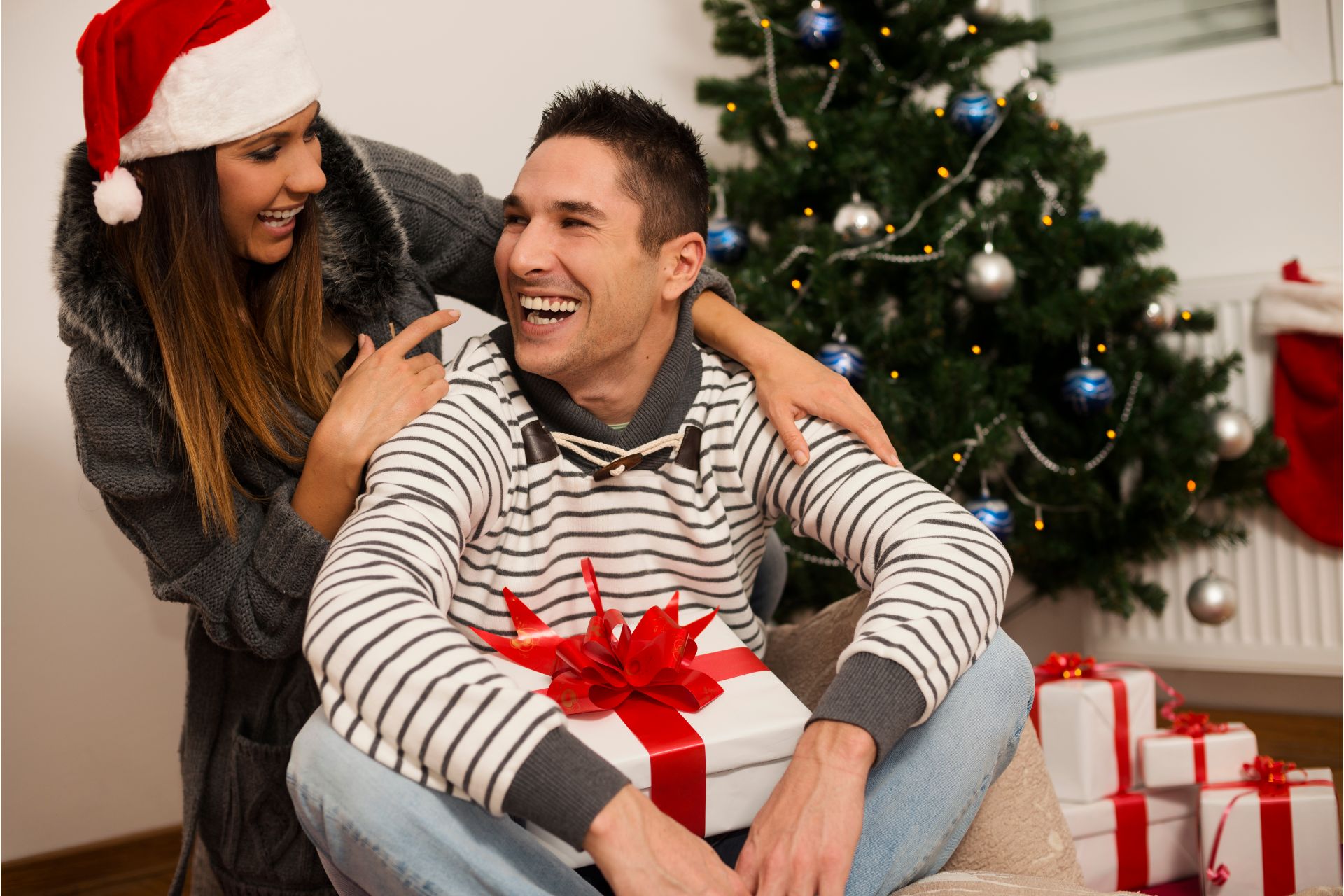 Christmas date ideas.
Christmas is a time of joy, love, and togetherness, and what better way to celebrate the holiday season than by partaking in delightful activities with your significant other?
Whether you're newlyweds or have been together for years, Christmas offers a fantastic opportunity to create lasting memories and strengthen your bond. From cozy traditions to outdoor adventures, there are numerous Christmas date ideas that couples can enjoy together.
In this blog post, we'll explore a variety of fun Christmas activities for couples who are looking to embrace the holiday spirit.
What Should I Do On Christmas Day For A Date?
On Christmas Day, there are several activities you can do for a special date, some of which are cooking special meals together, exchanging personalized gifts, watching Christmas movies, and going for a Christmas walk. These Christmas activities are sure to keep the spark alive.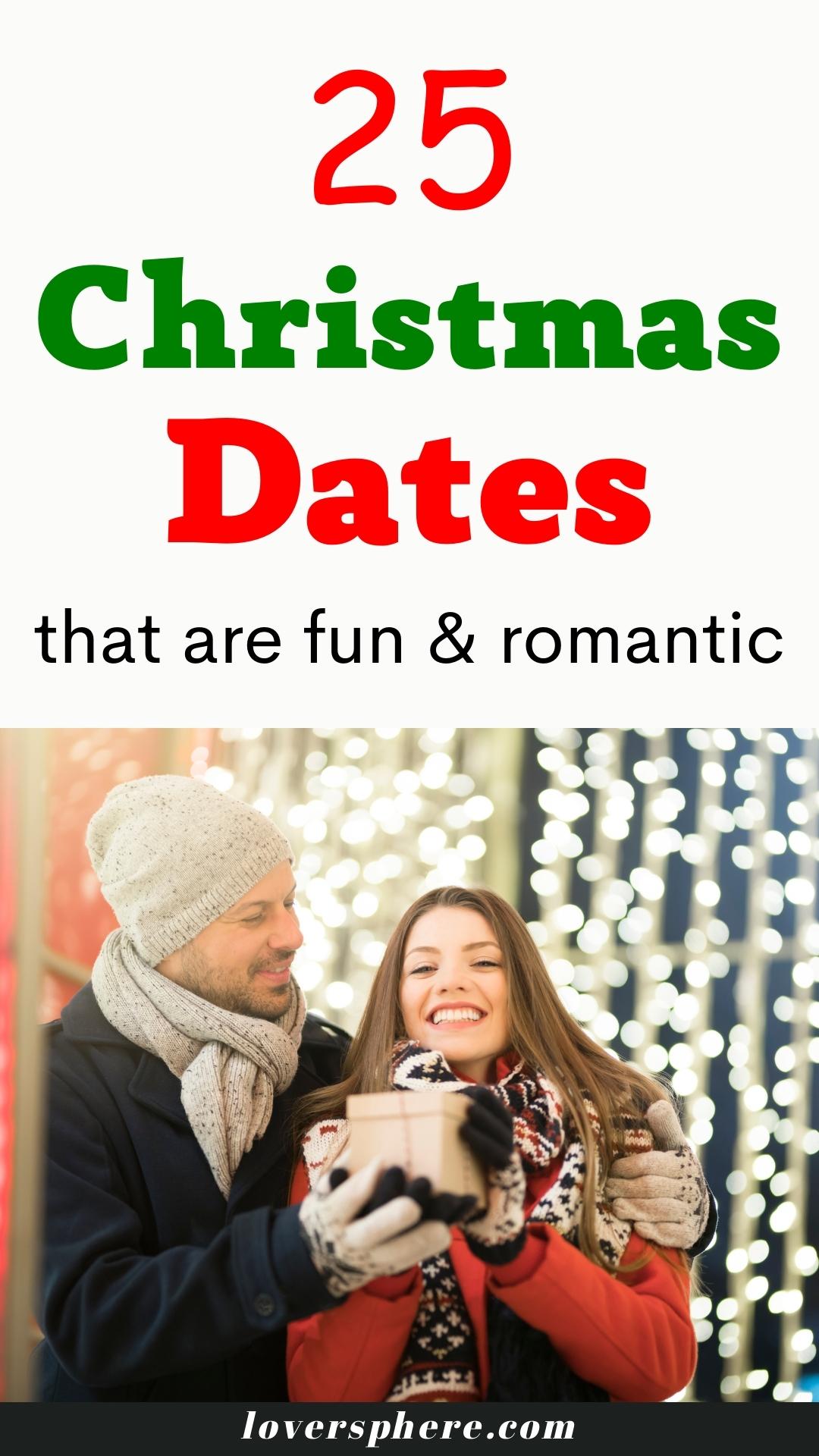 25 Cute, Romantic Christmas Date Ideas For Couples
The most important aspect of a Christmas Day date is to spend meaningful time together, appreciating each other's company, and celebrating the spirit of the season.
Here are the best Christmas date ideas for couples, and I would advise you to choose activities that resonate with both of you and that would help you create a special atmosphere of love, joy, and togetherness.
Cute Christmas Date Ideas
These cute Christmas date ideas are filled with joy, laughter, and the spirit of the season. Whether you're capturing memories with a Christmas card photoshoot, gliding on the ice together, searching for the perfect tree, or shopping for gifts, these Christmas activities for couples create opportunities for connection, playfulness, and creating cherished memories with your partner.
1. Christmas Card Photoshoot
Get into the holiday spirit by organizing a Christmas card photoshoot with your partner. Choose a festive location, such as a park with twinkling lights or a cozy indoor setting decorated with holiday props.
Dress up in matching or coordinated outfits that reflect the season. Use a camera or even your smartphone to capture adorable and memorable photos together. These pictures can be used to create personalized Christmas cards to send to your loved ones; spreading joy and love during the holiday season.
2. Ice Skating
Embrace the winter season by going ice skating with your partner. Find a local ice skating rink or an outdoor skating pond adorned with holiday decorations.
Hold hands as you glide on the ice; creating playful memories together. Help each other balance and laugh at any wobbly moments. Enjoy the twinkling lights and cheerful music playing in the background, immersing yourselves in the festive atmosphere.
Ice skating is one of the cute Christmas date ideas that adds a touch of magic to your Christmas date.
3. Christmas Tree Shopping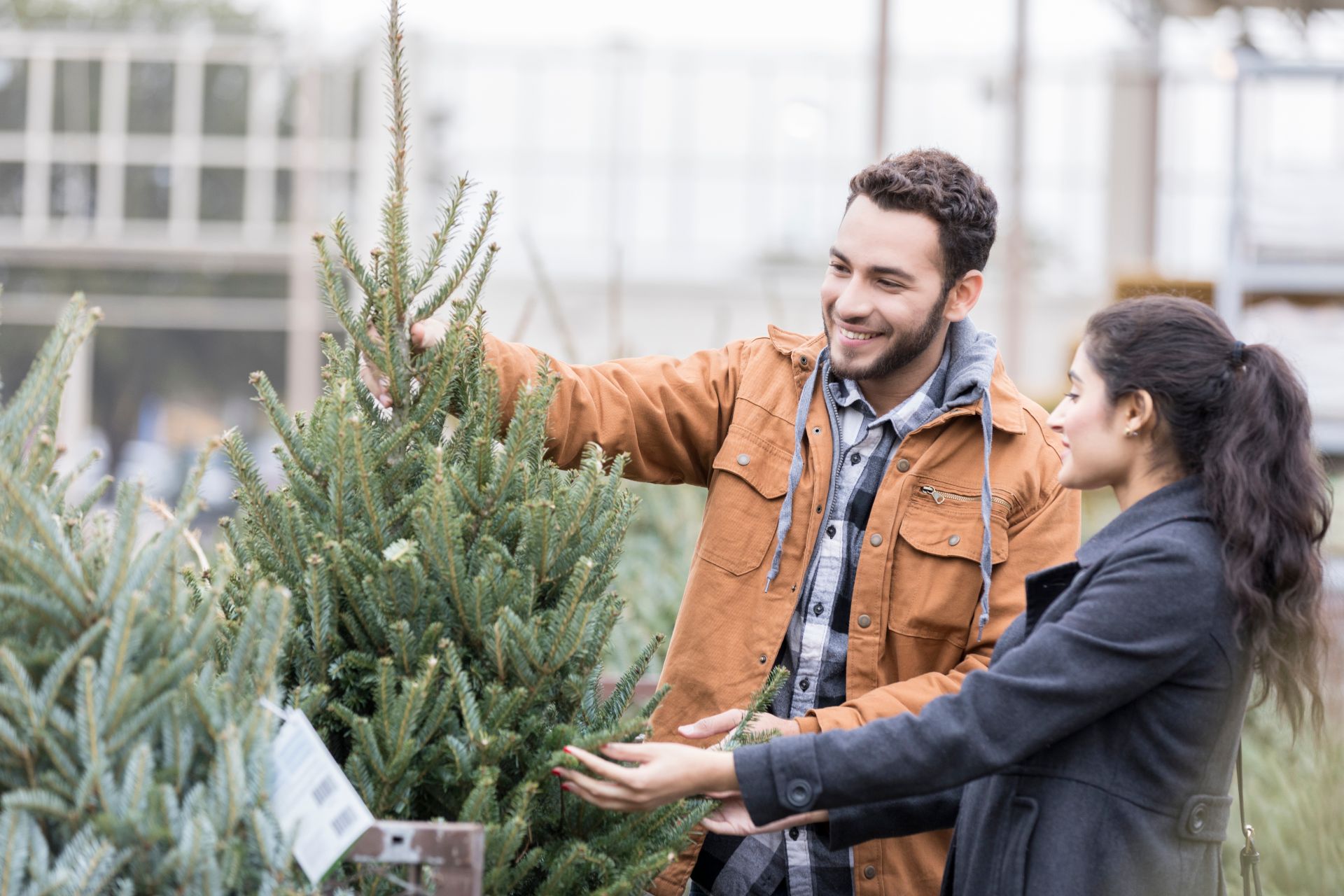 Make a day out of finding the perfect Christmas tree with your partner. Visit a local tree farm or a nearby Christmas tree lot and explore the variety of trees available.
Wander through rows of evergreens, discussing the different sizes, shapes, and scents. Once you find the one that captures your heart, cut it down or have it delivered to your home. Bring it back and decorate it together, adding ornaments, lights, and a tree topper.
The process of selecting and decorating a Christmas tree is one of the heartwarming and cozy Christmas date ideas that strengthen your bond as a couple.
4. Holiday Shopping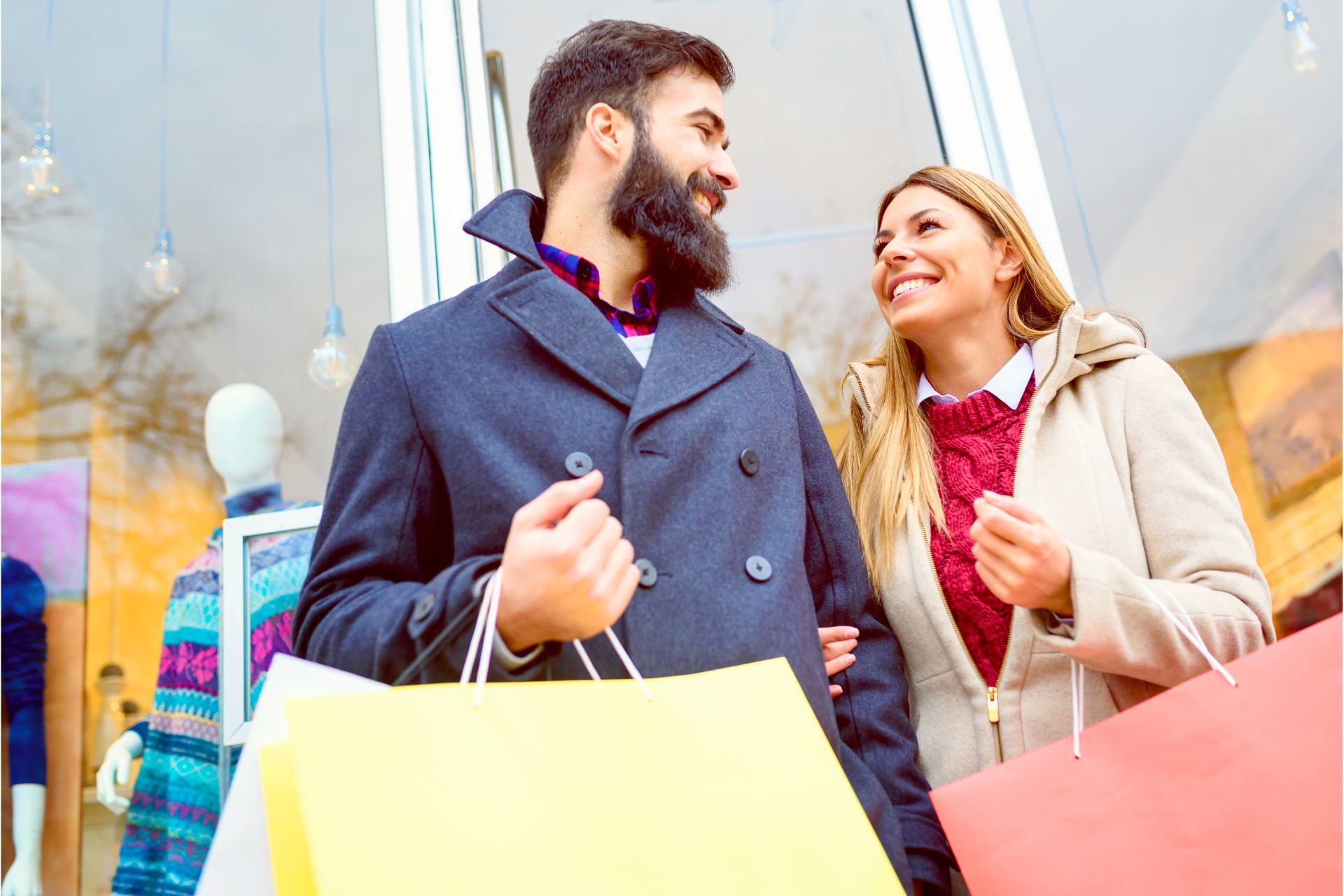 Go on a cute and festive holiday shopping spree together. Visit local stores, boutiques, or holiday markets to find unique gifts for your loved ones. Hold hands as you browse through the aisles, discussing gift ideas and sharing your thoughts on each item you come across.
Enjoy the holiday decorations, cheerful music, and the joy of finding the perfect presents for your family and friends. You can take breaks for hot chocolate or treat yourselves to a sweet holiday snack.
Holiday shopping can be a fun and adorable date idea that allows you to share the excitement of the season while checking off your gift list.
Romantic Christmas Date Ideas
These romantic Christmas date ideas provide opportunities for connection, joy, and intimacy. Whether you're making wishes together, capturing moments with Santa, embarking on a holiday getaway, or savoring the warmth of a coffee shop, these Christmas activities for couples allow you two to celebrate the season of love and create beautiful memories.
5. Make Wishlist
Sit down together and create a wishlist of things you both desire. This activity adds excitement and anticipation to the holiday season as you exchange ideas and dreams. It's an opportunity to learn more about each other's desires and aspirations.
You can make it even more special by creating a beautiful wish list collage or writing romantic love letters to each other. Making a wishlist together strengthens your bond and sets the stage for thoughtful gift-giving during the holidays.
6. Take Pictures With Santa
Embrace the festive spirit by visiting a Santa Claus display and capturing memorable photos together. Find a local shopping center, Christmas market, or community event where Santa is available for photos. Dress in your holiday best, sit on Santa's lap or stand beside him, and smile for the camera.
It's a playful and whimsical activity that allows you to tap into the joy and nostalgia of childhood while creating a lasting keepsake.
7. A Holiday Getaway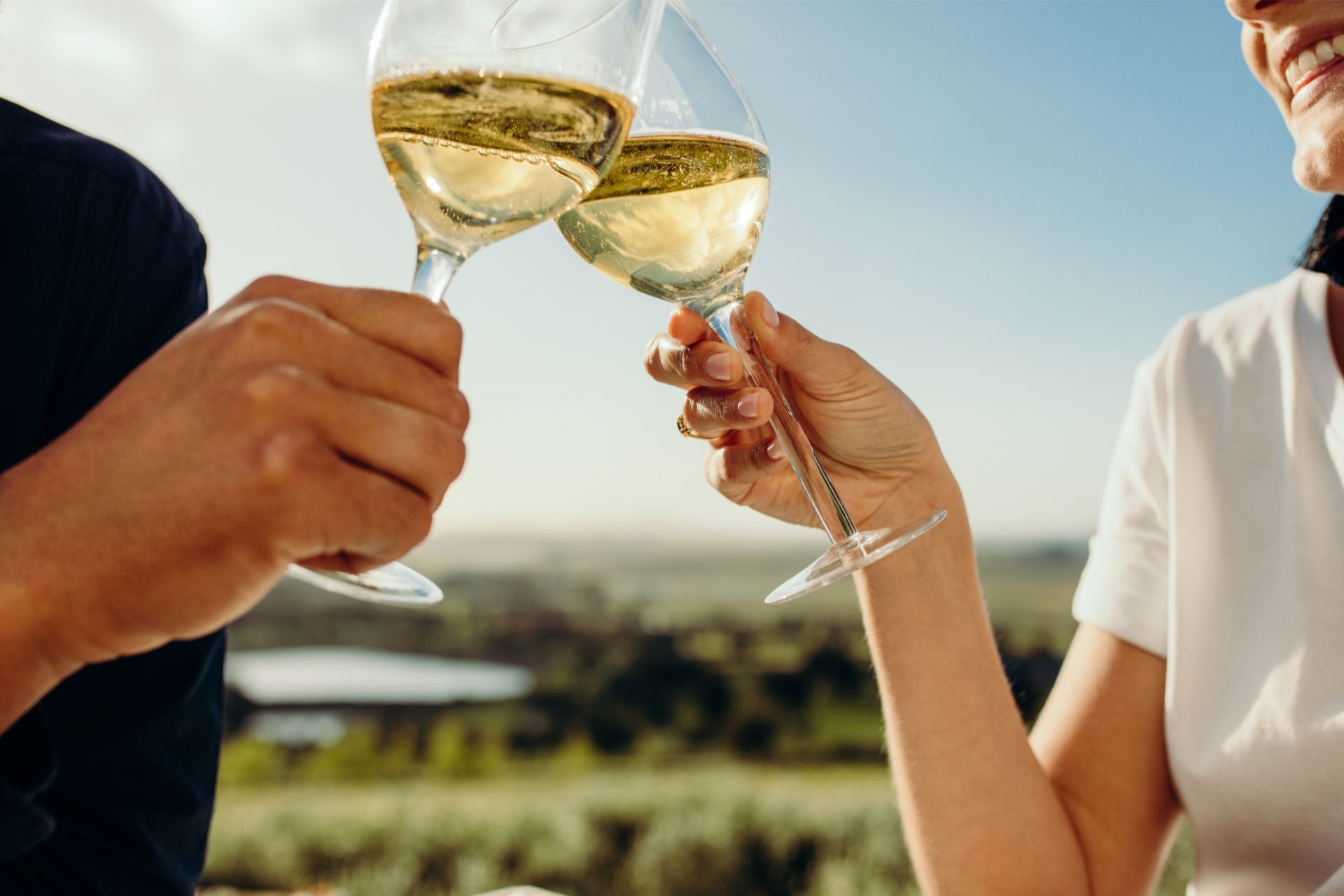 Plan a romantic holiday getaway to a destination that embodies the magic of Christmas. Choose a cozy cabin in the woods, a picturesque snowy town, or a charming bed and breakfast.
Embrace the enchanting atmosphere by taking romantic walks in the snow, cuddling up by the fireplace, and enjoying intimate moments together. Explore local holiday festivities, such as ice skating, Christmas markets, or festive light displays.
A holiday getaway allows you to escape the everyday routine and create cherished memories in a romantic setting.
8. Go For A Coffee Shop Date
Find a local coffee shop that embraces the holiday season with festive decorations and seasonal drinks.
Schedule a coffee shop date with your partner, and enjoy the cozy atmosphere as you sip on delicious holiday-themed beverages. Share intimate conversations, exchange stories, and simply enjoy each other's presence.
You can also indulge in sweet treats like gingerbread cookies or pumpkin spice muffins. The relaxed and warm ambiance of a coffee shop provides the perfect backdrop for a romantic and low-key Christmas date.
Christmas Date Ideas At Home
These creative Christmas date ideas at home offer an opportunity to create a cozy and intimate atmosphere where you can bond, relax, and celebrate the spirit of Christmas together.
Enjoy the joy of baking, the beauty of twinkling lights, the magic of movies, and the inspiration of music as you make lasting memories in the comfort of your own home.
9. Bake Christmas Cookies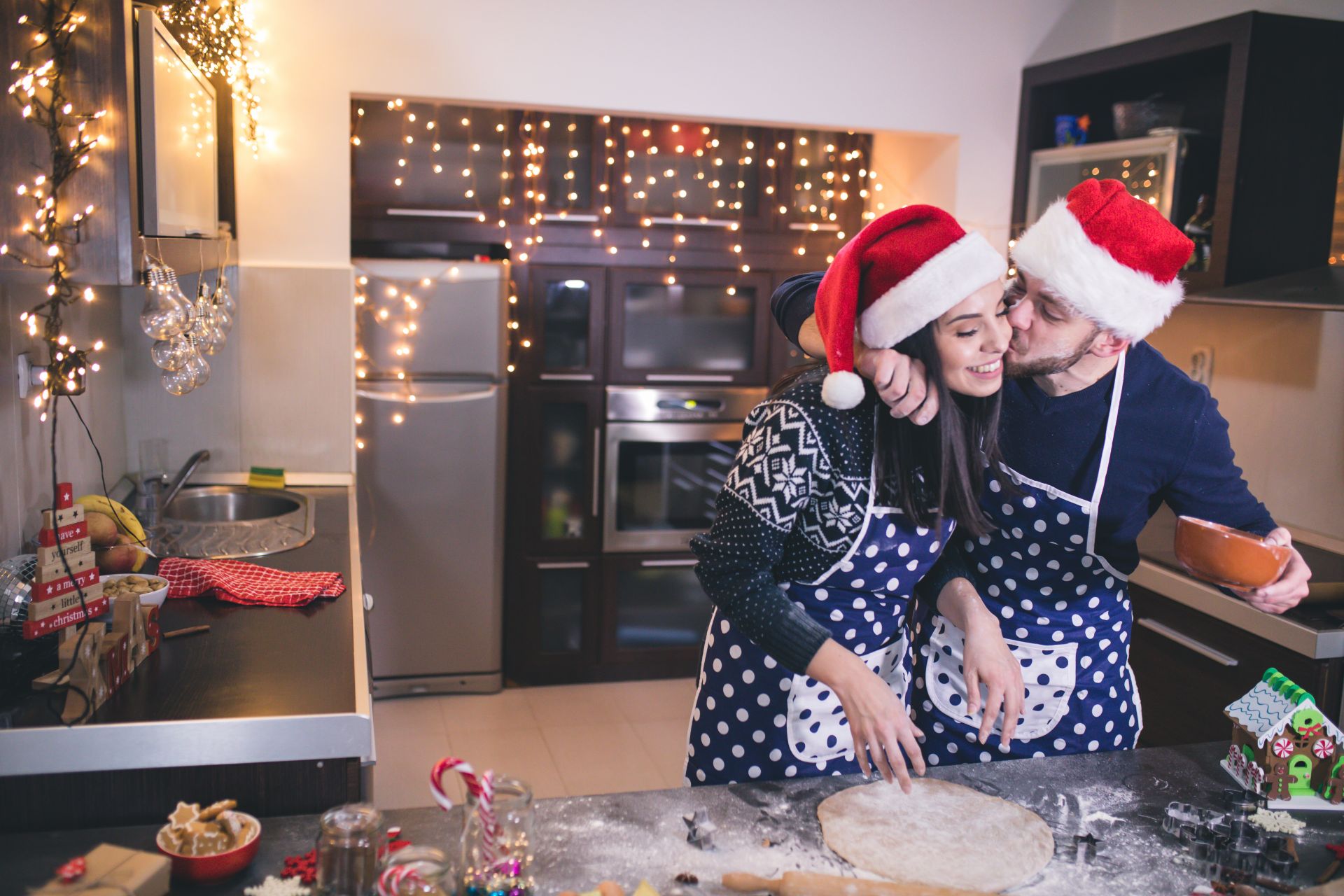 Spend quality time together in the kitchen baking delicious Christmas cookies. Choose your favorite recipes or try new ones that capture the flavors of the season, such as gingerbread or sugar cookies.
Get creative with festive shapes and decorations, using colored icing, sprinkles, and edible glitter. As the cookies bake, the aroma will fill your home with a delightful scent. Once they're done, enjoy the fruits of your labor by indulging in freshly baked cookies with a warm cup of cocoa or eggnog.
Need some fun Christmas date ideas? Bake Christmas cookies together.
10. Hang Lights Around The House
Transform your home into a cozy and festive haven by hanging Christmas lights. Create a warm ambiance by stringing lights along windows, door frames, staircases, and mantels. Consider using different colored lights or twinkle lights for added charm. Dim the other lights in the room and bask in the soft, twinkling glow.
The gentle illumination will create a magical atmosphere that is perfect for cuddling up and enjoying the holiday season together.
11. Watch Christian Movies
Settle down on the couch for a cozy movie night with a selection of Christian-themed films. Choose movies that tell the story of Christmas or capture the spirit of faith, love, and hope. Some classic options include "It's a Wonderful Life," "The Nativity Story," or "A Charlie Brown Christmas."
Snuggle up under a blanket, prepare some popcorn or other snacks, and immerse yourselves in the uplifting messages and heartwarming stories portrayed on the screen.
12. Listen To Christian Songs
Create a playlist of your favorite Christian songs or find a radio station that plays Christian music during the holiday season.
Sit together in a comfortable space, dim the lights, and let the melodies and lyrics fill the air. Sing along, reflect on the meaning behind the songs, and allow the music to uplift your spirits and bring a sense of peace and joy.
It's a simple yet powerful way to connect with each other and deepen your faith during the Christmas season.
Outdoors Christmas Date Ideas
While going on an outdoor Christmas date, remember to dress appropriately for the weather and bring any necessary supplies for your chosen outdoor activities. Embrace the beauty of nature and the festive spirit surrounding you as you enjoy these outdoors Christmas date ideas.
13. Go For Christmas Caroling
Spread the joy of the holiday season by going Christmas caroling. Gather a group of friends or simply go as a couple to sing festive carols door-to-door in your neighborhood or at local community events. Bring along songbooks or print out the lyrics to popular Christmas songs.
The act of singing together and sharing the music with others creates a sense of community and brings smiles to the faces of those who listen. It's a heartwarming and traditional activity that embodies the spirit of Christmas.
14. Visit A Local Christmas Market
Explore the enchanting atmosphere of a local Christmas market. These markets often feature rows of beautifully decorated stalls selling handmade crafts, artisanal goods, and delicious seasonal treats.
Take a leisurely stroll with your partner, browse through the unique items on display, and perhaps find some special gifts for each other. Immerse yourselves in the sights, sounds, and aromas of the market, and let the festive ambiance add a touch of magic to your date.
15. Go On A Christmas Road Trip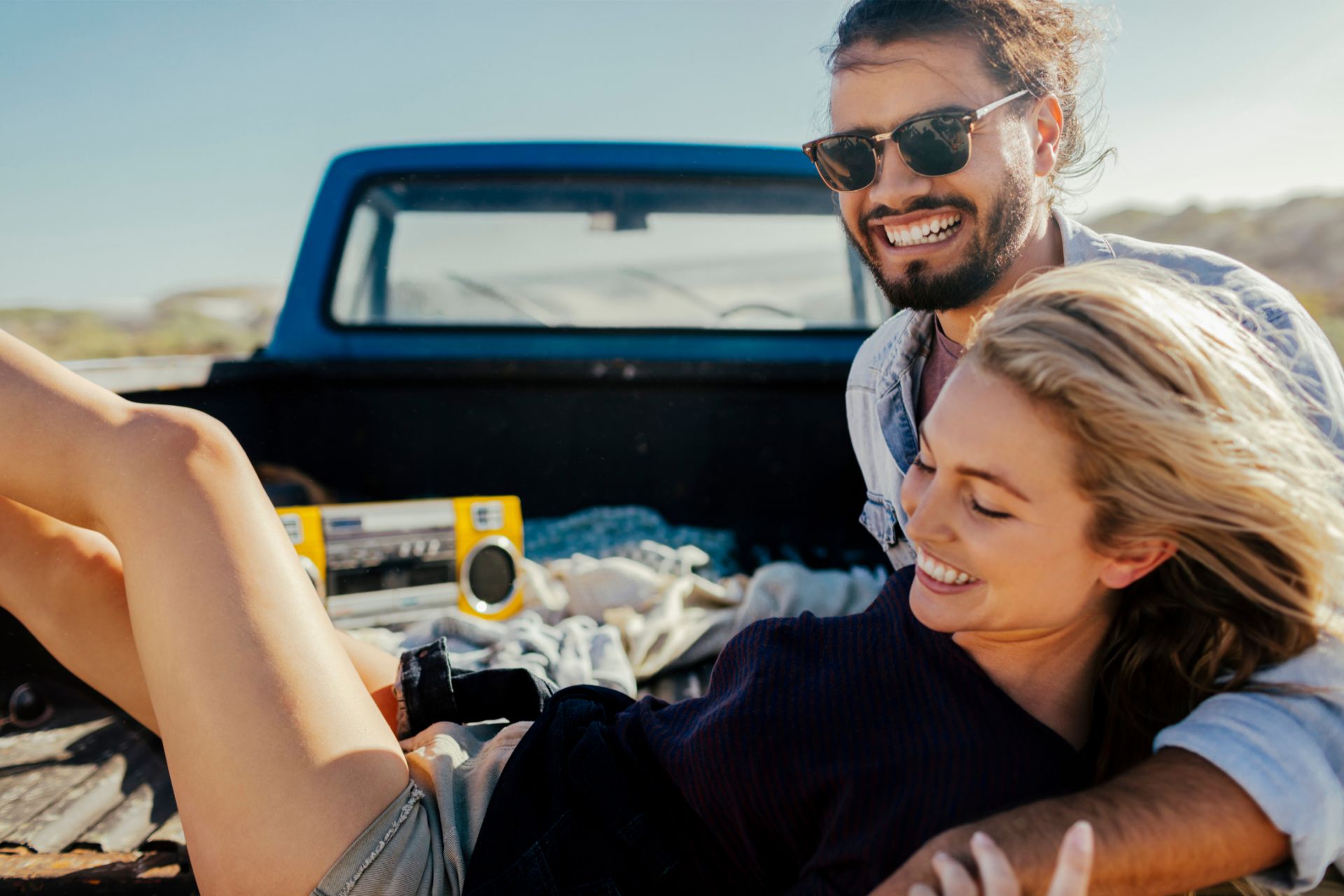 Embark on a road trip to discover the holiday spirit in different locations. Research nearby towns or cities known for their elaborate Christmas decorations, light displays, or festive events.
Plan your route accordingly, and enjoy the scenic drive as you soak in the festive atmosphere. Stop along the way to explore charming neighborhoods, visit iconic landmarks, or indulge in seasonal treats.
It's one of the adventure-filled Christmas date ideas that allow you to create lasting memories and experience the magic of Christmas in new surroundings.
16. Have A Picnic In Front Of The Fire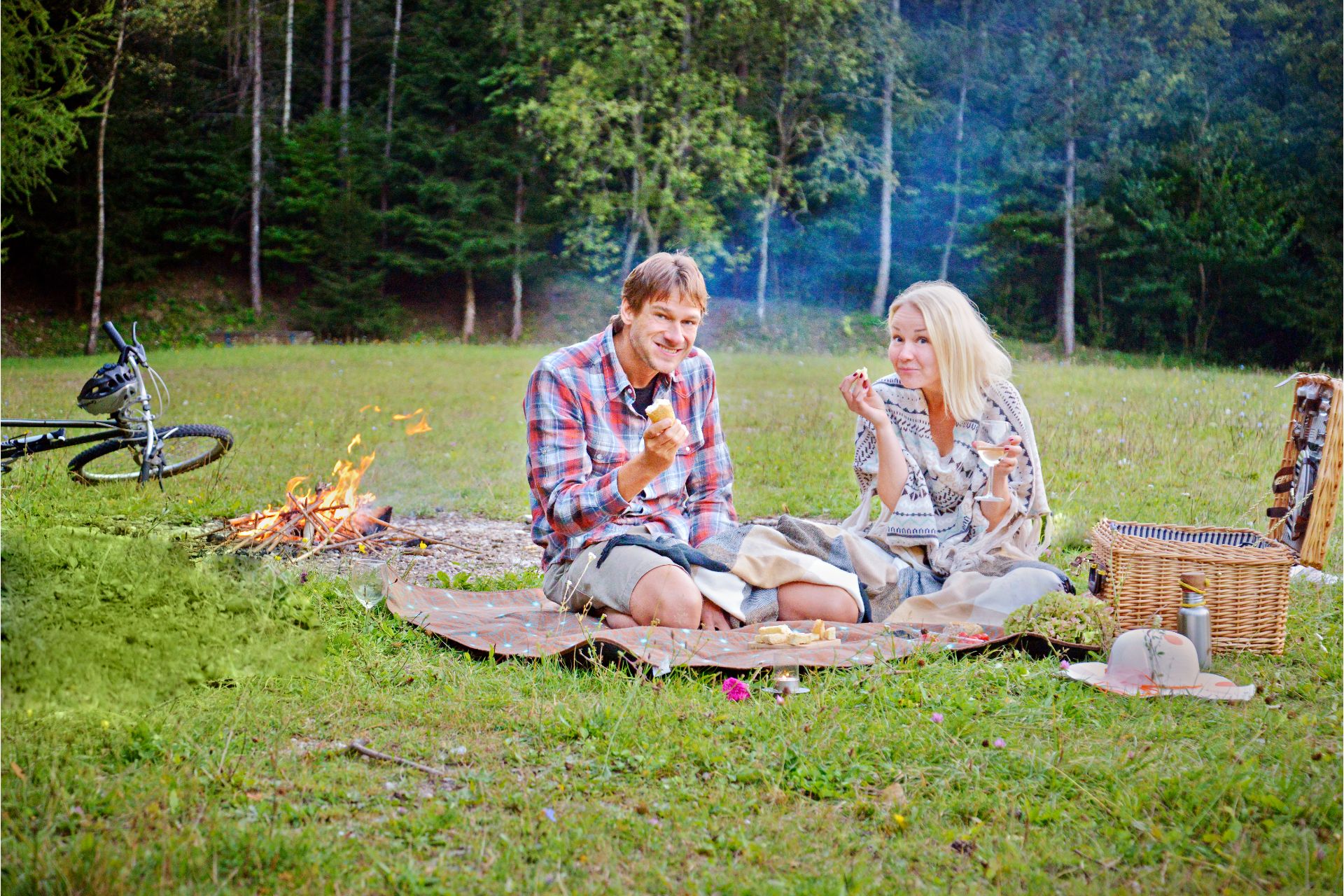 Find a picturesque spot outdoors where you can set up a cozy picnic. Choose a location with a fire pit or bring along a portable fireplace. Pack a blanket, some comfy cushions, and a basket filled with warm drinks, snacks, and even marshmallows for toasting.
As the sun sets and the air gets chilly, cuddle up together in front of the crackling fire, enjoying each other's company and the serenity of nature. It's a romantic and intimate way to celebrate the season; creating a memorable date night under the starry sky.
Christmas Date Night Ideas
These Christmas date night ideas create an opportunity for you to enjoy a nighttime and intimate atmosphere where you two can talk, eat, have fun, and enjoy the spirit of Christmas together. Enjoy the joy of karaoke, explore wines, and enjoy Christmas concerts together. These are the best Christmas date night ideas for couples.
17. Christmas Karaoke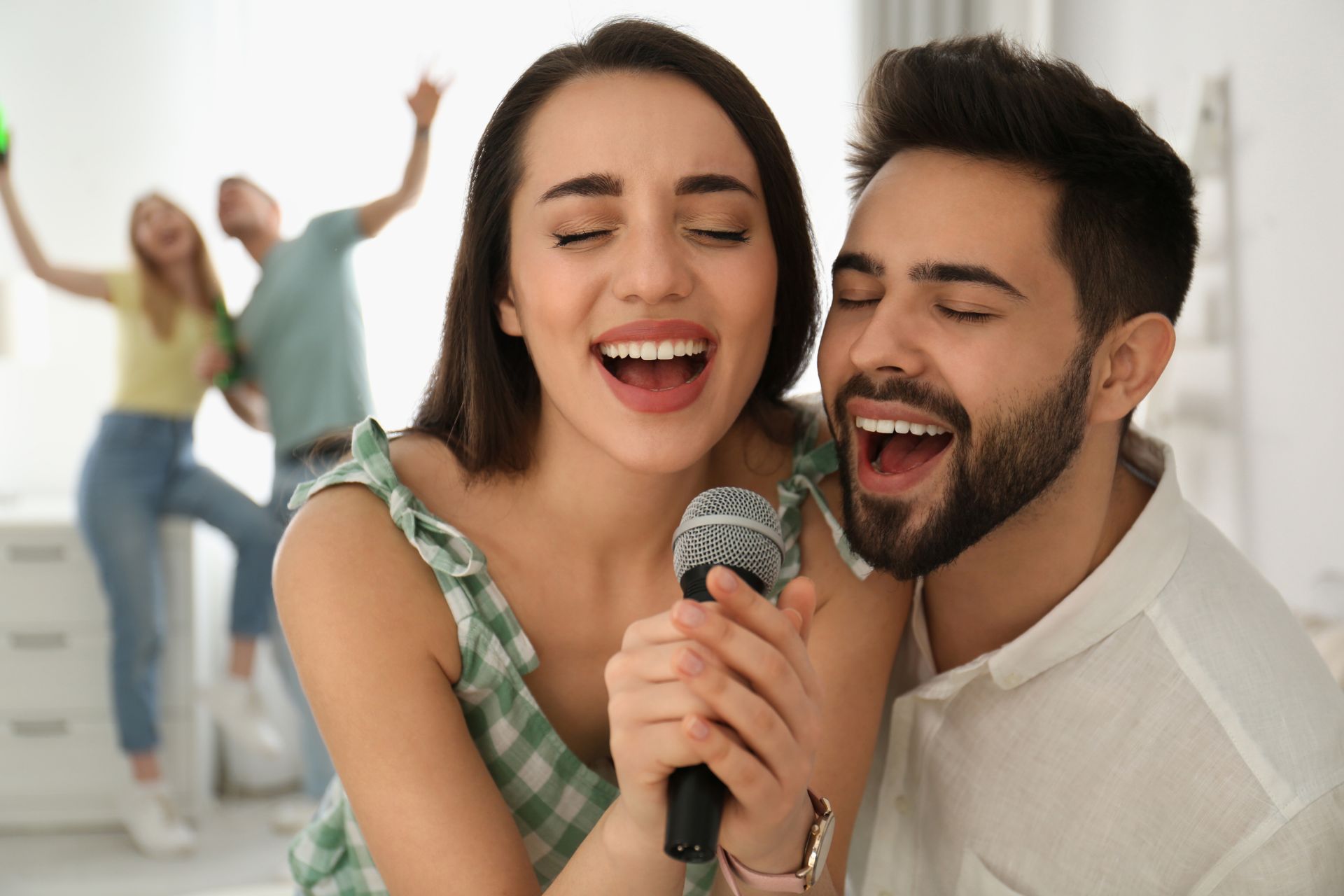 Get into the holiday spirit by singing your favorite Christmas songs together. You can either find a local karaoke bar hosting a holiday-themed night or create your own karaoke experience at home.
Compile a playlist of festive tunes, grab a microphone, and take turns serenading each other with your best renditions of classic holiday hits. It's a fun and lighthearted activity that will surely bring laughter and joy to your date night.
18. Christmas Dinner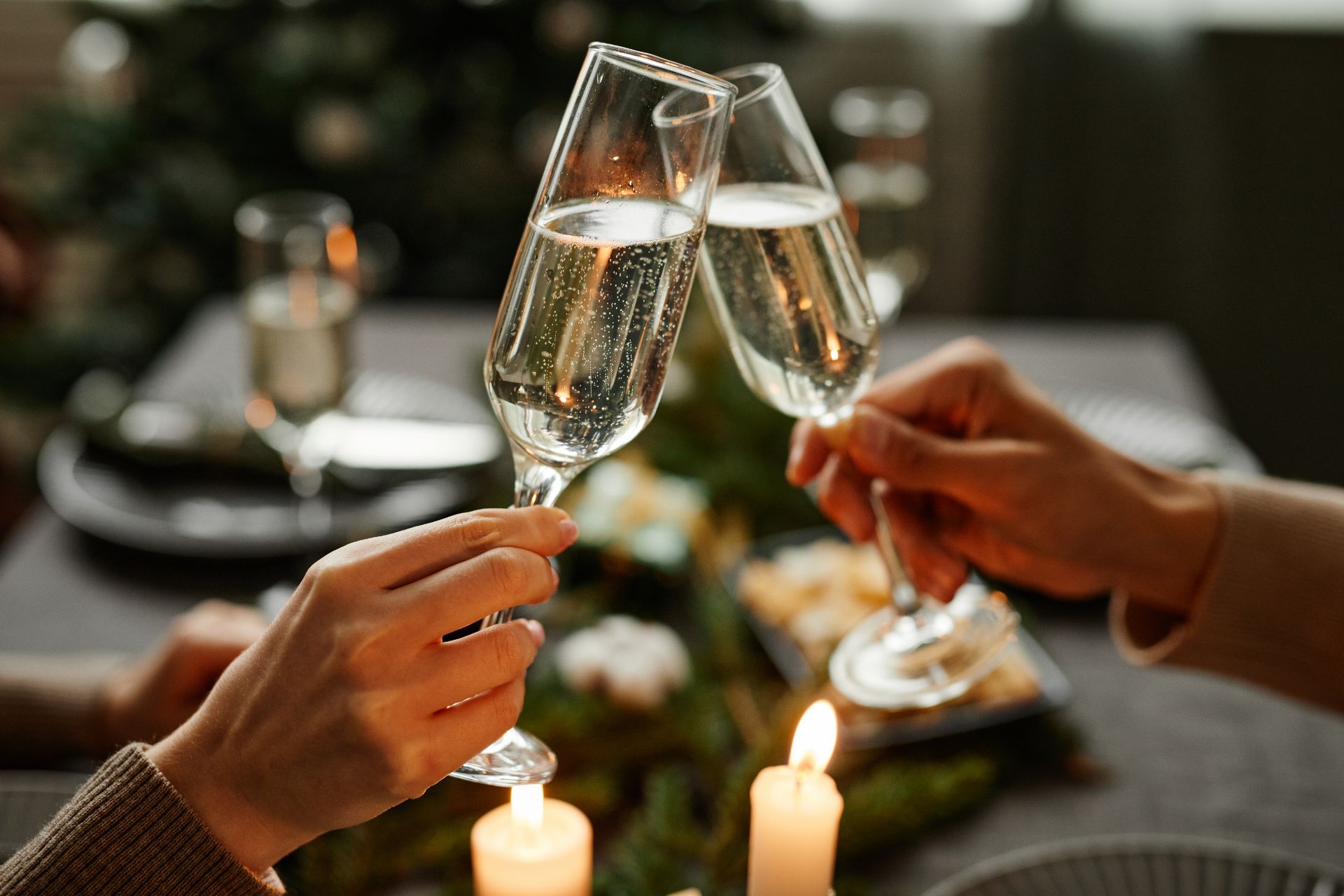 Plan a special Christmas dinner for just the two of you. Set the mood by decorating the dining area with candles, twinkling lights, and festive centerpieces.
Cook a delicious holiday meal together, incorporating traditional dishes or trying out new recipes. This could also be one of the Christmas activities for couples at home. Share the joy of preparing a feast and enjoy a romantic candlelit dinner; savoring each bite and the warmth of the holiday season.
19. Go For Wine Tasting
If you and your partner appreciate good wine, consider going for a wine-tasting experience with a holiday twist. Look for wineries or wine bars that offer seasonal tastings featuring wines paired with holiday flavors or spices.
Explore different varieties of wines, learn about the tasting notes, and indulge in the delightful combinations. It's also one of the sophisticated and intimate Christmas date ideas that allow you to savor the flavors of the season while enjoying each other's company.
20. Attend A Christmas Concert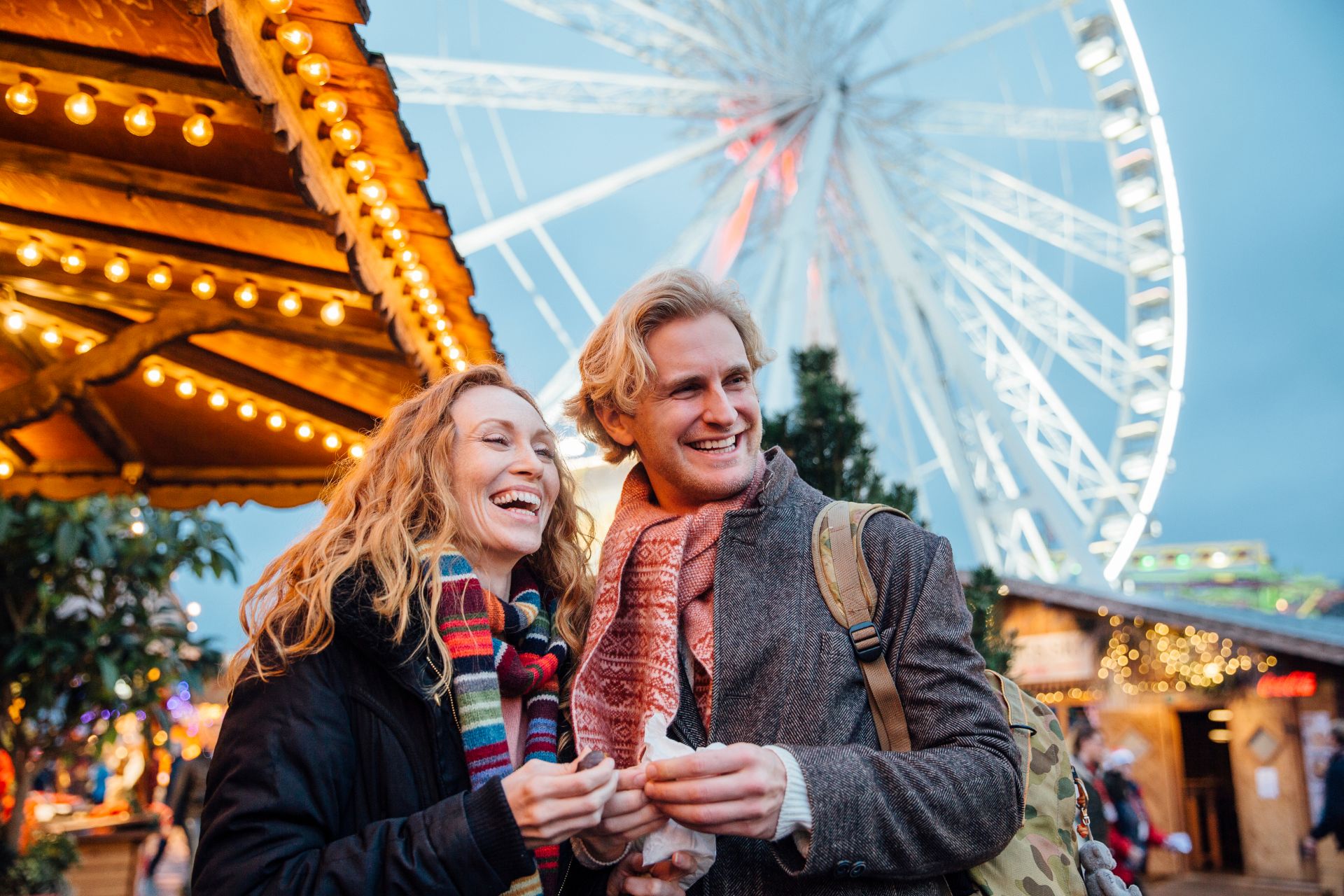 Check out local venues or community centers for Christmas concerts or holiday-themed performances. From orchestras playing festive melodies to choirs singing beloved carols; there are various musical events held during the holiday season.
Dress up, immerse yourselves in the enchanting atmosphere of live music, and let the melodies and harmonies create a magical experience. It's a romantic and memorable way to celebrate the spirit of Christmas together.
Artsy Christmas Date Ideas
These artsy Christmas date ideas help you two to explore your creativity by making different crafts and designs. You could bond over decorating your space or making handmade Christmas cards and any other creative craft. This gives room for both of you to know how intelligent you two can be.
Enjoy your Christmas day by exploring any of these artsy Christmas date ideas.
21. Decorating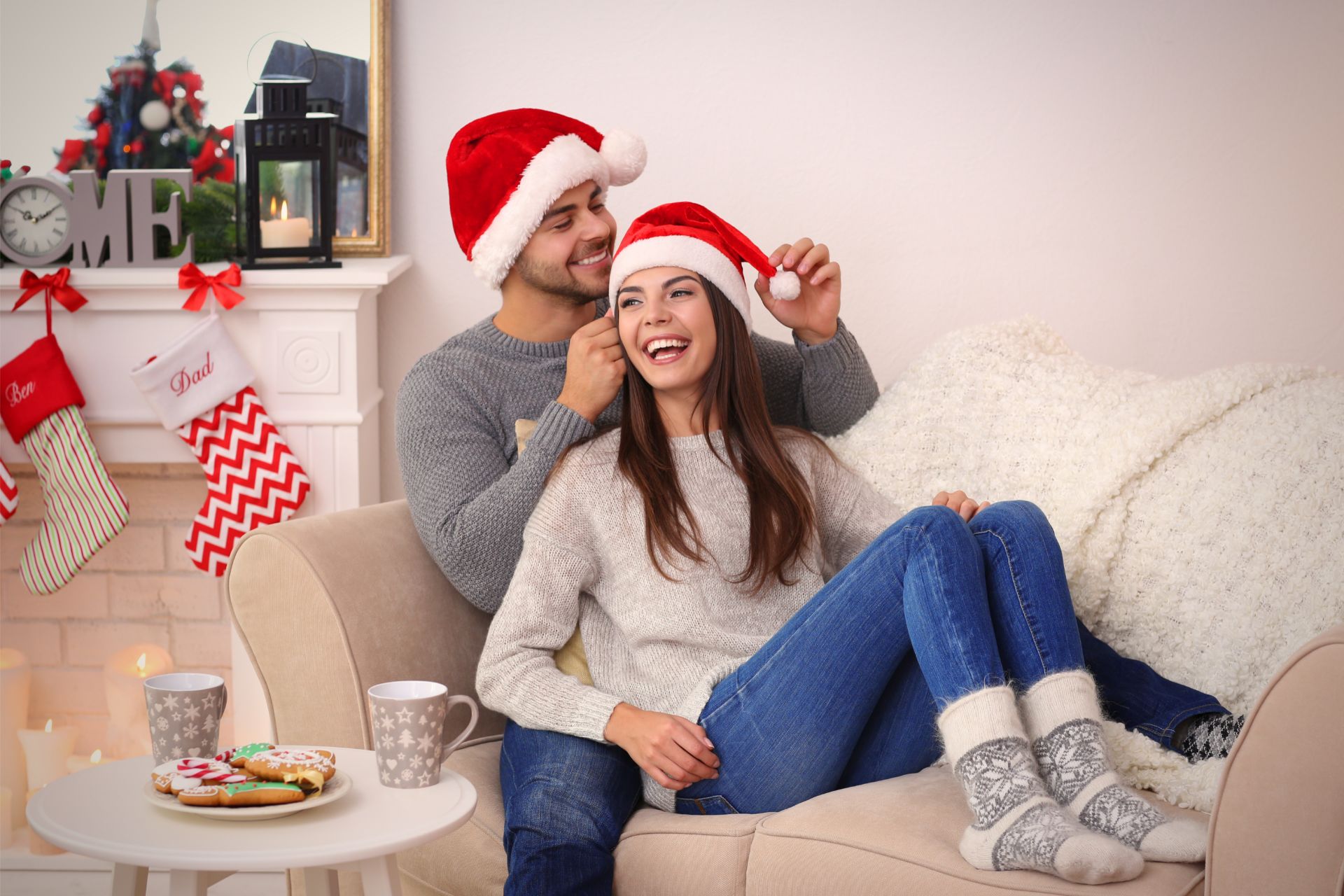 Embrace the holiday spirit by decorating your home together. Set aside a day or evening to trim the Christmas tree, hang up lights, and adorn your living space with garlands, ornaments, and other festive decorations. Put on some holiday tunes, sip on hot cocoa, and enjoy the creative process as you bring the magic of Christmas into your home.
22. Make Handmade Christmas Cards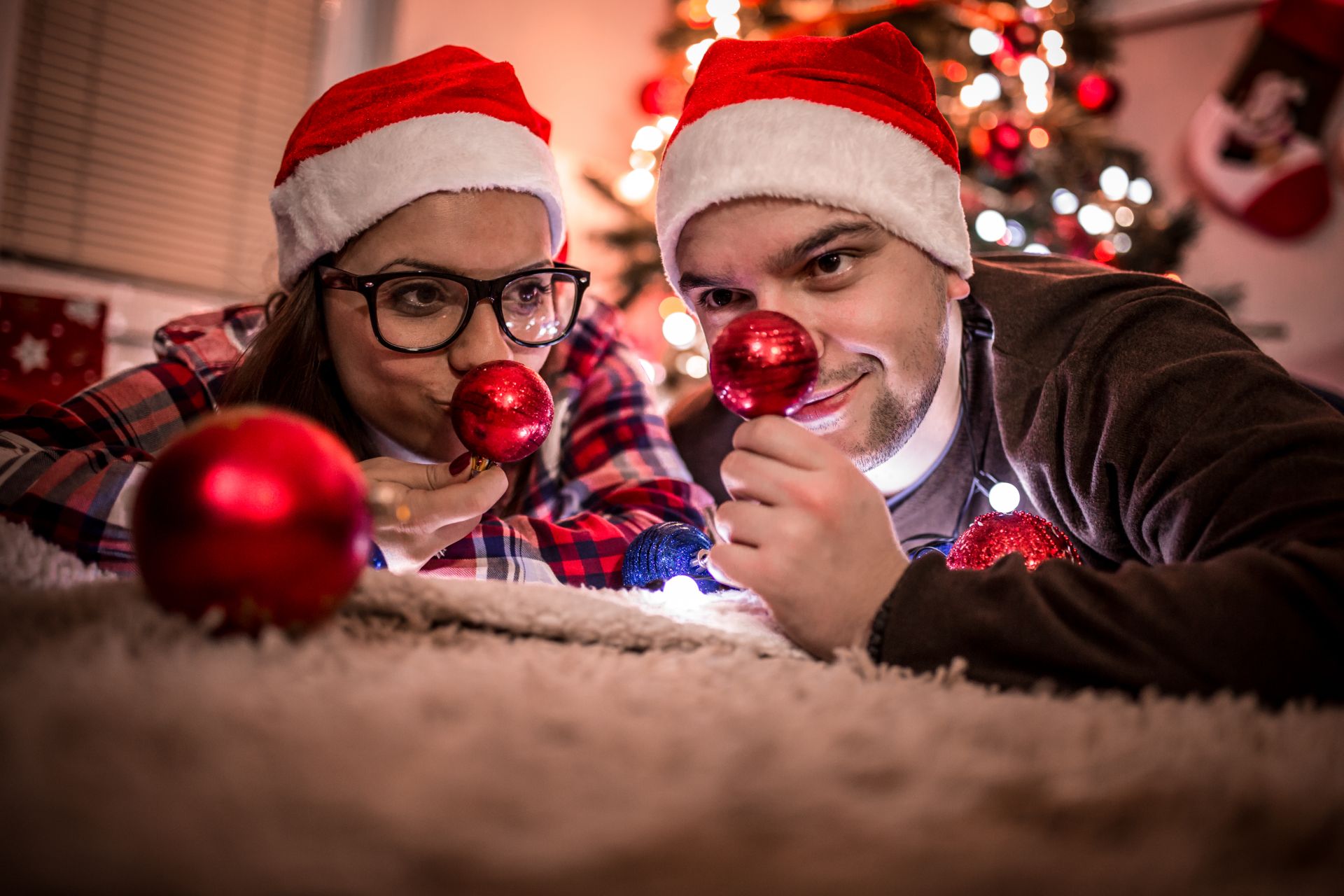 Tap into your artistic side and spend a cozy afternoon crafting handmade Christmas cards for your loved ones.
Gather art supplies, including colorful paper, glitter, ribbons, and markers. Let your creativity flow as you design unique and personalized cards, adding heartfelt messages to express your love and holiday wishes. It's a thoughtful and sentimental activity that allows you to bond while spreading joy to others.
23. Build A Snowman
If you're fortunate enough to have snow during the holiday season, building a snowman together can be one of the delightful and playful Christmas date ideas for couples.
Bundle up in warm clothes, head outside, and sculpt a snowman in your yard or a nearby park. Get creative with accessories like hats, scarves, and buttons to give your snowman a unique personality. Take pictures together with your chilly creation and cherish the memories of this whimsical activity.
24. Attend The Ballet
If you're a fan of the performing arts, attending a Christmas ballet can be one of the magical and elegant Christmas date night ideas. Many ballet companies put on special productions during the holiday season, such as "The Nutcracker."
Dress up in your finest attire, immerse yourselves in the enchanting world of dance, and let the graceful movements and breathtaking costumes transport you to a realm of beauty and wonder.
25. Gift Wrapping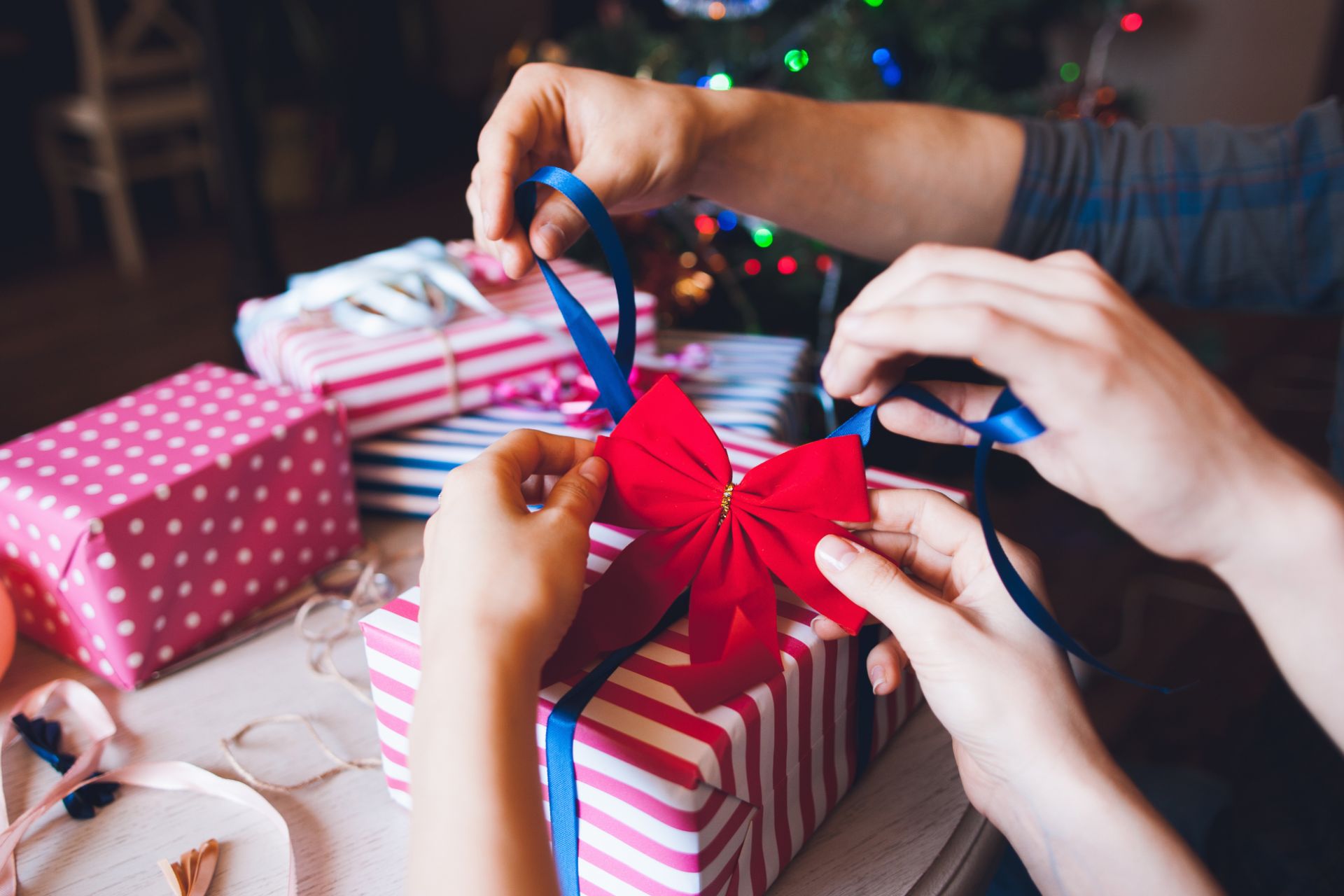 Turn the task of gift wrapping into a fun and artistic activity. Set up a cozy space with wrapping paper, ribbons, bows, and all the necessary supplies. Put on some festive music, pour some eggnog or hot cider, and spend an evening wrapping gifts for yourselves, for your loved ones, or even for couples like you who are your friends or relatives.
I have a piece on the best gift ideas for couples they'll both love. This is one way to have a memorable Christmas day with your partner.
Final Words On Christmas Activities For Couples
Christmas provides the perfect backdrop for couples to strengthen their bond and create cherished memories.
Whether you choose to embrace the coziness of home with tree decorating and baking or venture into the winter wonderland with activities like ice skating or visiting Christmas markets or any other Christmas date ideas listed above, these Christmas activities for couples foster togetherness, love, and joy.
Embrace the spirit of the season, make the most of this special time, and revel in the magic of Christmas as a couple.
Pin this for later!