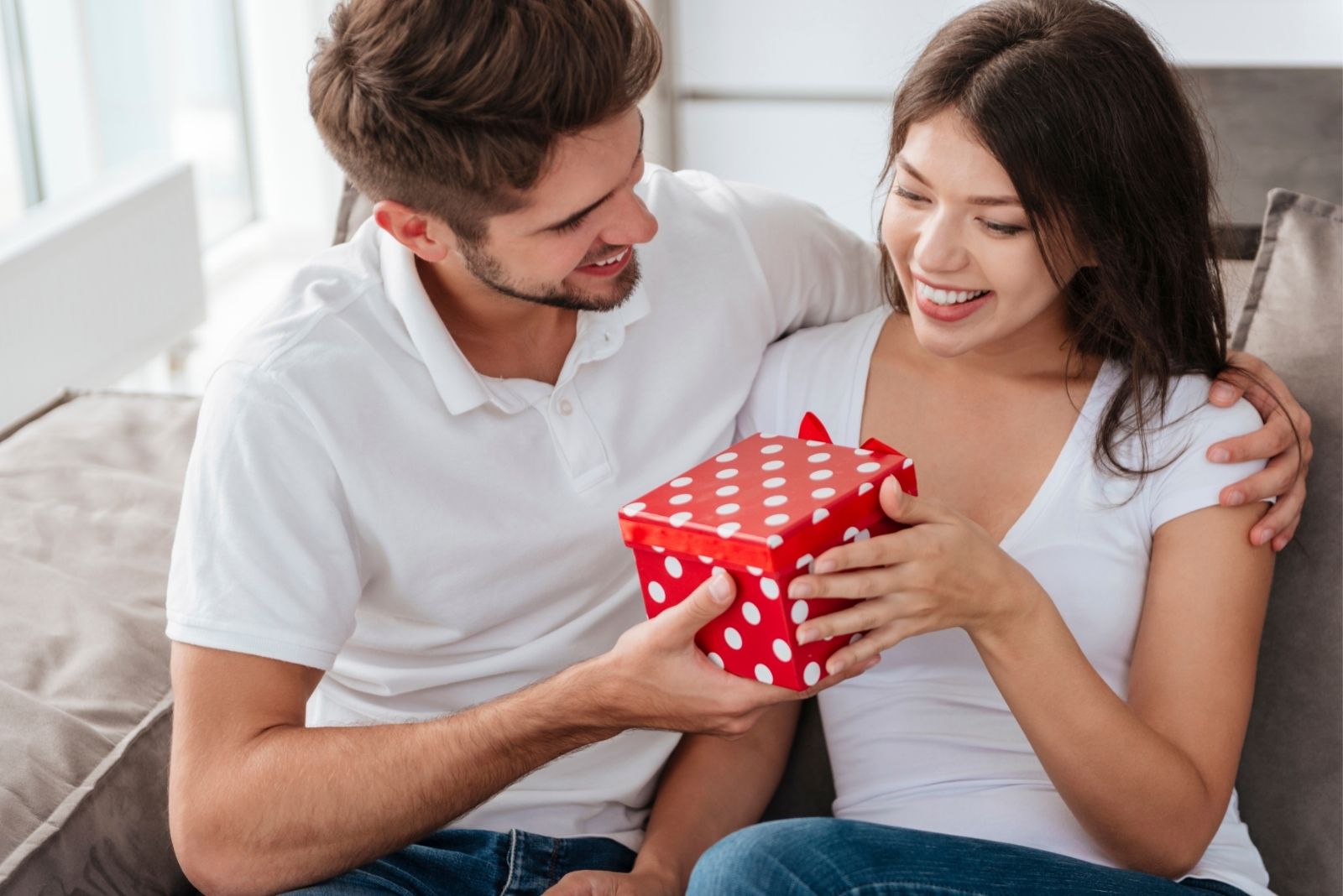 It's that time of the year where having one of the best valentine gift ideas is paramount to making your partner happy. Gifting your partner a romantic gift is all about knowing your partner.
If you've been married for as long as I have or even more, you probably know your partner well, and surprising them might be a little bit difficult.
But if you just started dating recently, say four months ago, you still have a lot to learn about your partner especially about the right gifts to give them without going too overboard.
Whether your relationship is brand new or is in its golden years, finesse and a lot of thoughts are required. Luckily for you, I've put the thought in for you by selecting this array of the best valentine gift ideas for him or her.
I remember my first valentine's day celebration with my husband. We had dated for close to 8 months before Valentine's day came over.
I remember starting my Valentine's day gifts for him project about six weeks beforehand. I bought a "Reason's I Love You Note Book" and took it secretly with me everywhere.
Whenever I was stuck in traffic, lost for words or simply admiring him, I wrote down a reason or reasons why I loved him. I wrote at least once a day and sometimes even up to six, seven times.
I can remember vividly the expression on his face when he saw the gift. I think he opened the box expecting a box of cliché chocolates or maybe new PES pads. It was quite a shock seeing a notebook titled "Reasons Why I Love You" and even more satisfying and touching for me seeing the single drop of tears that rolled down his cheek.
Up till today, he still tells me that that was the best gift he has ever received. He even has his favorite page framed on his desk!
You don't always have to give your partner a sweet card or a box of chocolates every valentine's day. You have to think outside and put some thought and effort into getting your partner that perfect gift.
I have put this list of 50 Best Valentine Gift Ideas because I believe you can do better than a card this year.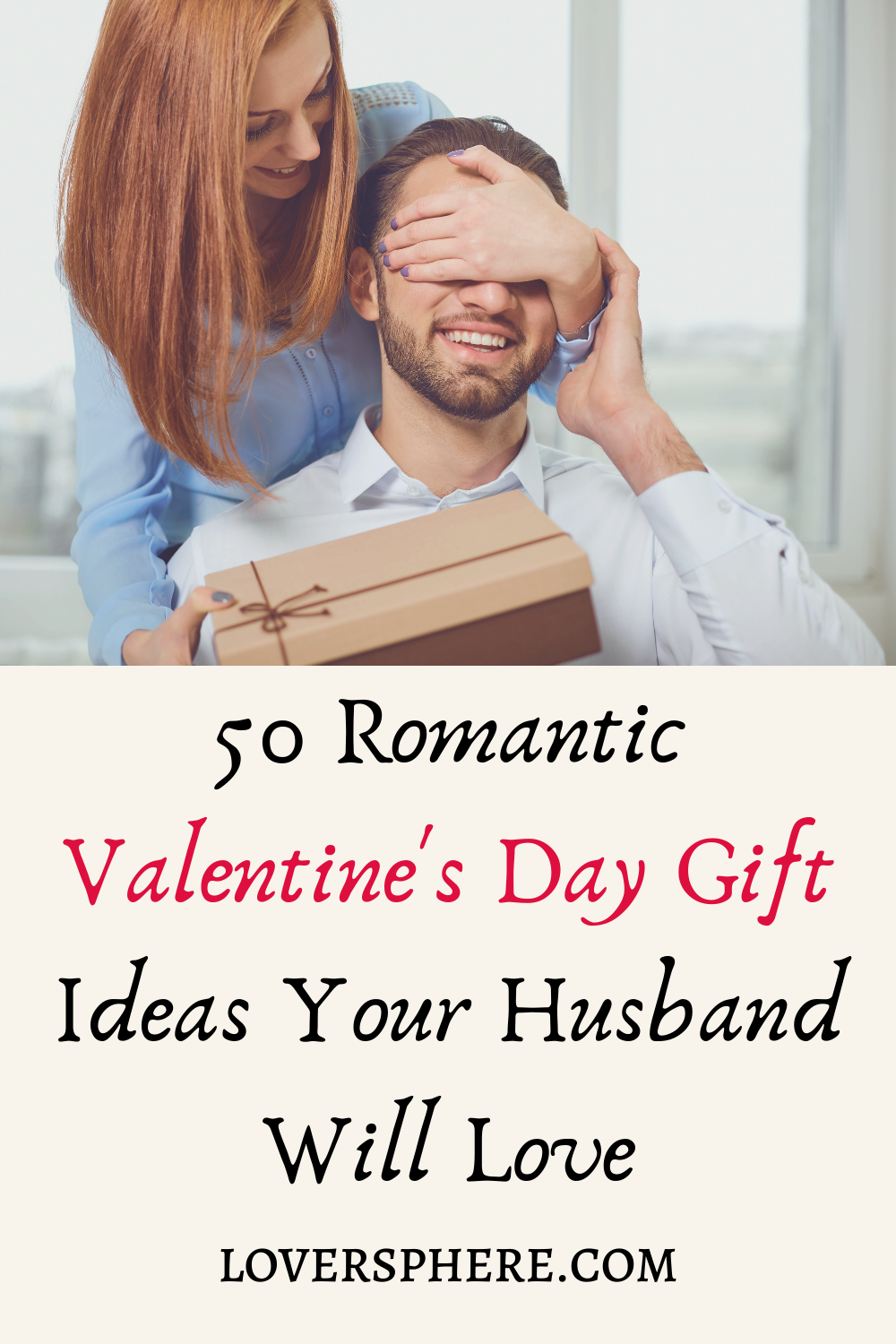 Romantic Valentines Gift For Her
Are you thinking of what to get your girlfriend for valentines day? This section contains the best valentine gift ideas for her, valentine gifts for wife, and best valentine gift for girlfriend. Any of these gifts will give the day a dash of romance.
1.  Fuzzy Slippers
There's no one that won't want a pair of warm fuzzy slippers this winter to drive the cold away. Don't forget to get her the microwavable ones filled with all-natural grain and dried French lavender.
2.  Gold Necklace
A girl can never have too much jewelry. Get her a mini gold initials necklace or a handmade small hearts necklace. They're subtle, dainty, and super thoughtful.
3.  Framed Instagram Print
This is such an easy DIY but thoughtful gift. Whenever she looks at the print, she's always going to be reminded of you and all your best memories together.
All you have to do is arrange your favorite photos of you from Instagram in a stylish collage and then print it out depending on the size you want. Don't forget to get them framed.
4.  Kissing Mugs
This pair of his-and-hers mug is the perfect accomplice for breakfast in bed and the perfect gift for newly engaged couples. Sip together and kiss together!
5.  Memory Jar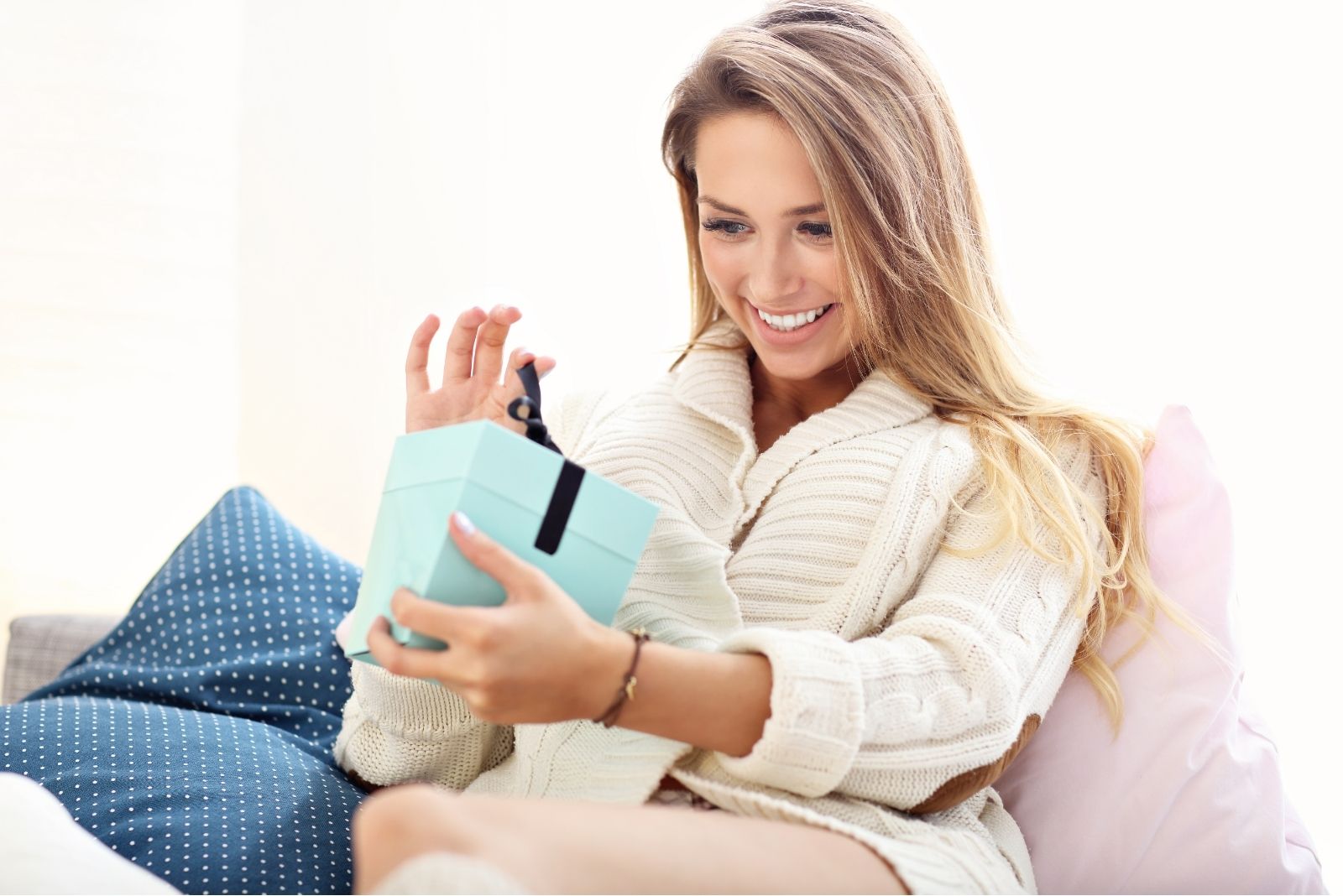 Fill this memory jar with all your favorite messages or love notes to your partner. You'll be surprised how quickly the ticket stubs full. This is a unique gift that your wife is going to keep as a keepsake for a very long time.
6.  One Dozen Red Roses
A girl receiving flowers at the crack of dawn or immediately she steps into her office, nothing beats that feeling that you're special.
Giving her flowers as one of the valentine gift ideas might seem like a cliché or popular move but the key to making it personal and more thoughtful is the time and place of delivery, the note that accompanies it, and the main dish that is to follow the appetizer.
If you want to wow her this valentine's day, you have to see the flowers as an appetizer that needs a main course and dessert; and not just as the full package.
Accompany the flowers with a handwritten Valentine Love message. Follow it up with the main course and dessert of your choice which can range from dinner at her favorite restaurant, full-body romantic massage by "Yours Truly", or a private showing of her all-time favorite movie.
You don't have to go overboard if the budget isn't there, you can turn your bedroom to her own private cinema with fluffy pillows, popcorn, chocolates, balloons and any other décor of your choice.
7.  Handwriting Bracelet
If you're wanting to go to the personalized route with your valentine gift ideas this year, you can't go any better than an actual handwriting bracelet.
There's something extra unique about it just knowing that it was based off of your lover's handwriting. Wearing the bracelet is like carrying a personalized message from your lover with you everywhere you go; it doesn't get better than this.
8.  Rotating Makeup Organizer
What's one way to organize and show off your growing cosmetic collection – a rotating makeup organizer. Get her this gift and make her skincare routine smoother.
9.  Jewelry Box
Get her a jewelry box for her growing collection; she'll love it!
10.  Heart-Shaped Tea Bags
Does she love to unwind with a cup of tea? Then gift her these "you-are-a-perfect-blend" heart-shaped tea bags. It's such an adorable gesture.
11.  Mini Beauty Refrigerator
"Store in a cool dry place" or "don't store at a temperature above X" always accompanies products. Get her this mini fridge specially designed for all beauty products. This is one of the best valentine gift ideas for her as she gets specified storage for all her skincare treats!
12.  Super Plush Robe
As far as the best valentine gift for girlfriend, this one is a goodie. Give her the gift of relaxation with this super plush fluffy robe because lazy mornings don't get better than this. She'll feel like she's wearing a big hug all morning and might have some left for you!
13.  A Bottle Of Perfume
If she's more into perfume than jewelry, then a Le Labo Santal 33 scent is a knockout she deserves in her collection. Or a fragrance inspired by her astrological sign from Zodica Perfumery might also be worth her time.
14.  Silky PJ Set
If you're looking to get into lingerie, then a silky slip is a good choice. But if you're for more traditional nightwear, a silky pajama set will make her feel like the queen she is. And it's perfect for romantic movie nights.
15.  Scented Candles
A scented candle in her favorite scent will last longer than a bouquet of flowers. The choice is yours!
16.  Romance Bath Bombs
Does she love taking baths? Are they her go-to for winding down? Or they're part of her skincare routine? Then this sudsy set of romantic and relaxing bath bombs will be the way to her heart.
17.  Monogrammed Cosmetic Cases
18.  Your Vows Printed As An Art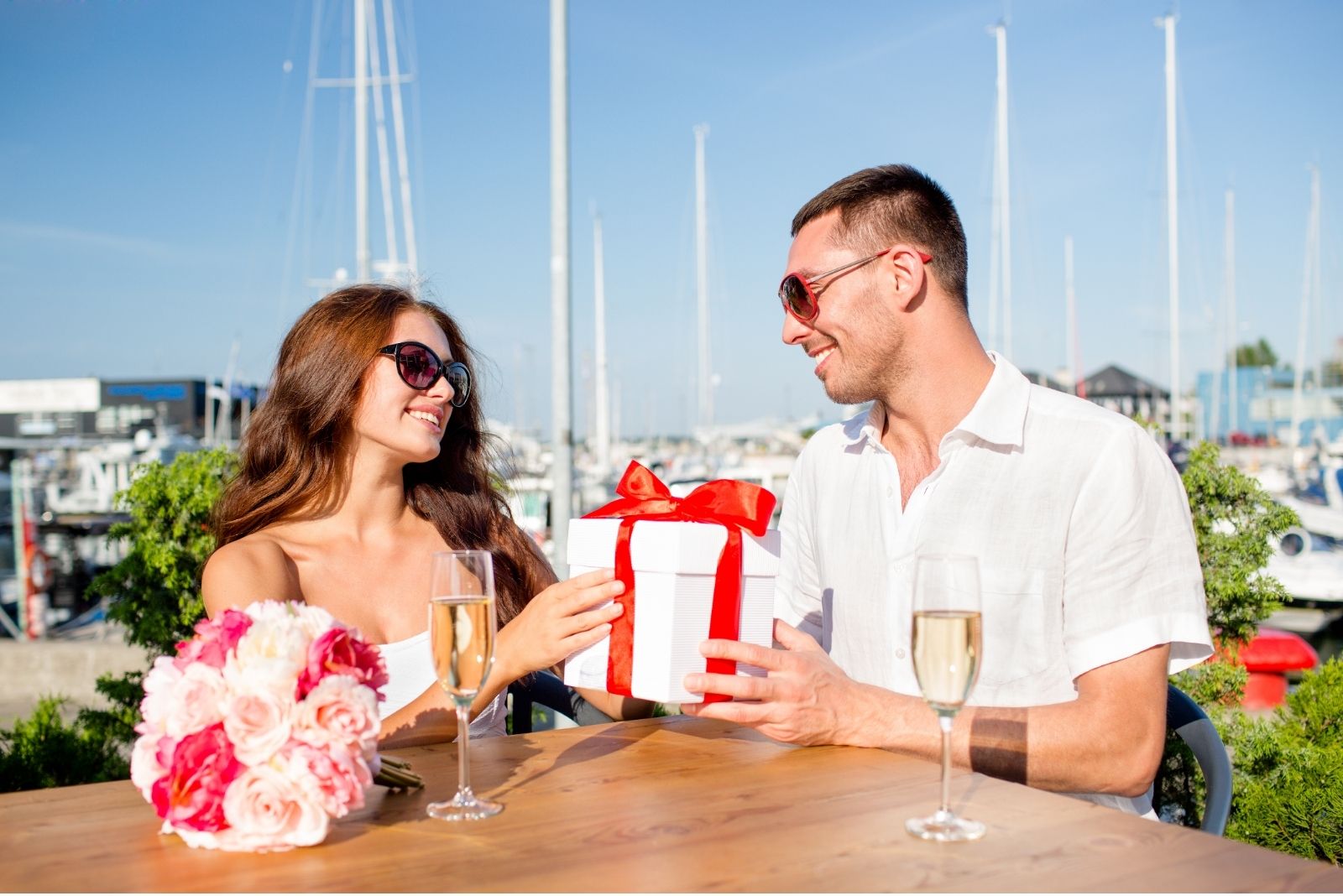 19.  "You Mean The World To Me" Globe
20.  AirPods Pro
So you might have decided that you don't want to be the gushy romantic guy who gets his girlfriend cliché gifts this valentine. Well, I have the perfect solution; be the guy who gets his girlfriend the top tech gift of the year with this AirPods Pro.
21.  Haitian Chocolate Bite-Size Mix Of 60
It won't be a valentines day gift guide without some chocolate and if you want to go the classic route, go with the best. These Haitian chocolate gift bars are exquisite luxury with vibrant packaging to light her heart up (if the bars don't work, which will be a first).
22.  Supersonic Hair Dryer
Does she wash and blow dry her hair every morning? Then get her a supersonic hairdryer as a gift, she'll be floored when she opens it. This supersonic hairdryer is the Rolls Royce of hair dryers.
23.  Stunna Lip Paint
Is your partner a makeup lover? Then get her a new toy to play with. I'm so sure she'll want to try out something from Rihanna's cosmetic line.
24. Beauty Sleep Collection
This ultimate beauty sleep collection will rid her of complaints of frizzy hair every morning as it consists of a silk set of pillowcases, eye masks, and scrunchies.
25. Heart-Shaped Mini Waffle Maker
Breakfast in bed has never looked so romantic as with this heart-shaped mini waffle maker. If there's anything greater than a mini waffle, it's a heart-shaped one; cupid would be so jealous.
Best Valentine Gifts For Him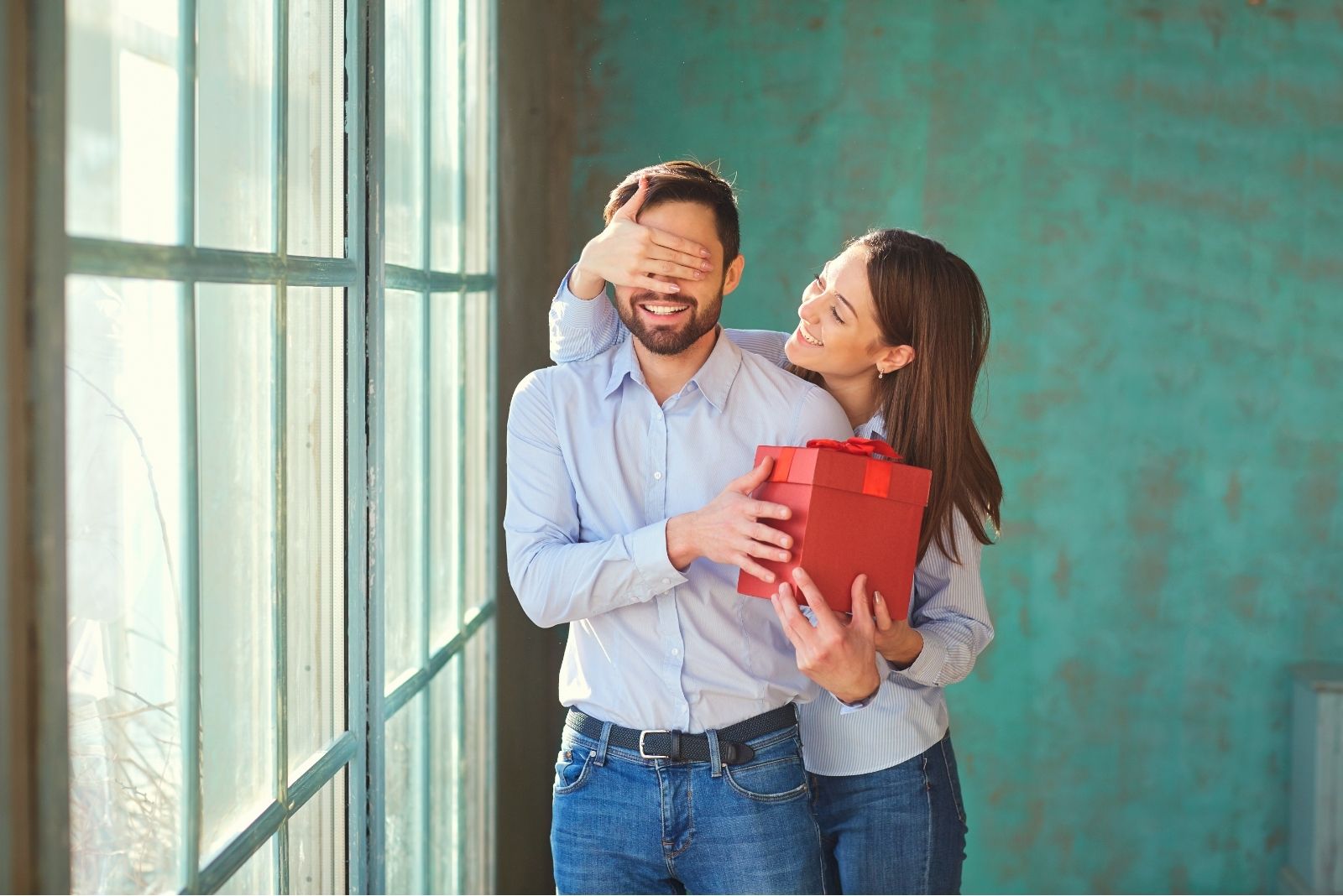 This section contains the best valentine gift for boyfriend and valentines day gifts for him ideas. These cute valentines day gifts for him can be sent to boyfriends, husbands, or the #1 man in your life.
26.  Personalized shaving kit Toiletry Bag
Shaving just got better with this personalized kit toiletry bag with his initials. Hey, don't send the personalized bag empty, put a shaving gift set inside. It makes it all the better!
27.  "Reasons Why I Love You" Notebook
This is one of my favorite gifts on this list. Just fill this notebook with all the fun, quirky, silly, and even serious reasons why you love your spouse and watch tears slip out of their eyes when they read the content. Hey! Don't forget to come back and thank me later.
28.  Portable Bluetooth Speaker
One of my favorite tech gifts for this year is a waterproof and dustproof Bluetooth speaker that can boast of 16 hours of battery life; I'm talking of the Sony SRS-XB12 Extra Bass Portable Bluetooth Speaker.
29.  Personalized Boxer Briefs
Get a kick out of your boyfriend by getting him boxer briefs personalized with your face all over. If he has a sense of humor, then he'll definitely laugh and love it.
30.  Fragrance Discovery Set
There's nothing more sensual than a man smelling like a package of yummy goodness. A man's signature smell from his cologne speaks so much about him- his taste, his preference. This fragrance set of six will give your man that luxurious scent to make heads turn.
31.  Whiskey Glasses And Decanter
Gifting him a custom-made whiskey glass and decanter will elevate his beloved home bar.
32.  AirPods Pro Leather Case
Help him protect his AirPods with these engraved leather cases. It's masculine and thoughtful and will remind you of you every time he uses the AirPods.
33.  Vertical Stand For PS4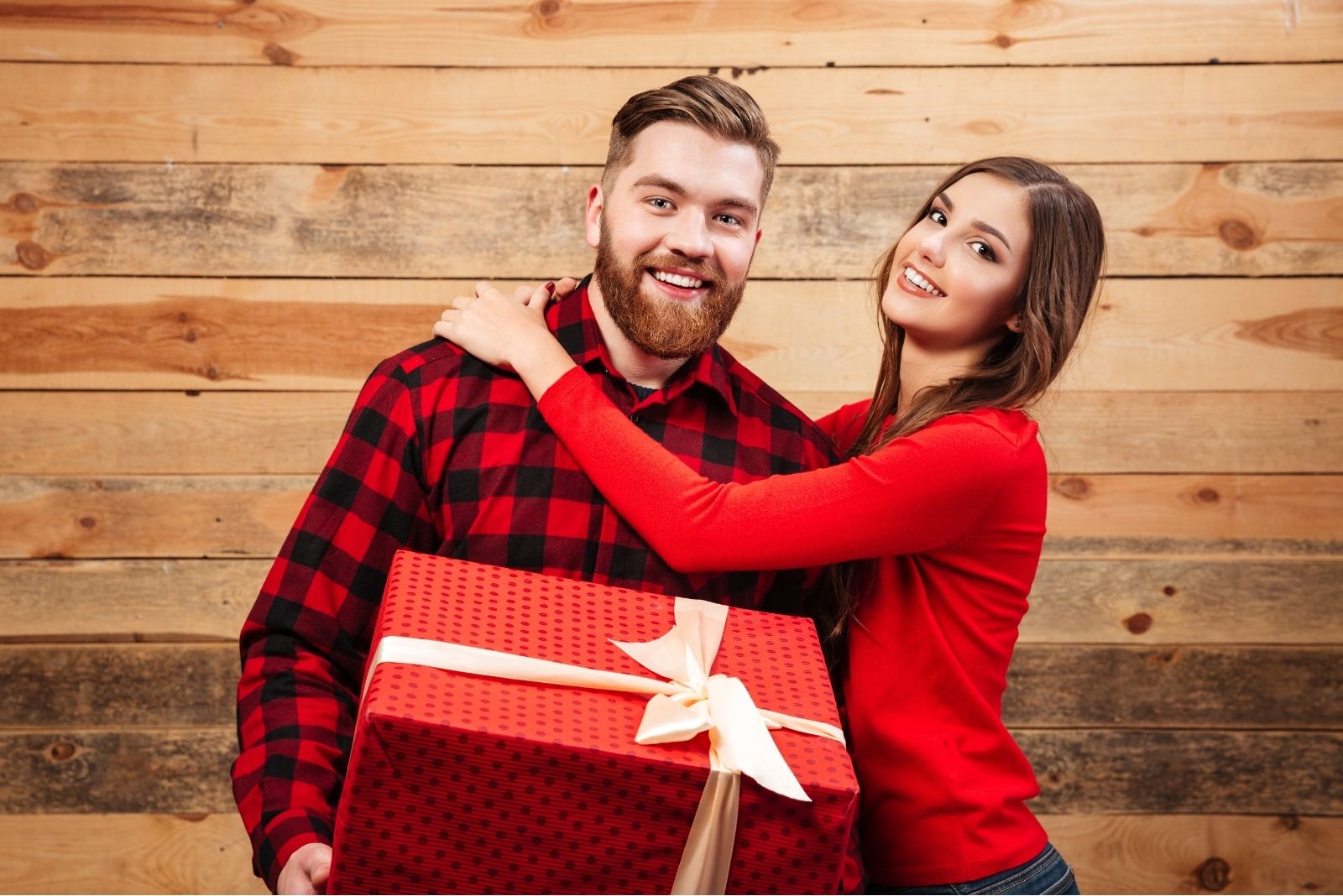 This vertical PS4 stand fits any version of the PS4, be it PS4 Slim, PS4 Regular, or even the PS4 Pro. This all-in-one stand/games storage/controller charging station/USB hub is the perfect gift for any gamer lover in your life.
34.  Engraved Docking Station
This handmade docking station will give all his essentials- phone, keys, glasses, watch wallet, a home of their own. You can customize it by giving it a name (e.g John's Stuff), or engraving his initials, monogram, or name on it.
35.  Letters To My Love Time Capsule
This is one of the most romantic valentines day gifts for him. All you have to do is spend a few nights writing 12 heart touching letters to your better half about all the ways he inspires, encourages, and loves you. Seal them in this paper time capsule and don't forget to tell him to open it when he needs them the most.
36.  Leather Watch Box
It doesn't matter whether you're splurging on a new watch for him or not; feed his obsession with this custom made leather watch box. You can pick between a three- or six-slot option; it all depends on the size of his collection.
37.  Temperature Control Smart Mug
38.  Drip Coffee Maker With Wifi
Does your man have a good taste in coffee? Then he'll love a good taste with good taste, I mean this drip coffee maker that he can even control with his voice assistant.
39.  Gordon Ramsey Cooking Class
Get him an all-access master class pass for Gordon Ramsey's cooking class and you'll reap the benefits at future dinners.
40. Monogrammed Cuff Links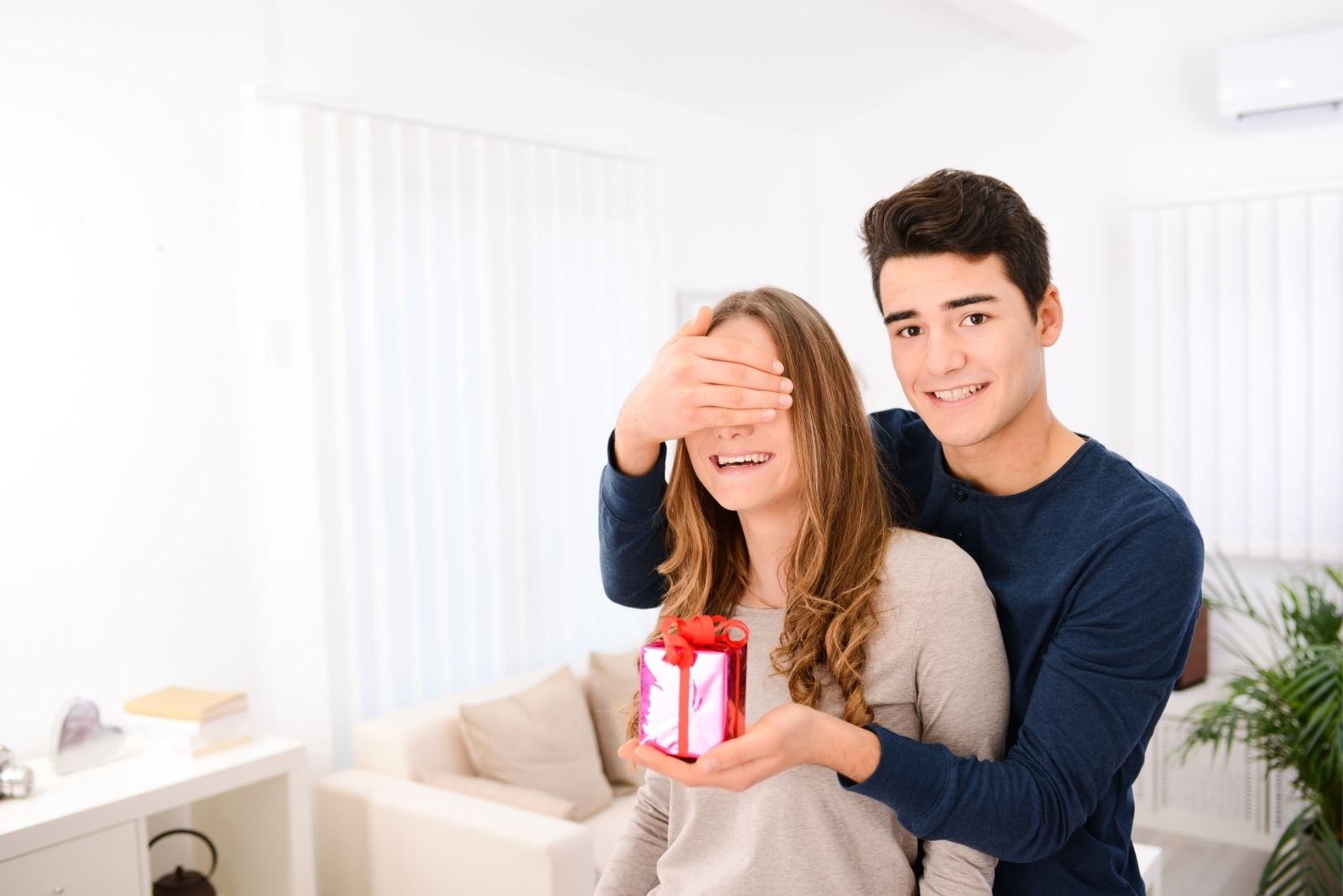 Personalize some stylish cufflinks with his initials and he'll want to wear them every day.
41.  Waterproof Shower Speaker
Singing in the shower just got better with this waterproof Bluetooth shower speaker. Don't forget that it will make your shower session more fun when you guys engage in "The Shower Karaoke Battle".
42.  Custom Engraved Pocket Knife
Gift him a gift he'll actually use, and engrave it with a sweet message that he'll see every day.
43.  Birchbox Gift Subscription
It isn't just women that love receiving gift boxes filled with beauty products every month, men love it too. Get your man a BirchBox Gift subscription of his favorite grooming products and he'll be even more handsome than ever. Don't just forget to tell anyone that comes snooping that he's yours!
44.  Heart Collage
45.  3-In-1 Charging Hub
Help your boyfriend get organized by getting him this 3-in-1 charging hub where he can charge his iPhone, AirPods, and Apple watch all in one place. With this charging hub, you'll get rid of disorganized cables.
46.  Bluetooth Beanie Hat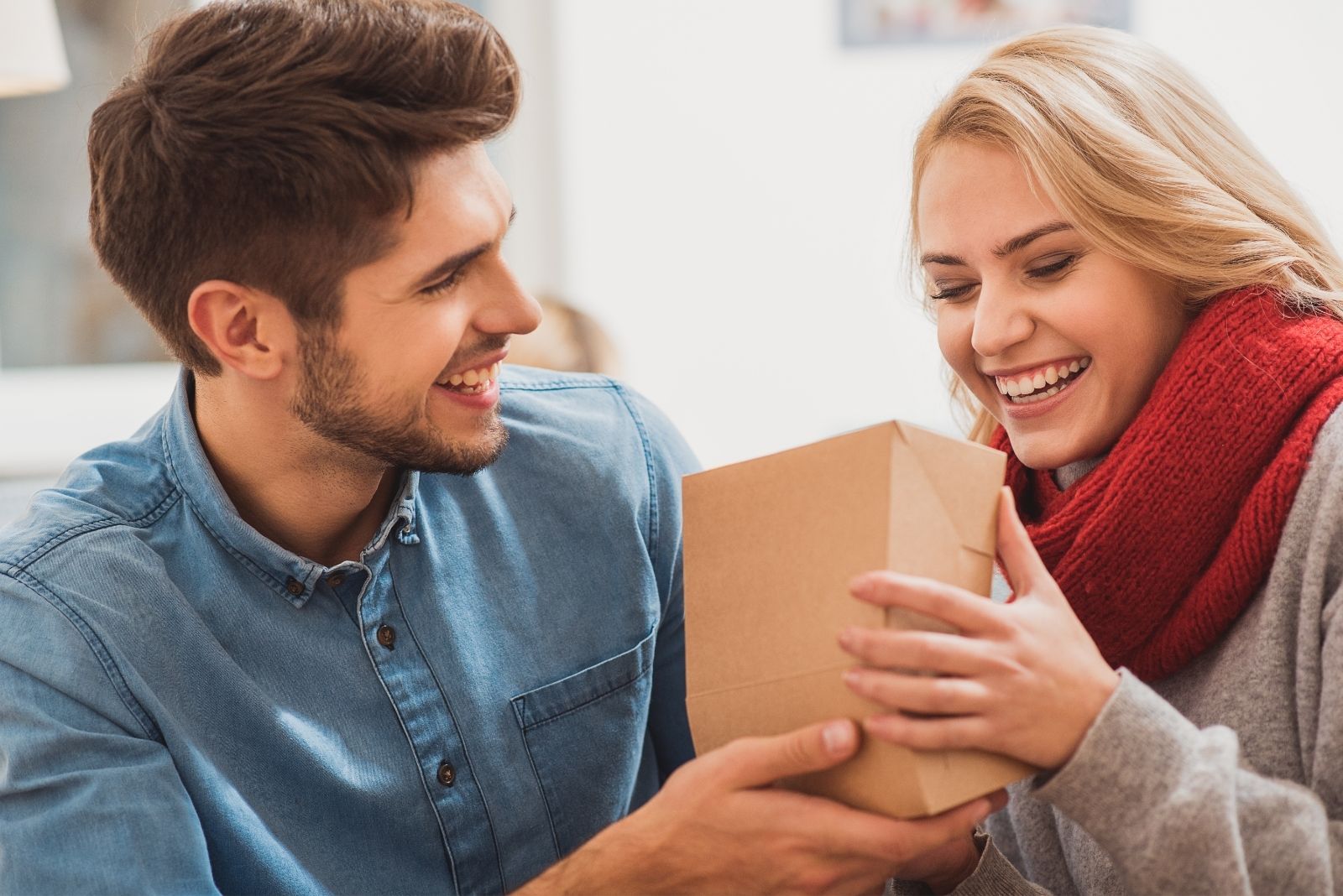 With this cozy beanie hat, there won't be a need for headsets or headphones this winter because of the inbuilt Bluetooth speakers.
47.  Tabletop Foosball
No one needs a gigantic foosball table when they can get this portable tabletop version as the best valentine gift for boyfriends.
No one is too old to play so don't refrain from getting him this as a valentine's gift. Making him the star of the office with this gift will MAKE HIM LOVE YOU FOREVER!
48.  Leather Wallet
49.  Personalized Guitar Pick Keychain
This is perfect for the musician in your life; a handmade guitar pick engraved with a personal message for him. How romantic!
50.  Men's Body Wash Set
Talk about a skincare upgrade and you get your man a body wash set, he's going to scent so yummy you might not be able to keep your hands off him.
Wow! 50 best valentine gifts listed just for you. Now that you have this list of valentine gift ideas for him or her at your fingertip, what are you waiting for? Go out there and start shopping for that perfect gift for your spouse that will melt his/her heart this valentine.
Don't forget to send them some Valentine's love message too. I want to hear about your other suggestions in the comment section below.
Pin this for later!