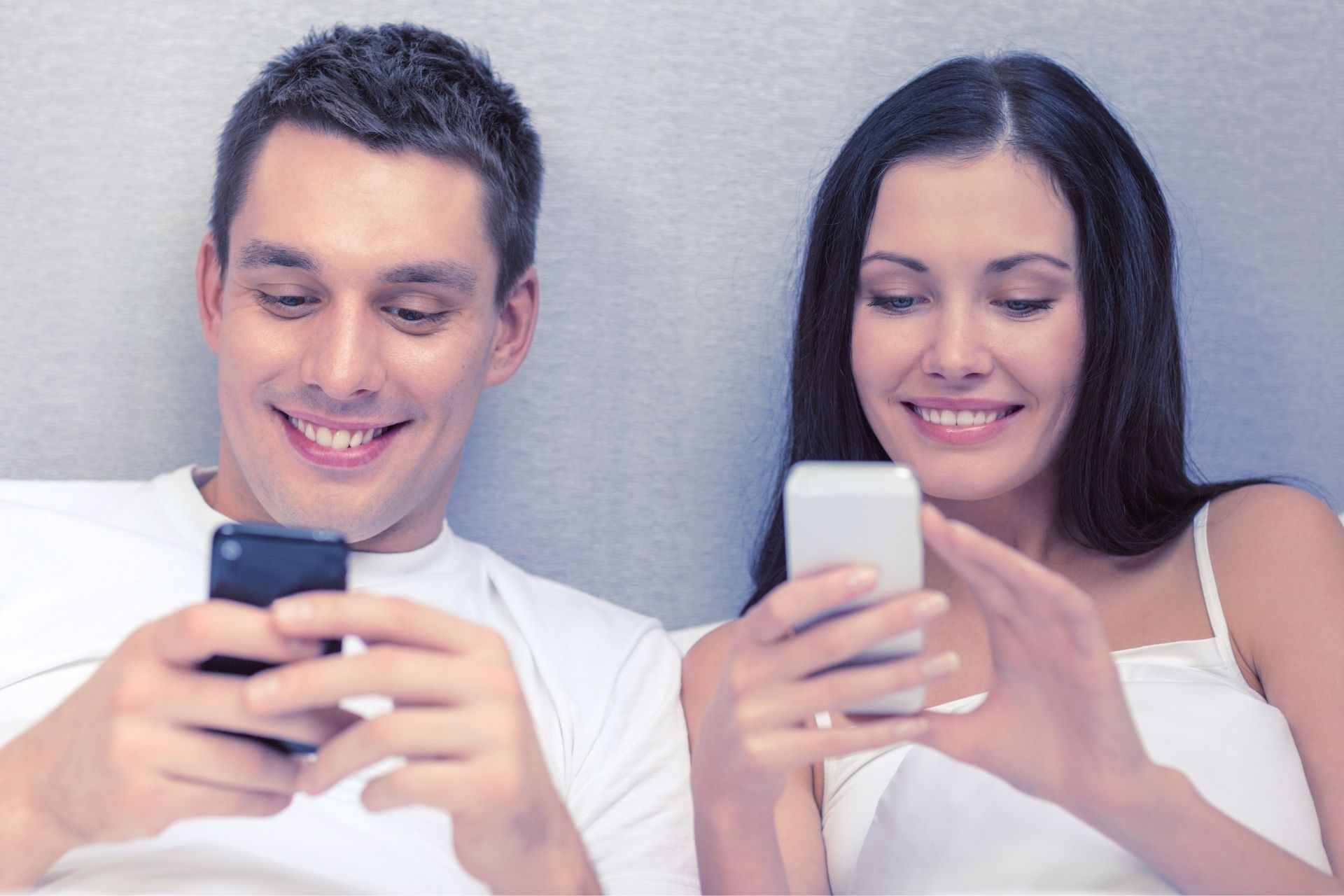 I love sending some goodnight messages for him to my man because I, personally, love receiving them. There's just something about receiving a text at night before going to bed and the smile it puts on your face to make you feel warm, perfect, and all mushy inside.
The ones we think about at the end of the day are the ones we love, so express your love and make him think about you by sending some goodnight texts for him or romantic goodnight messages for him.
Expressing your love and making your man feel special through texts and love messages are some of the easiest ways especially as not everyone is an expert wordsmith.
You can express your love through some goodnight messages for him, romantic deep love messages, or even through some hot and dirty love messages; never wait until there's a special occasion to tell you man 'I Love You" or how much you love him.
Make your boyfriend, husband or partner feel special, loved, and respected with our grand catalog of 100 Best Goodnight Messages For Him. This catalog holds the best of what you can find when it comes to romance and night texts.
So feel free to use it as a template, personalize it or even plainly send it as they are; they are sure to make his heart flutter!
To make your selection process easier, I have divided this huge catalog into Romantic Goodnight Messages For Him, Cute Long Distance Goodnight Texts, and Flirty Goodnight Messages to make him hot for you.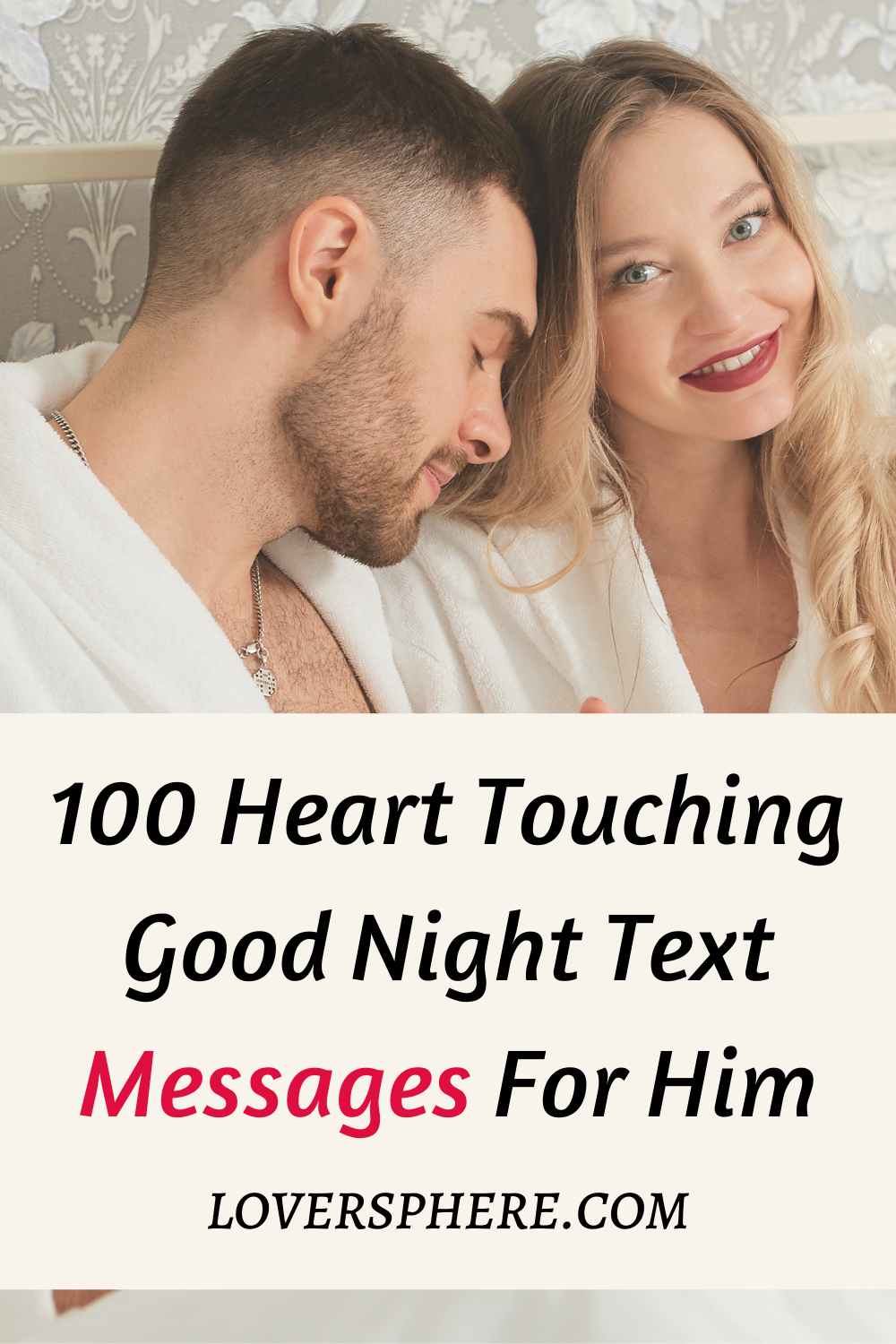 And when morning comes, don't forget to start his day with the sweetest and cutest Good morning Messages to kick start his day right.
Romantic Goodnight Messages For Him
Send your boyfriend some goodnight messages for him to tell him "Goodnight" in a unique style. This section contains goodnight messages for a boyfriend, sweetest goodnight messages for him, and romantic goodnight messages for him that are sure to warm his heart.
1.  I know it's not true, but my heart still believes that the moon shines for just me and U. Good night.
2.  Sleep tight and good night as I wish you the best of dreams with all of my might.
3.  I don't mind having even the scariest nightmares, as long as I am woken up by you. Good night.
4.  You are the reason I fall asleep with a smile on my face. As you drift off tonight, may you smile thinking of me too.
5.  I couldn't fall asleep unless I told you how much I miss you – love you and goodnight!
6.  This is my simple wish, my love. I want you to dream of me. Dream of me even as I think about you all night.
7.  Separation from you this night brings sorrow, being in your hugs will dispel it tomorrow.
8.  We are together for a very long time now, and I just wanna let you know that I love you more than ever now. Good Night my love.
9.  I tried to count the stars to help me sleep this night, but all of their lights seem dim without your own star's light.
10.  You will forever be a resident of my heart, come rain, come shine, come day, come night because love isn't meant for just the good times, it shines even more in the hard times. good night my love.
11.  You don't have any other choice than to be in my life. That is what you brought upon yourself when you told me that you love me. Sleep tight.
12.  While everyone else hears nothing this night, the loud beat from this heart you excite will be my lullaby.
13.  I know I will have sweet dreams tonight, my only nightmares are when U are away from me. Have a lovely night.
14.  Every night is like going out for Chinese. I'm left with a sour taste from leaving you, but it changes to sweet once you show up in my dreams.
15.  Even though the night seems bleak without you, our love would shine like stars in anticipation of a new day. Goodnight my love.
16.  You will forever be a resident of my heart, come rain, come shine, come day, come night because love isn't meant for just the good times, it shines even more in the hard times. good night my love.
17.  The day is now dark but hasn't ended for me because I have one task more. Which is to wish you a peaceful night's rest. I love you, baby boy.
18.  Just like a sweet surprise, I think and dream of you all day.
19.  I pray that you think and dream of me when you close those cute eyes tonight.
Goodnight.
20.  Wishing you "Good Night" is also a message for you to come to know that how much I love you. GN!!!
21.  I love all the stars in the sky, but they are nothing compared to the ones in your eyes! So I'll think about you as I turn in for the night. Good Night!
22.  Goodnight, my precious one. Though I am not there with you, my heart keeps guard over you. Stay safe.
23.  I can almost feel you snuggle against me when I shut my eyes but I find you in my dreams and you are closer than a snuggle. Instead, you are in my heart.
24.  Just like how the moon reflects the sun's light, looking at the moon means we're looking into each others' eyes regardless of our distance apart.
25.  The night is for fantastic persons like you. I wish you the sweetest of dreams.
26.  I want to see the best version of my boyfriend every day. So, sleep right and tight, have a great night, my love.
27.  There are a thousand and one reasons why I love and cherish you as every day comes and go. You bring out the beauties of life, and I wish you the sweetest of dreams as you sleep.
28.  Tired of messages like Good Night, Missing You, Love You, and so on? Now here's a new one – Can you smile for me once?
29.  Good night, to the guy who makes my days bright. Sweet dreams, to the guy whose love makes me burst out at the seams. Hugs and kisses, to the guy who makes my life seem like a bed of roses. I love you.
30.  I tried counting the reasons I love you – but there were too many and now I'm falling asleep thinking of you. Good Night.
31.  Your handsome face is one thing that never leaves my mind. I wish you are the pillow so that you will cuddle me all night as I sleep.
32.  I hope that this good night message converts all your fears into confidence, obstacles into opportunities and worries into smiles. Sleep tight.
33.  Today has been a non-stop, hectic, crazy day, and I wish I had gotten time to see you… so I'm thinking about you before I fall asleep. Goodnight, sleep tight!
34.  Moon is brightening, stars are shining and I'm saying you word loving. Good Night!
35.  Didn't you know that there are strict dreaming rules while dating me? Rule number 1 is that you must always dream about me. Rule number 2 is that rule number 1 is the only rule. Good night.
36.  God sprinkles tiny but wonderful seeds of blessings on earth each day…and I just caught one that's so nice and true…it's YOU! Love you and good night.
37.  I send you this good night message knowing that someday I will be lying next to you every night telling you myself.
38.  When I sleep, it is a call to you and when I dream it is a wait for U. Good Night.
39.  You are my sunshine in the day, and my starlight in the night. You drive me crazy without explanations. I wish to dwell in this craziness all my life.
40.  Goodnight, sweet prince. May your dreams be nothing short of spectacular. You are my one true love and life's wish. Love to you, my soul mate. Heart to heart we sleep.
41.  I love you so much and want you to know that I cherish you so while you close your eyes tonight, I wish you a good night and hope that you sleep well.
42.  Whenever I think of you, my night brightens, and my heart softens. You bring out the best in me with the beautiful things you do to me. I love you, and nothing beats that any time, any day.
43.  I want to see the best version of my boyfriend every day. So, sleep right and tight, have a great night, my love.
44.  Our relationship may not be the perfect one. But it doesn't matter to me as long as you stick with me forever. Good night babe.
45.  Goodnight messages and love quotes I'm trying to find aren't enough to articulate what I feel for you. Good night honey. I love you.
46.  Whenever you feel lonely, think about me. Whenever you are cold, imagine my arms around you. Whenever you miss me, I am a call away. Goodnight.
47.  Candles need light to burn. Screens need power to shine. For sweet dreams, I need to hold the man I know is mine.
48.  Goodnight to my handsome prince and may you know that while you dream, you have made all of mine come true.
49.  How can one man wear so many hats? You're my daytime greeter, my lunchtime ally, my nighttime confidant, and my late-night confession booth. Love you!
50.  The night is young, so is my love for you. I am sure of having the best night's rest because I have felt what your care and affection is like in our time together. I cherish you at all moments.
Long Distance Goodnight Message For Him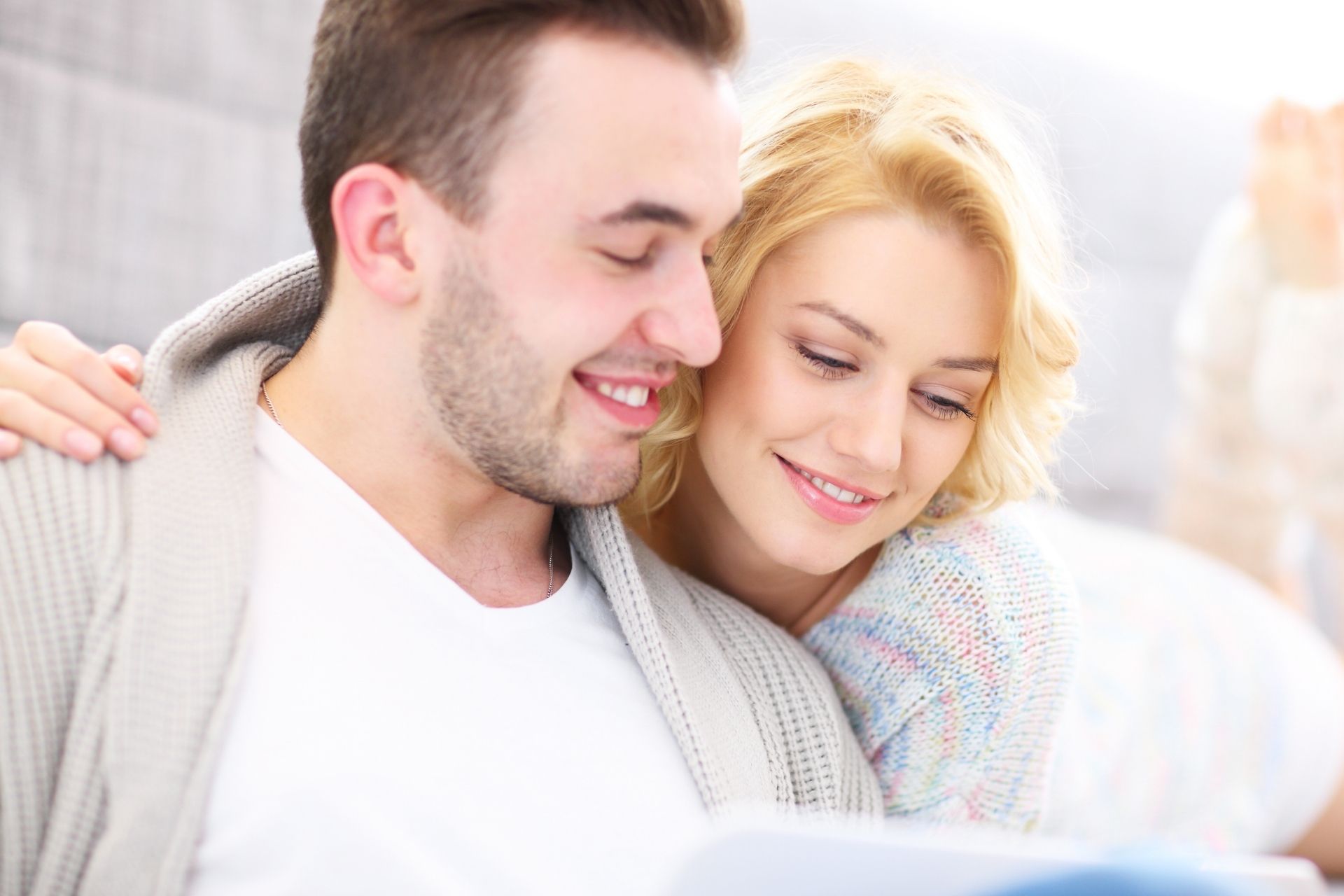 No matter the distance, this section of romantic good night message for him long distance, and goodnight texts for him will help you keep him close.
These are the best goodnight messages for him long distance that you can find, so make good use of them by making his heart flutter when he receives them.
51.  I couldn't fall asleep unless I told you how much I miss you – love you and goodnight!
52.  Whenever I think about how I'm yours and you're mine, I get the sweetest shivers down my spine. Good night.
53.  The best bridge between despair and hope is a good night's sleep. I hope you have a restful night.
54.  I can feel you whisper in my ear as I drift off and I hope you can feel my love as you sleep tonight. Good Night.
55.  Sleep well and I hope that I'll be the first thing on your mind when you wake up. Good Night.
56.  I wish you the best of this night because my thoughts are all about you. Thank you for always treating me with respect and adoration. It makes every moment special.
57.  Every day I fall in love with you, you give me reasons to always dream about you. I love you.
58.  I know that you are the one because when we are apart I feel like my life is shattered. I never want to be without you. Make sure you dream about me. Good Night!
59.  Mornings may be easy when I know you'll be around, but nights are harder when your presence can't be found.
60.  One day, hopefully soon, I'll fall asleep beside you and wake up next to you. For now, have a good night.
61.  It's so cold here, I wish you could be here to warm me up…
62.  Distance is only a test to see if our love is ready for the lifelong journey. I hope you know that… Good night, baby.
63.  Darling, may you sleep with no worries as I have prayed to God to send you angels to guide and protect you through the night. Have a wonderful night my love.
64.  One message and a few words are not enough to tell you just how much I love and miss you right now. I'm so glad we're meeting soon. Sleep tight, love.
65.  No matter how far away you are, you'll always be on my mind. Sweet dreams!
66.  We will be together forever and never apart. Though you're far away, you're right here in my heart. I love you.
67.  I'd walk a million miles just to fall asleep in your arms tonight!
68.  My teddy bear doesn't hug me as nicely as you do. I miss your tight hugs and your warm kisses. Wish you were here!
69.  You taste sweeter than a midnight snack. Come home so I can take a bite.
70.  When you left, you took my heart with you but I know you'll both be back someday, so I'll feel complete again.
71.  I will give up on our love the day the stars shop shining and the moon falls from the sky. I love you that much! Good night.
72.  Miles and time zones mean nothing when I know that you're right here in my heart. I love you.
73.  I wish to always be there to usher you into a new day with wet kisses and tight hugs. I wish to be the first to tell you, "Good morning." First, let me wish you a beautiful night rest.
74.  Though it is just a night of few hours, my heart is bleeding from missing you. I love you. Goodnight.
75.  I can't wait for tomorrow to come. It promises to be sweeter, better, and more amazing for us. Meanwhile, enjoy the night.
Hot And Dirty Goodnight Messages For Him
Tell your boyfriend "Goodnight" in a tempting style and help spice up the bedroom by sending him some flirty goodnight messages for him.
These cute goodnight messages for him and hot goodnight message for him will keep his flame of passion burning for you.
76.  Going to bed but wishing I was giving you a lap dance.
77.  Bring whipped cream for dessert tonight. I'm dessert!
78.  Will I be in your dreams? What will we be doing together, I wonder…
79.  Will I be in your dreams? What will we be doing together, I wonder…
80.  Make sure you touch yourself and think of me before you sleep tonight.
81.  How I wish to be that pillow you are resting your head on just like the times you lay your head on my lap, peacefully snoozing.
82.  Every day you give me more reasons to fall in love with you – I'm thinking of ways to make you fall more and more in love with me as I fall asleep, dreaming of you…
83.  Did you know that it's daytime right now in Australia? Let's go on a trip to Sydney. First one to fall asleep buys the tickets.
84.  My car broke down on 69 Aroused street … & I heard you are the best mechanic around town … Please help me!!!!
85.  Wish I can fall asleep as fast as I'm falling in love with you.
86.  I can keep myself busy during the day… but at night I can't stop thinking of you…
87.  I just wanted to say goodnight. Sending you virtual hugs, kisses, squishes, smiles, and sweet dreams of me.
88.  I want to cool you off with ice, then make you hot all over, so you have a great night!
89.  Just your voice is enough to turn me on!
90.  Brushed my teeth and getting in bed. Fun fact: toothbrushes make for great deep-throating practice. Good night, darling!
91.  I can't wait to close my eyes because I hope that I will see your face as I sleep. My champion, I love you with everything in me. Goodnight.
92.  Kissing is the best exercise as it burns 6.4 calories per minute and it is also a fun exercise. Can we do some work out together to burn some calories?
93.  My lips are waiting for your touch. Can you please come to make my mouth taste sweet?
94.  I feel passionate when I am with you, and really dull when not. Right now I am not with you so you can understand my situation. To recharge me in the morning, get ready.
95.  If life were a film, I would fast forward to only those parts where we could be together. Every part of me misses you. Take care and goodnight.
96.  You better be dreaming of me tonight, because I'll definitely be dreaming of you 😉
97.  I want to be the last thing in your mind every night. So, here is good night wishes and kisses from your love.
98.  I'm half asleep, but I just wanted to say hey & that you mean a lot to me. That's all. Night!
99.  On a cold night such as tonight, I want something big, warm, and fuzzy. Don't get any strange ideas. I just want a big hug from you. Goodnight, love.
100.  Really wishing that this pillow was your chest to rest my head on. Goodnight babe
Pin this for later!