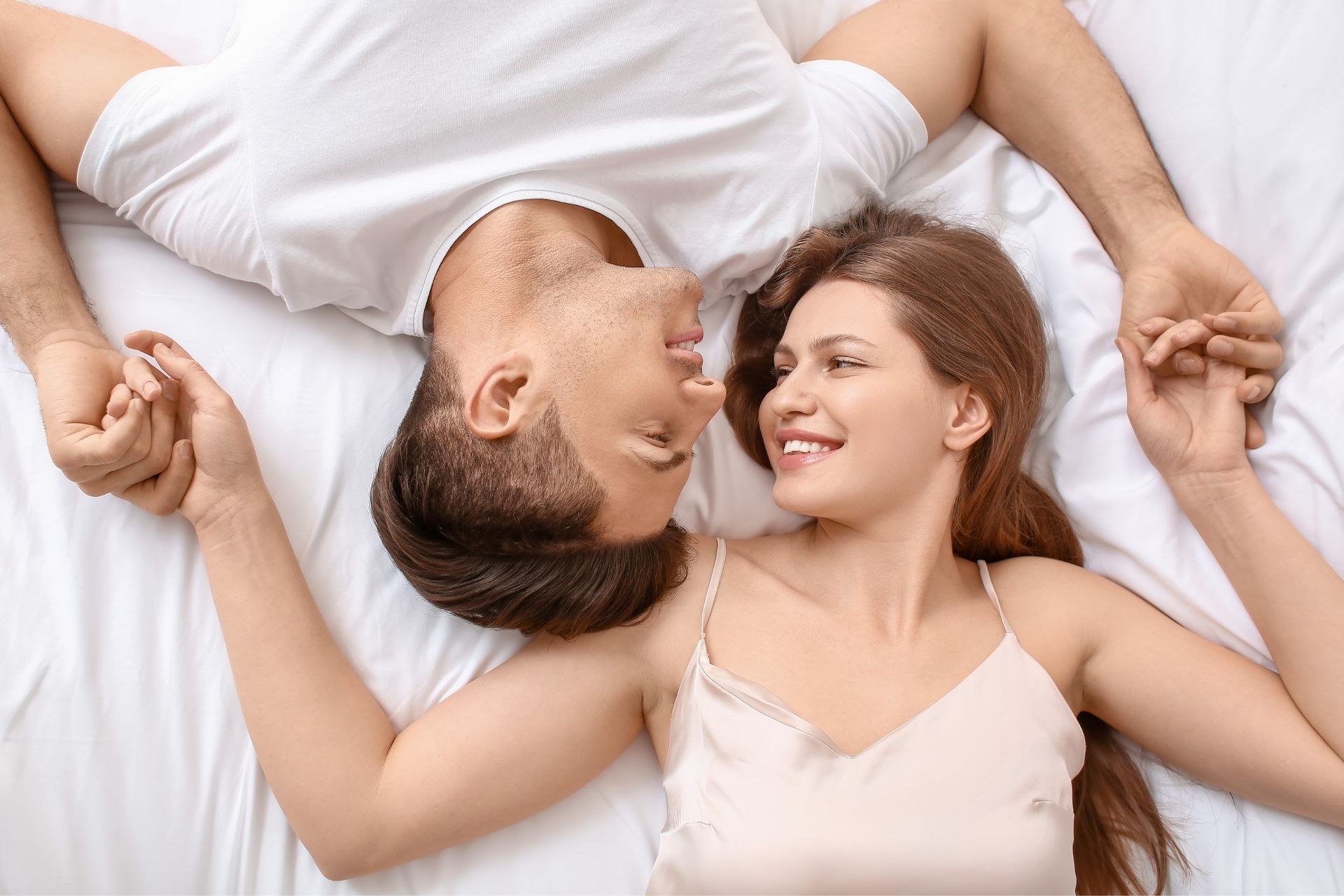 It is said that intimacy is one of the most important things in a relationship, and this is true! However, the fact remains that no one wants a boring partner. We all want someone who knows our likes, attraction, things that make us happy, glowing and all smiling, and knowing how to make a man cry in bed can only add to these sparks.
So wake up from your slumber and embrace these funtastic practical actions, especially if you want to give your man that toe-curling, body shaking and mind-blowing feeling that will keep him ultimately addicted to you and enrich your relationship.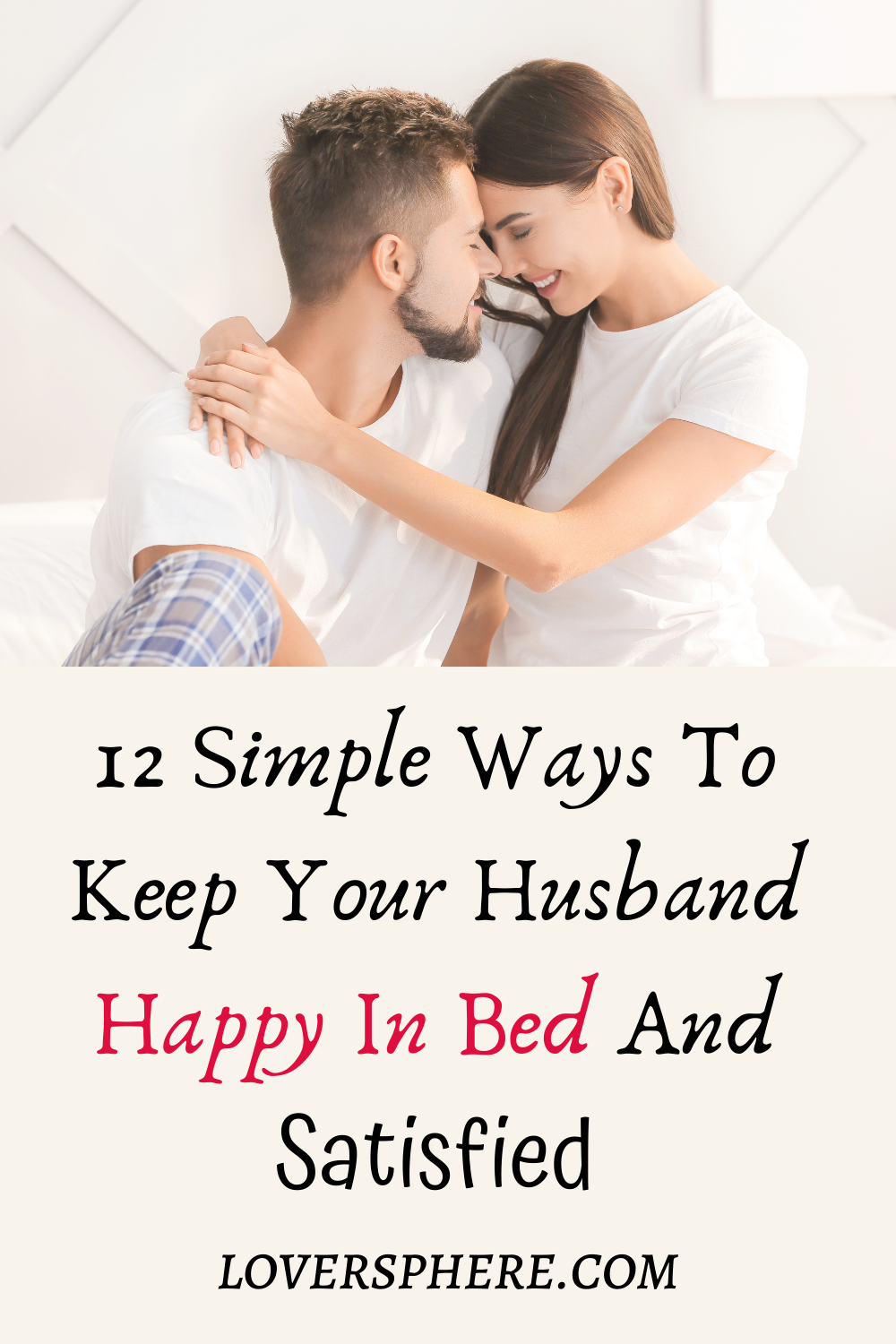 1.  Clean Up For Him
This first tip on how to make a man cry in bed directs us to observe personal hygiene. And this includes keeping every part of our bodies clean and freshly enticing, so go take a shower!
As you bathe, focus on the more sensitive areas such as the ears, neck, armpit, etc. and wash your lady parts (preferably with water or other feminine hygiene products that are safe) to keep it tasty and yummy.
Get clean towels, use an inviting body lotion, let your hair smell nice too, polish your fingernails, wear a sweet perfume, and look ravishing.
Your man will be enchanted every time you are around him if you know how to clean up. Cleaning up nicely is a Sure Way To Become Irresistible To Your Husband.
2.  Create A Mood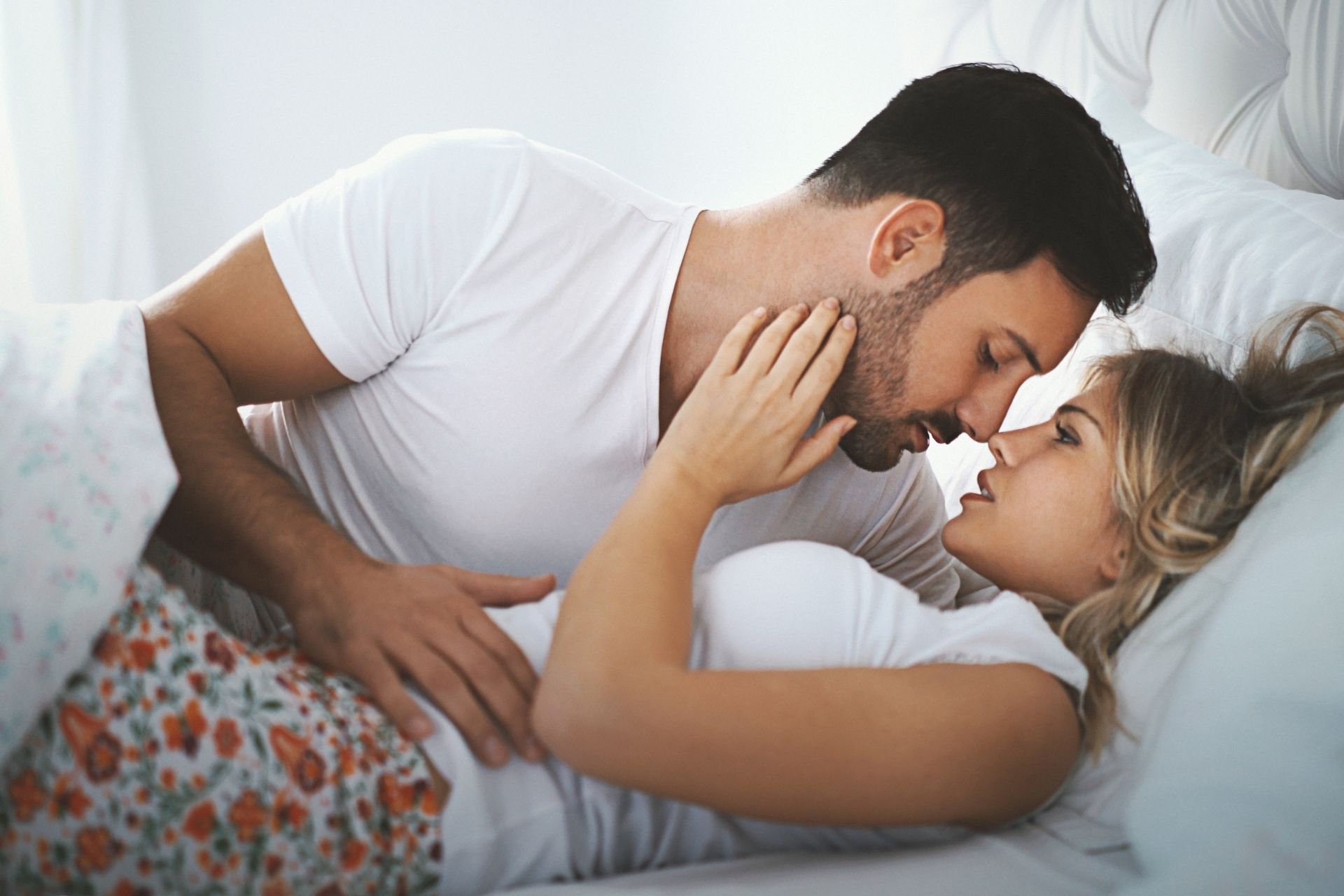 It is common knowledge that our environment has an influence on our realities and the way we feel, and setting a romantic ambiance can only help to boost excitement before we get on the act.
So make sure your space is warm, clean, and inviting. Invest in sheets (soft, inviting, and snugly fitting on the mattress would do).
Find soft lighting for your bedroom with several levels of light if possible. You can turn down the lights with a dimmer or lowering device, and if you can't, rewire the lighting to a low wattage bulb in a nice lamp. Unable to achieve that?
Throwing some scented candles can elevate sensual mood even further as they soften sharp images and throw a radiant glow around everything. Also, ensure to look delicious with the baddest piece of lingerie your wardrobe has to offer (it's one trusted way on how to keep your man happy in bed).
Why not add a pair of your favorite high heels and sultry red lipstick for the ultimate amazing goddess appeal he won't resist and with some soothing music in the background crawl on your fours towards your romantic lover and see him falling in love with you a second time.
3.  H
ow To Make A Man Cry In Bed:

Tease Him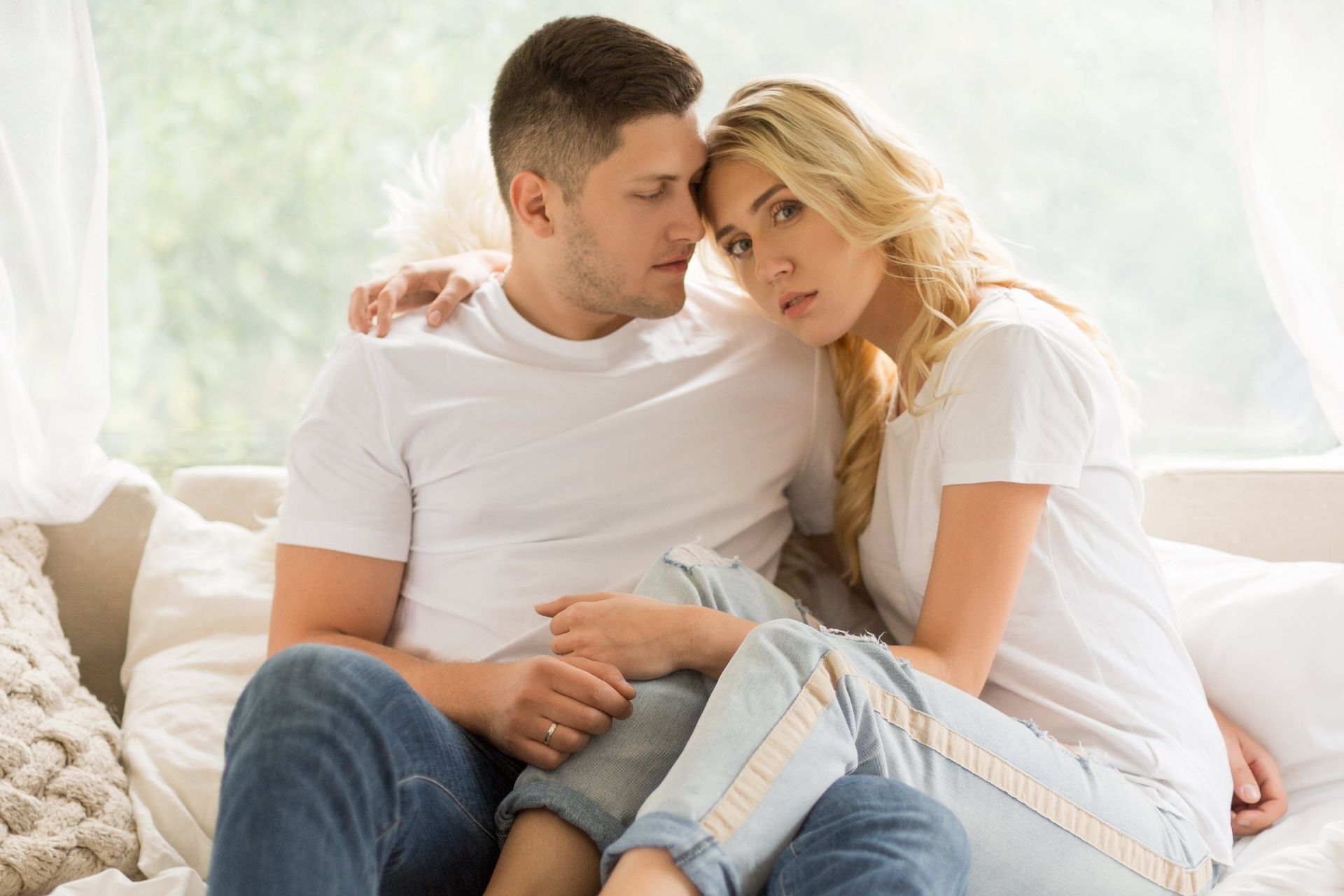 This is a crucial aspect of how to be irresistible in bed, how to make a man cry in bed, and make your man long for you.
If we say someone is teasing, we mean that they are pretending to offer you something that you want but then not giving it to you.
So get busy and tease your man! Bend over and toy with him by slowly picking something in a short skirt, you can spice it up by bending forward so he gets a good view of your cleavage.
Slide that sausage or banana into your mouth slowly and intently or seductively draw attention to your mouth with a lollipop and keep his heart racing.
Your boyfriend won't be able to stop himself from thinking about what you could do – or have done – with your mouth if his c*ck were that lollipop.
You could eat your food like you are making love to it too. Bite into that fruit and let the juices ooze and drip down your chin, just tempt him until he can't take it anymore, and watch him unravel the animalistic passion that even he didn't know he had.
Teasing your man is one of the Things He Wants That He Might Be Too Shy To Ask. Most times, they assume that you know they want you to tease them; so get off that your high horse and show him your playful side.
4.  Give An Aroused Massage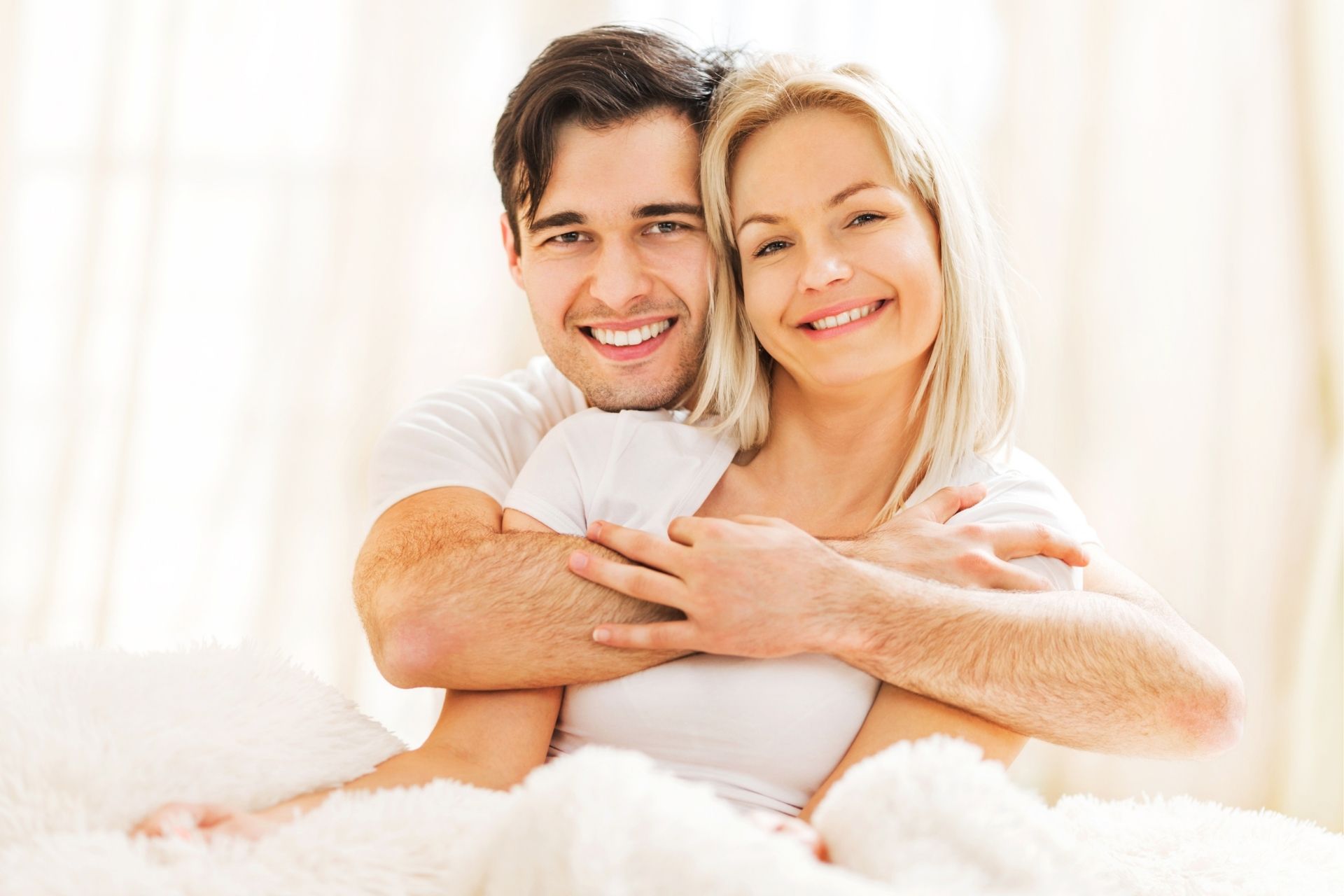 The power of a good, deep, and sensual massage should not be underrated when it comes to tips on how to make a man cry in bed. It's one of the Bedroom Habits I've Incorporated over time in my home.
To do this, make your man lie down on the bed and apply warm oil on his aching body, beginning with a sensual head massage can be a great way to start because the scalp is home to many stimulative spots, so, let your hands gently caress his with slow circular movements to really get him in the mood.
Work your way towards his face, pressing gently into his temples with two fingers from each hand for several seconds simultaneously, you can as well trace around his lips softly with an index finger.
And as you go slowly, slide your hands down all the way to his neck, over his shoulders, his back, and then his naughty bits.
You could start by giving him a light hand job, where you are barely gripping his joystick. And once that allotted time has passed you can then do more, whether that means giving a firmer hand job, or oral to enable him boil with pleasures and come. Won't that be wonderful?
5.  Kiss Him Passionately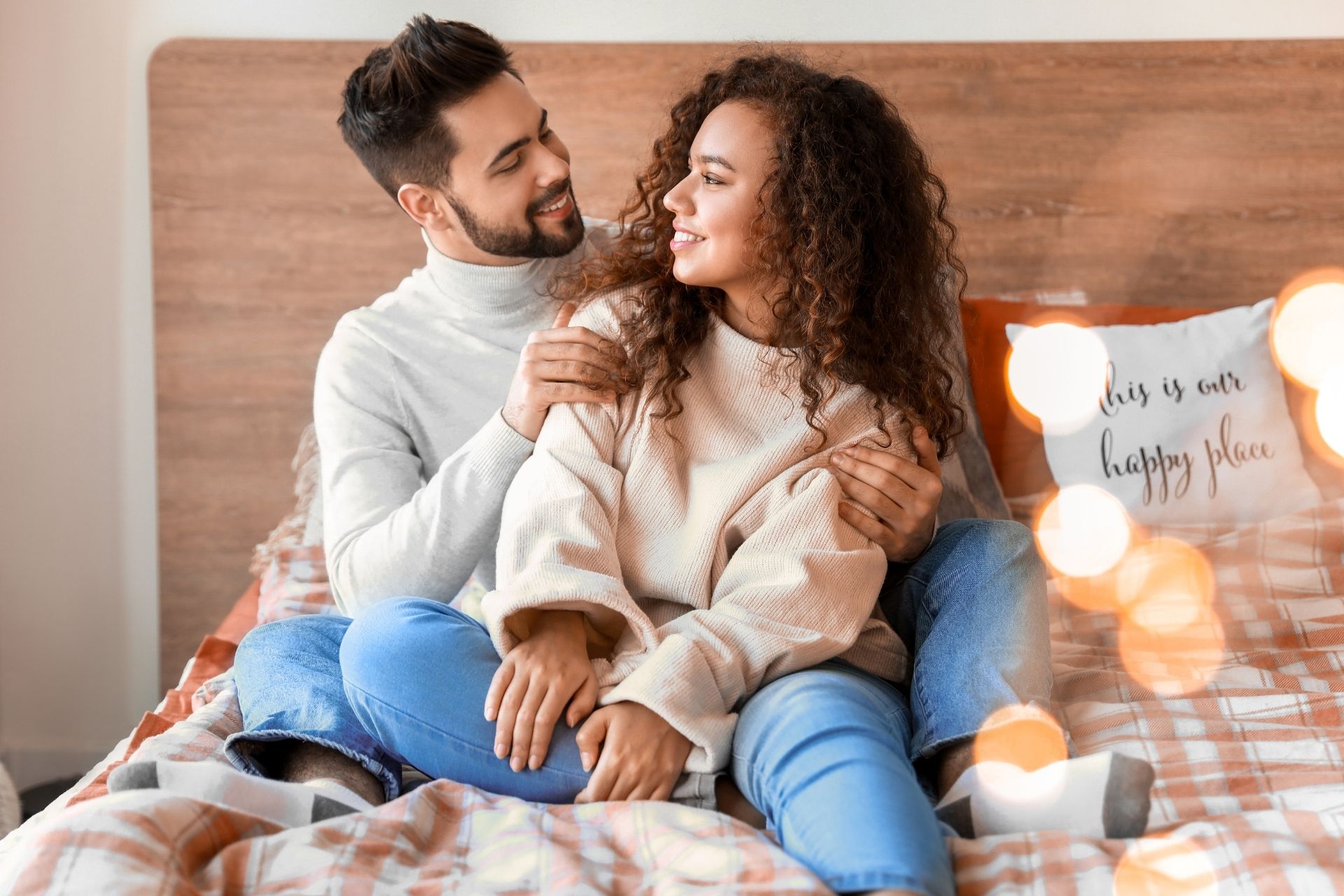 Want a hint on how to make a man cry in bed? Kiss him! And do so passionately. Kissing is one of the greatest pleasures he can experience before, during, and after lovemaking.
But firstly, you need to prepare your lips beforehand. This means using a good lip balm so that your lips are soft and definitely not chapped.
Make sure your breath is minty fresh and clean too, to avoid turning him off. No one wants to puke you know, so smell good.
When this is done, progress to kiss your partner once, slowly, letting it last for a few seconds. Then slowly draw your lips away, keep them close enough to your partner's lips so that they are almost touching, but aren't, (this lingering will build the passion, and will really capture your partner's full attention).
Then tilt your head to the side and give him a good, passionate kiss. Take it slow and easy to determine pleasure.
As the kiss progresses, you may want to try French kissing, in which you insert your tongue lightly into his mouth and let it dance with his tongue.
Kissing on the jawline could also be a turn on, just move your lips and use a little bit of tongue while doing this. Do not forget the ears.
And then slowly move your lips to his neck, his chest, to his stomach until you reach his groin area. Reach out to his joystick and spur him with pleasures.
6.  How To Be Irresistible In Bed: Role Play
Delving into your partner's world of fantasies can be key on how to make a man cry in bed – whether he fantasizes about getting a good spanking from a college professor, being taken advantage of by a doctor, or participating in a gang bang; there is a way to fulfill all his desires without him cheating and this is where role-playing comes in.
When you role play, you heighten your partner's arousal by taking on different personas, re-enacting a scenario, and wooing or seducing him. In other words, it is a romantic game where you take on a new identity to fulfill his naughty fantasy.
To get started, set the scene. A small physical change like wearing a wig – going from brunette to blonde or from straight to curly, and other materials can really help you get into the idea of a new identity and will help you get lost in character.
And now that you have your costume and your props, you can spice it up by heading to a hotel bar and pretending to be strangers picking each other up for the first time (just make sure you have reserved a room ahead of time).
Can't afford that? You can make your home a hotel by changing locations, for example, you can turn your kitchen into an island or dining table into a little bar set-up for the evening, talk with an accent (if necessary) and get in the act from there.
Just let your partner know his limits, and establish a safe word that'll bring the action to a halt the second you are uncomfortable.
Related Article: How To Spice Up Your Marriage And Bring Back The Honeymoon Phase.
7.  Take Charge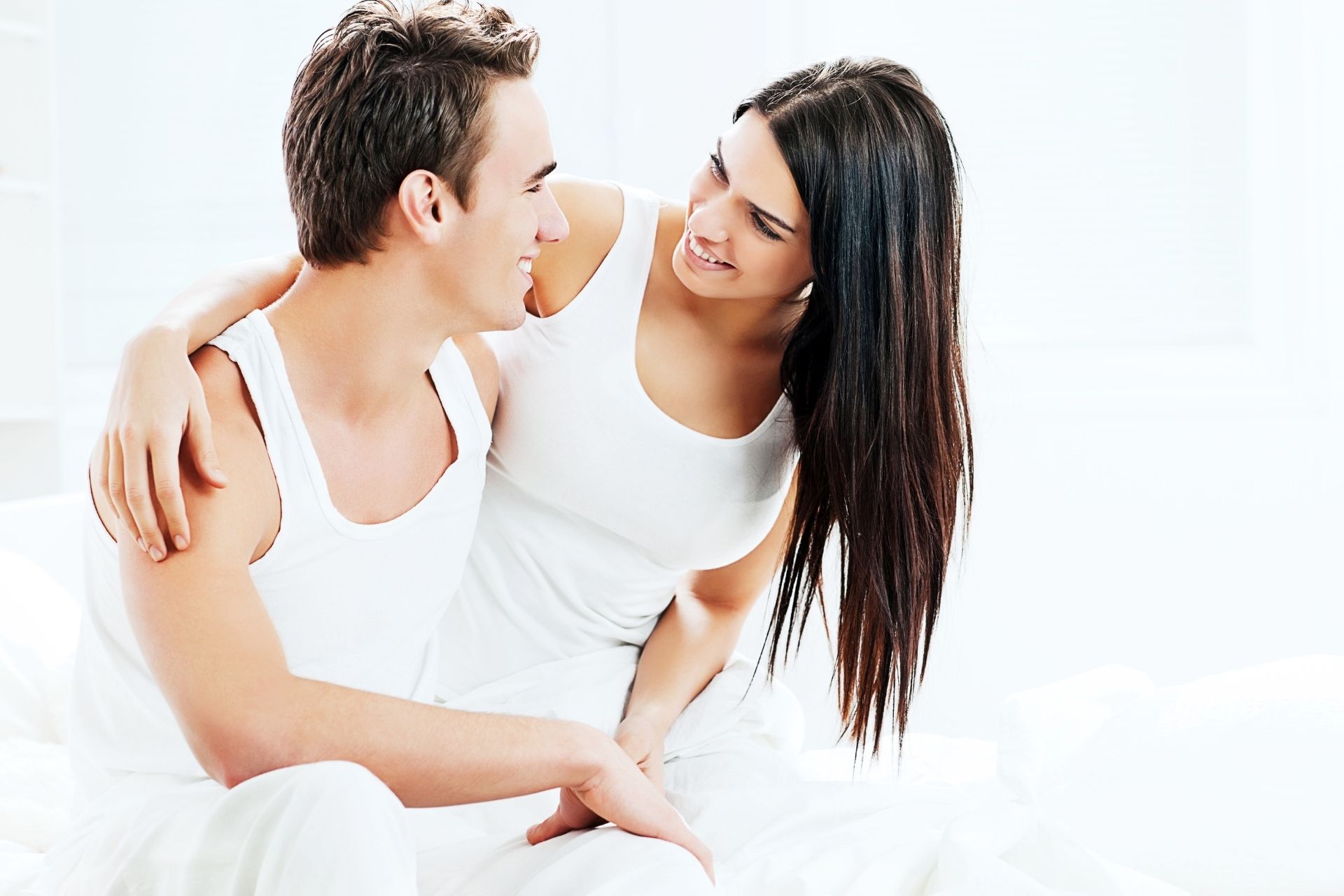 Women are often afraid to get naughty in a relationship because they don't want to shatter any "good girlfriend" image their partner have about them or they don't want him to think they are weird. But one way on how to make your man cry in bed is to make him see that no-hold-barred (dominant) side of you.
This involves you taking control over a submissive another person (your man) during these sweet acts of pleasures.
So take charge for a night and drag your man into the bedroom. Tell him he can't talk, touch or even move unless he is told to and order him on exactly what to do to you – ask him to take off those pants while looking him directly in those gorgeous eyes.
Don't even shy away from asking him to go down there. You could also take charge by switching places sometimes.
Get on top, and even if he tries to switch up, don't let him so that you can stay in control. Being on top gives you more control over the angle, speed, and depth, so get rough, and dirty; bite, claw, scratch, spank, pull his hair, and take control.
Don't ask him about how he's feeling or if he likes it – he'll tell you. Your job is not to cater to him, but for your own needs and show him how you can enable one heck of a go time.
8.  Moan For Your Man
When we are feeling pleasure, we start to lose control over our bodies. The somatic nervous system takes a back seat and we can't control the sounds that come out as a result – ohh! Ooooooh! Ah! Ahh! Yeah!! Yes!!!
Moaning is a way of reassuring your lover that he is pleasing you. It shows that he's doing such a fine job pleasuring you and that will make him even go harder while on top of you.
It's more like you are responding to his touches and giving him clues about how good you feel. That really takes the pressure off him (as he is able to stimulate your erogenous zones with ease) and boosts his ego.
So if you are a screamer, scream!!! Don't hold back. He doesn't want you to be stuck listening to the bed creak, because you are staying silent.
He wants you to groan, to growl, to whimper, he wants to hear you scream his name even as he grinds and thrust you at the rhythm of your moans and scream of intense satisfaction. The more you moan, the more the beast inside of him gets awakened. Now that's how to make a man cry in bed!
9.  How To Make A Man Want You Bad: Talk Dirty
As you proceed in considering how to make a man cry in bed, you should also incorporate Dirty Talks. He wants to hear you whisper the naughtiest thoughts you've ever had into his ears.
So if you were to just curve your lips in a mischievous smile and say "I want you to unzip my dress right now! It can heat things a bit.
Go further to bring out the raw, romantic animal within you that isn't restricted by social norms and rules and get his mind and pulse racing – holy crap, I'm dripping wet, I need your c*ck! Grab my hair and f**K me like I'm your bitch. Don't stop, it feels so good! You are so full, etc.
This will get him all fired up and prevent your relationship from getting boring. Find more ways to turn your man on with dirty talking, here.
10.  Try Some New Positions
People say that variety is the spice of life and this can be true. Getting stuck in ruts can be boring and make your man lose interest. So try getting into different positions to get him all excited.
Away from the regular missionary position, you could try cowgirl or the reverse style, corkscrew, the lotus, G-whiz, wheelbarrow, stand and deliver, and so on.
In some positions, you will feel tighter, which will be nicer for him, and in some others, he'll be able to feel other parts of you more easily which he may really like. Just think of creative things to do in bed and have fun.
11.  He Wants All The Visual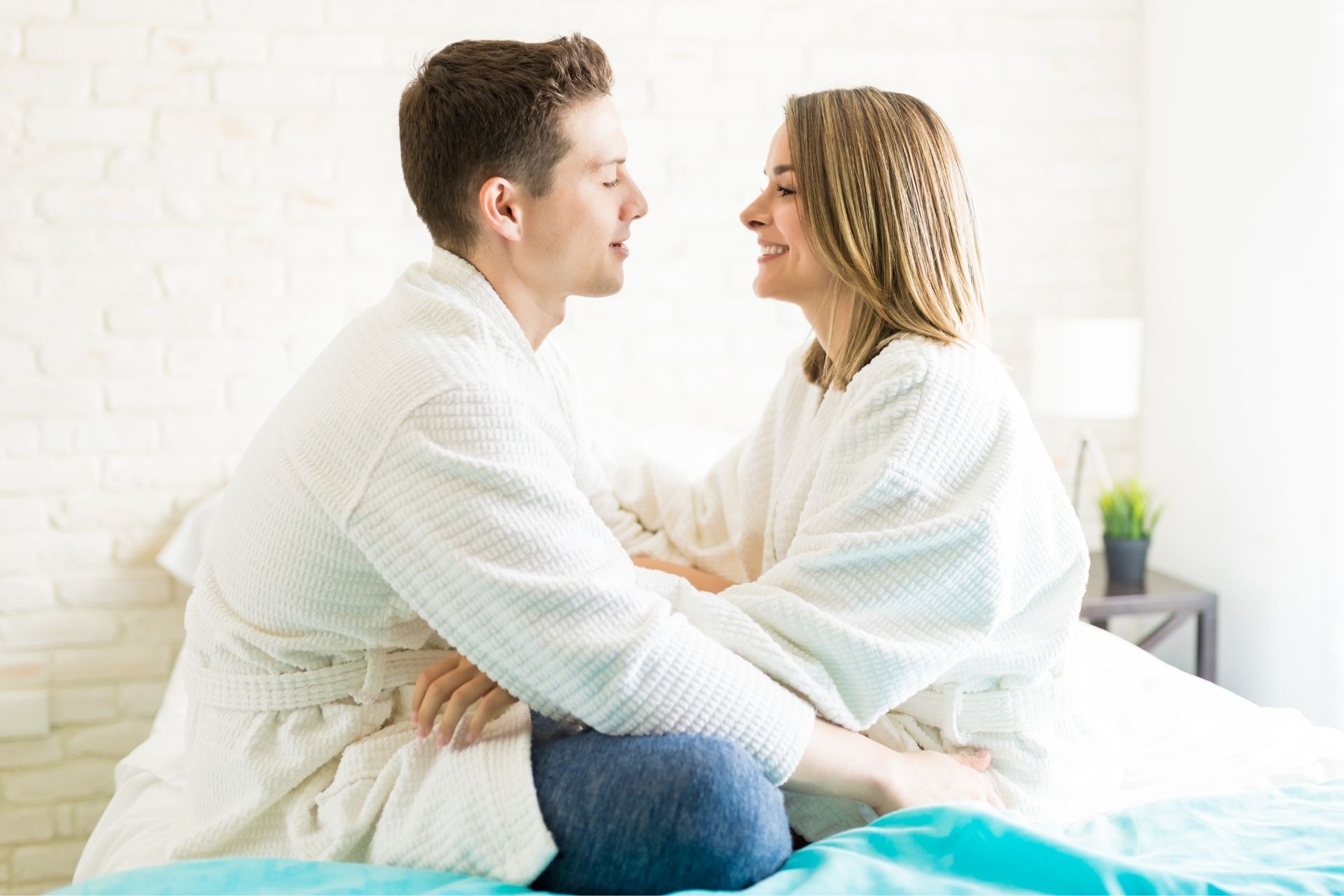 This is Something He Might Want That He Won't Ask For. Men are visual creatures and would love to see that hot, naked body going that extra mile to make them feel amazing.
So make sure to give him an eyeful when you get busy. Leave the lights on and feel free. You can lead him over to a mirror so you could both see yourselves in action (and/or add up a camera for a better view afterward), let him actually see your face when you climax.
This is a sure way on how to make a man want you bad as it will leave him feeling excited and yearning for more.
12.  Allow Him Take Control
Sometimes, he'll want to be the one in charge; to flip you over, smack your butt, (lightly) choke you, pin your hands down, against the wall, tie you up, grip your hair while f**king you on the floor – ripping your panties off or to the side to enter you.
He wants to be able to call the shots and take total control over you. Why not allow him! Let him instruct you on what he wants you to do to him and how he wants it done. And as long and you don't get hurt (it is safe), oblige him!
Lover Sphere
Making you aroused and making you smile are my two favorite things. ~ Unknown
Prioritizing intimacy and the sweet acts of lovemaking can add to the flame of any romantic relationship. When you kiss his lips, stroke his hair, and when you f–k him hard, that stroke and all those climaxes will certainly be how to keep husband happy at night. So enjoy!
Pin this for later!