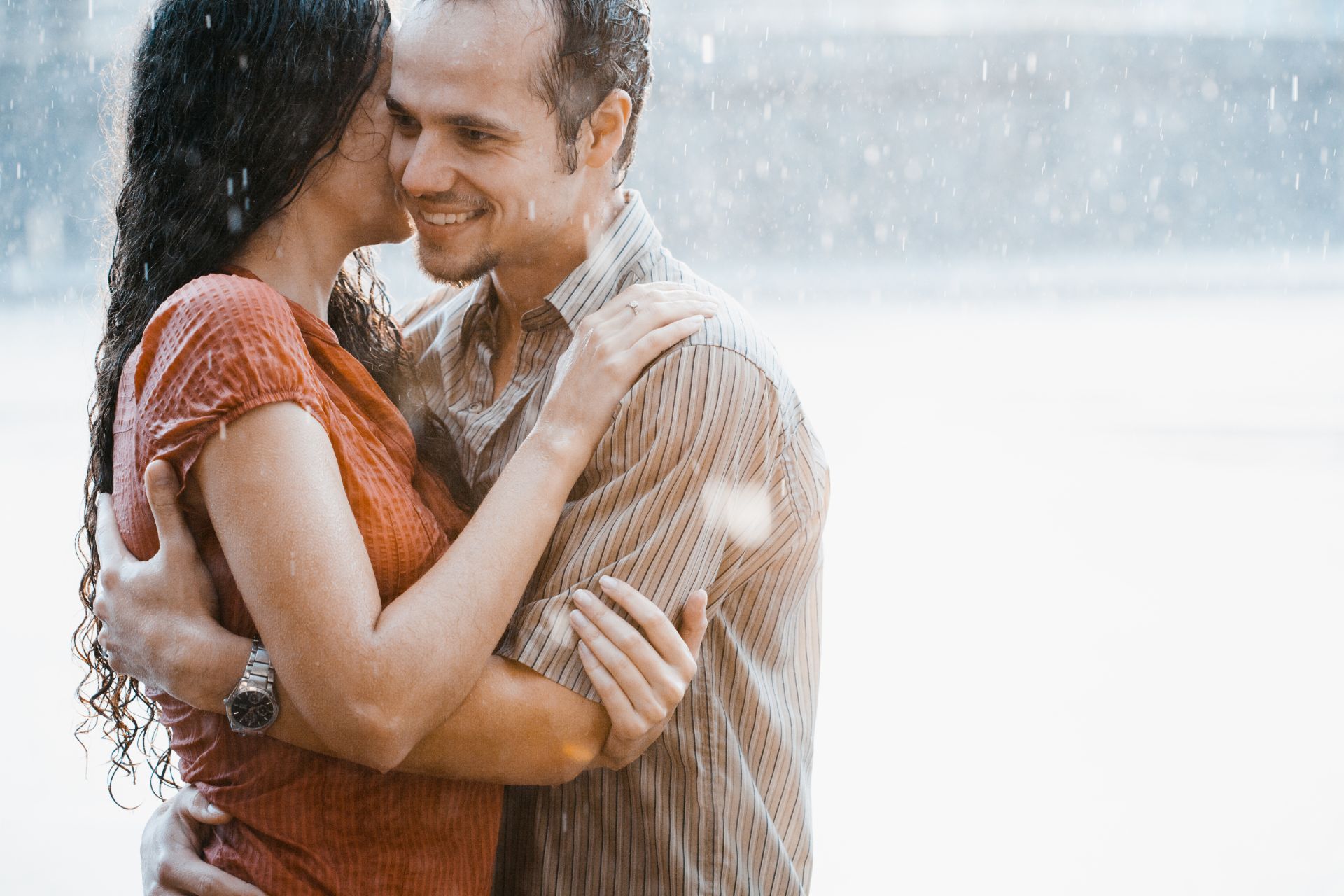 Are you tired of letting rainy days dampen your plans for romantic outings? Embrace the beauty of rainy days with our curated list of 25 cute rainy day date ideas that will ignite your love for both each other and the rain.
From cozy indoor activities to adventurous outdoor escapades, we've got you covered with creative and enjoyable ways to make the most of those drizzly days. So, grab your partner's hand, and let's dive into a world of date ideas for rainy days that you'll absolutely adore.
Can Rainy Day Dates Really Be Fun?
Absolutely, rainy day dates can be incredibly fun and even more memorable than traditional sunny outings because rain has a unique way of adding a touch of magic to your experiences. Imagine cozying up together in a charming cafe, sipping on hot cocoa, and watching raindrops cascade down the windowpane—it's an intimate setting that encourages deep conversation and connection.
Furthermore, rainy days provide the perfect excuse to explore indoor activities you might have overlooked. From cooking a delightful meal together to embarking on a movie marathon or tackling a fun indoor DIY project, these activities can be not only entertaining but also bring couples closer together.
Moreover, don't discount the exhilarating potential of outdoor adventures in the rain. Dancing in the rain, taking a romantic stroll under an umbrella, or even splashing in puddles like carefree kids can be an absolute blast.
Rainy days encourage spontaneity and can infuse your relationship with a sense of playfulness and adventure. In essence, rainy day dates offer a unique opportunity to bond with your partner in ways that sunny days simply can't replicate, making them undeniably fun and special.
So, next time the skies open up, consider it an invitation to create unforgettable memories together.
What Can You Do On A Rainy Day With Your Mate?
On a rainy day, the options for spending quality time with your partner are endless. Activities you can indulge in include, engaging in a cooking adventure together, having a movie marathon, visiting the museum, going to an indoor arcade, etc. These fun things to do on a rainy date will keep the excitement alive in your relationship.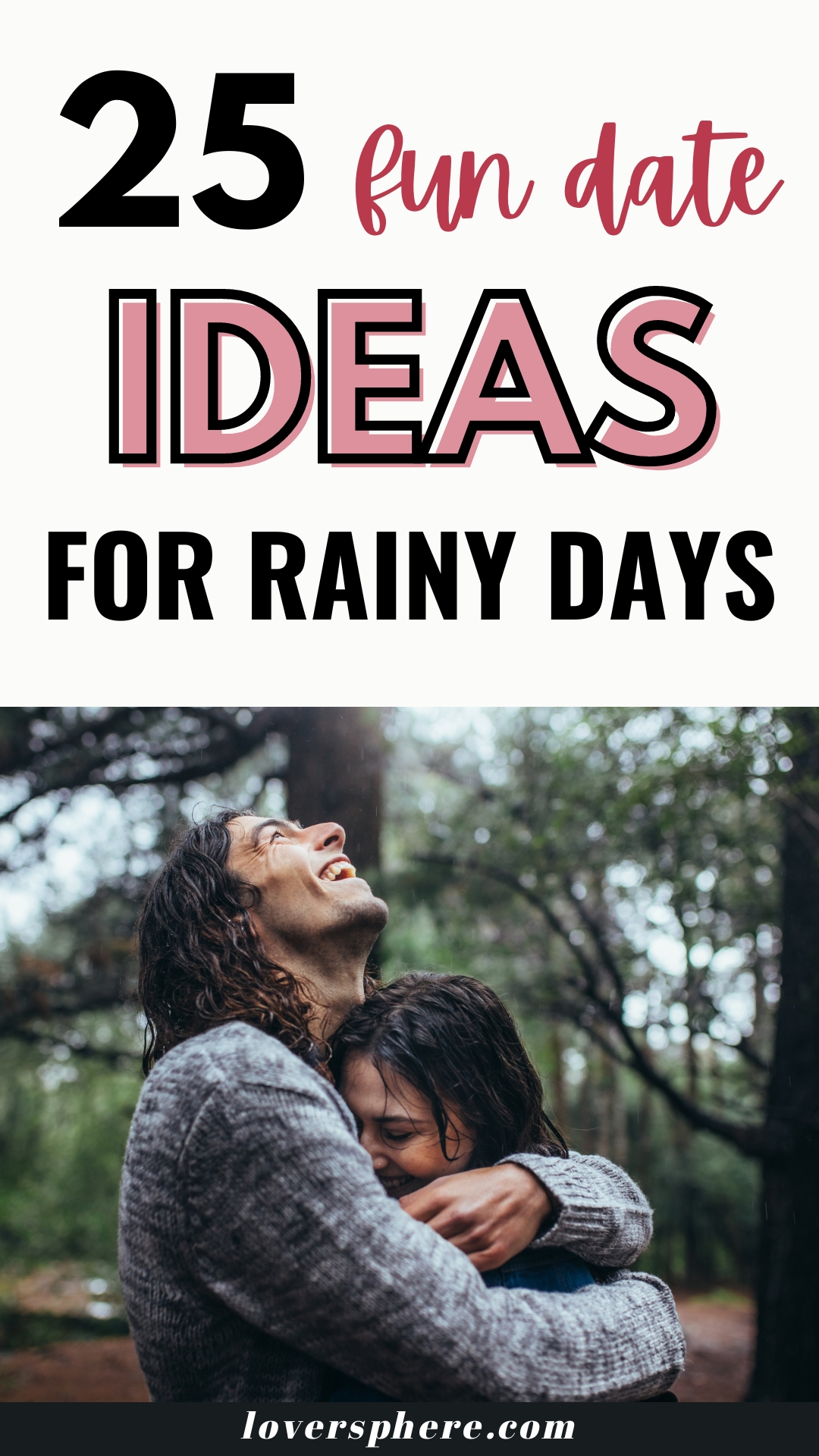 25 Adorable Rainy Day Date Ideas That You Will Love
These collections of rainy day date ideas are guaranteed to create cherished memories that you both will truly love.
Fun Rainy Day Date Ideas
Rainy days don't have to put a damper on your plans for a fun and memorable date with your partner. In fact, they can be the perfect opportunity to get creative, bond, and enjoy each other's company in the comfort of your home or explore unique indoor venues.
Let's check out these fantastic fun rainy day date ideas to turn gloomy weather into an exciting adventure for you and your lover:
1. Host A Themed Movie Marathon
Embrace your love for cinema by hosting a themed movie marathon based on your favorite genre or director. Create a cozy movie-watching environment with blankets and popcorn, then dive into a selection of films that capture your shared interests.
Whether you're into classic romance, thrilling suspense, or sci-fi adventures, a movie marathon offers hours of entertainment and the chance to discuss your favorite scenes and characters.
2. Engage In A Friendly Video Game Competition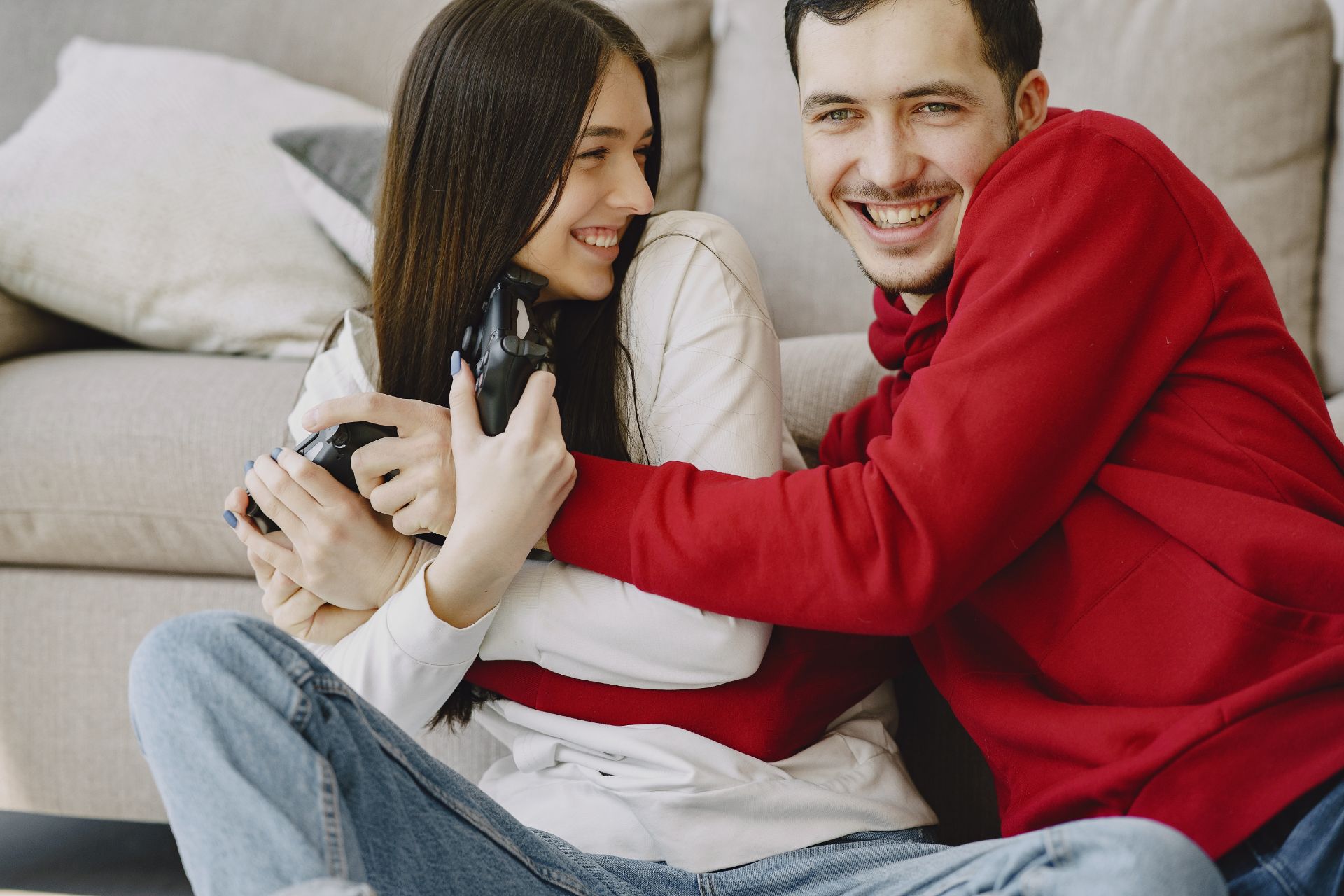 For couples who enjoy a bit of friendly competition, rainy days are the perfect opportunity to pick up the controllers and engage in a video game showdown. Whether you're into sports games, racing simulations, or cooperative adventures, video games provide an interactive and entertaining way to bond.
Just remember, it's all about having fun together, so don't take the competition too seriously!
3. Explore A Local Art Studio
Rainy days can be a source of artistic inspiration. Check out local art studios that offer pottery or painting classes. These creative experiences allow you and your partner to express yourselves through art, learn new techniques, and even craft unique keepsakes.
Whether you're molding clay or creating a canvas masterpiece, the process is both enjoyable and an opportunity to strengthen your connection.
4. Experiment With New Cooking Techniques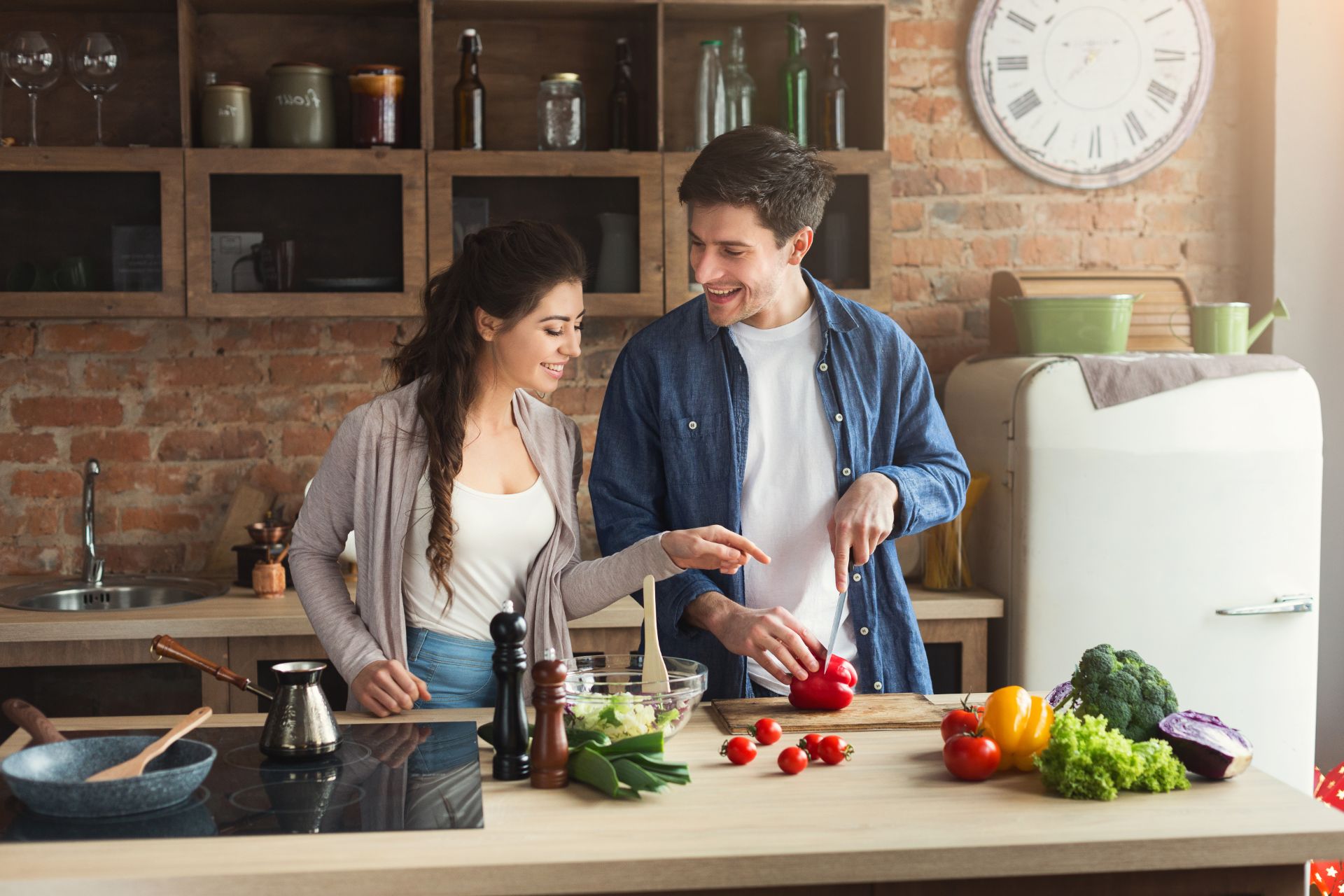 Get adventurous in the kitchen by experimenting with new cooking techniques and creating a unique dish together. Pick a cuisine you both love but haven't explored in-depth, and tackle the recipe as a team.
This collaborative cooking experience can be surprisingly intimate as you work together to create a delicious masterpiece. Plus, you'll have a delectable meal to enjoy at the end.
5. Transform Your Home Into A DIY Spa Oasis
Treat yourselves to a relaxing and rejuvenating DIY spa day at home.
Set the mood with soothing music, scented candles, and fluffy robes. Exchange massages and facials to unwind and pamper each other. It's a wonderful way to destress, connect on a deeper level, and indulge in some self-care without leaving your home.
6. Take On A Challenging Jigsaw Puzzle Or Board Game
Rainy days are the perfect backdrop for challenging your minds with a complex jigsaw puzzle or a brain-teasing board game. As you piece together the puzzle or strategize to conquer the board, you'll engage in stimulating conversations and laughter.
These activities not only provide entertainment but also strengthen your problem-solving skills and teamwork.
Romantic Rainy Day Date Ideas
When the rain starts to pour, there's no need to let your romantic plans wash away. In fact, rainy days can be the perfect backdrop for creating intimate and cherished memories with your partner.
Below are heartwarming and romantic rainy day date ideas to keep the sparks flying:
7. Craft A Personalized Dinner Menu
Turn your rainy day into a culinary adventure by crafting a personalized, multi-course dinner menu together. Choose your favorite dishes or experiment with new recipes.
As you chop, sauté, and plate your creations, you'll not only tantalize your taste buds but also strengthen your bond through teamwork and creativity.
Share the meal by candlelight for an added touch of romance.
8. Create An Indoor Picnic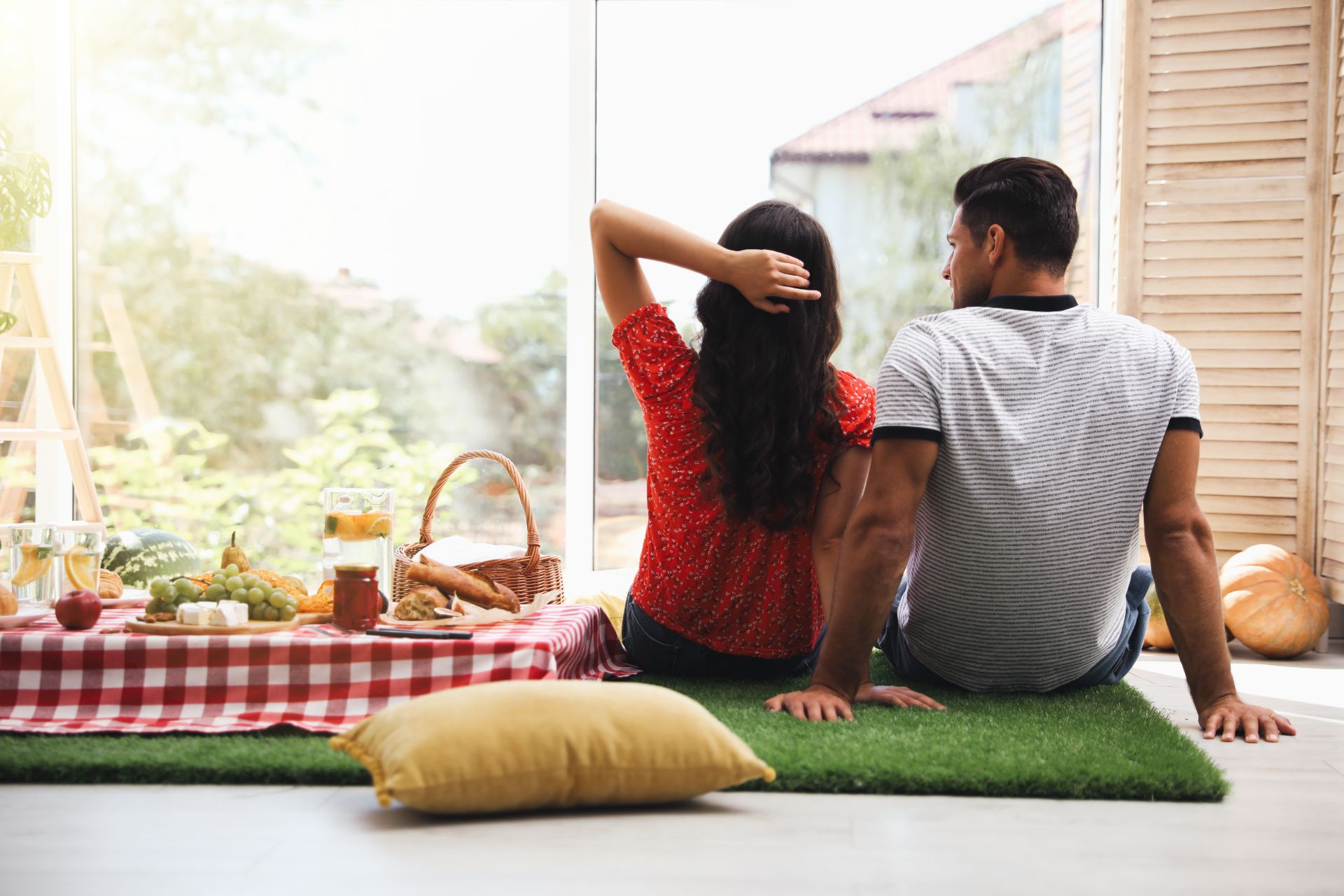 Recreate the magic of an outdoor picnic indoors by spreading a blanket on the living room floor.
Light some candles, play soft music, and prepare a selection of your favorite picnic snacks and treats. This cozy indoor picnic is the perfect setting for heartfelt conversations and stolen kisses.
9. Watch Classic Romantic Films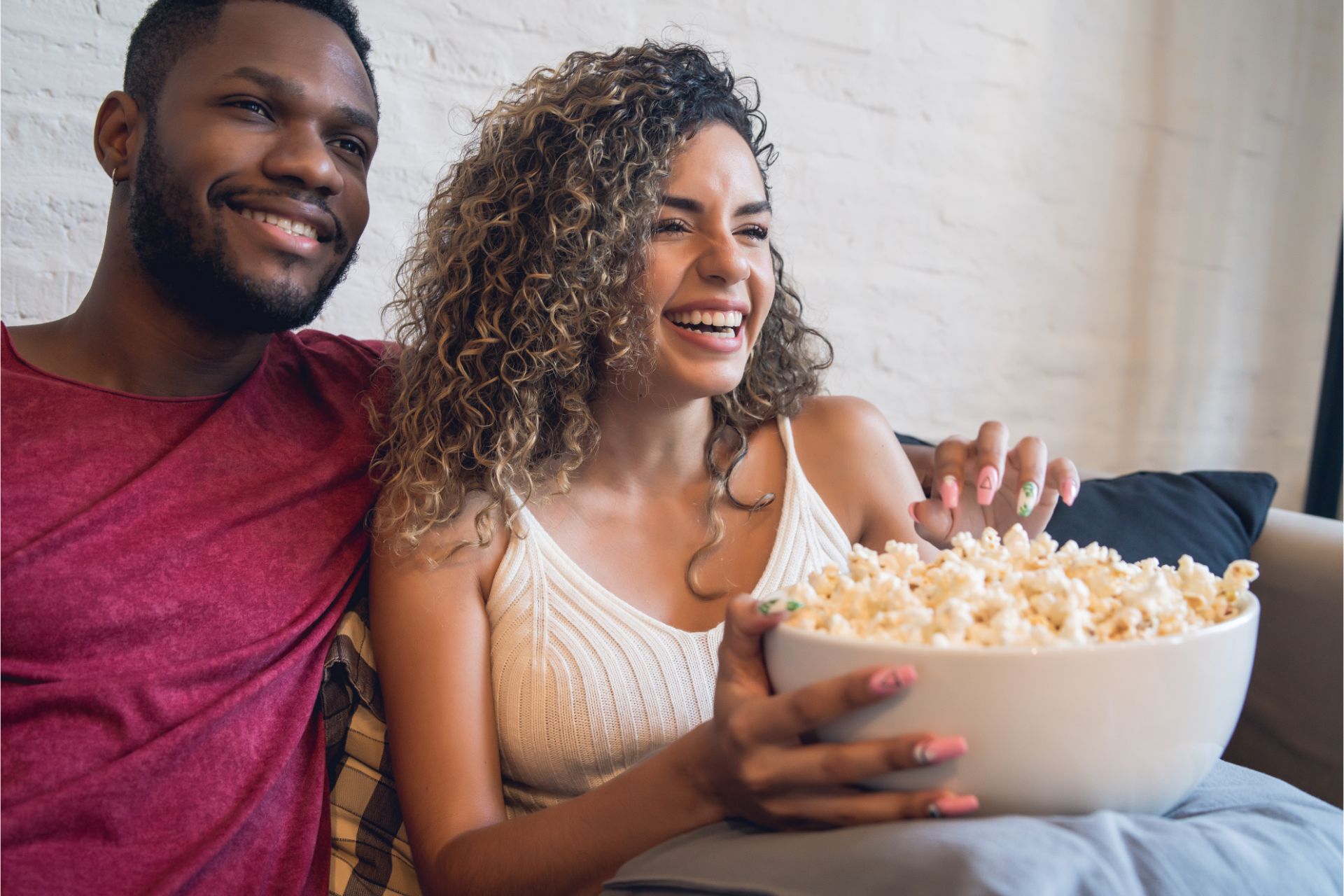 Rainy days provide an excellent excuse to cuddle up and watch classic romantic films. Choose iconic love stories that resonate with you both and enjoy a movie marathon. Afterward, share your thoughts and feelings about the films, and perhaps even discuss how they relate to your own love story.
10. Compose Love Poems
Unleash your inner poetic self by composing love poems for each other.
Whether you're experienced wordsmiths or novices, expressing your feelings through verse can be deeply meaningful. Exchange your poems and savor the beautiful words that capture your affection and devotion.
11. Dive Into Each Other's Past
Explore the depths of your relationship by looking at old photo albums together. Reminisce about your favorite memories, trips, and milestones.
Sharing these nostalgic moments can create a profound sense of connection as you reflect on your journey as a couple.
12. Construct A Romantic Fort
Channel your inner child by constructing a cozy and romantic fort in your living room. Gather blankets, pillows, and fairy lights to create a dreamy atmosphere.
Once your fort is complete, snuggle up under the covers with your favorite books, board games, or simply each other's company.
Rainy Day Date Night Ideas
Rainy nights can be the perfect setting for an intimate and memorable date with your partner. Instead of letting the weather dampen your plans, use it as an opportunity to connect and have fun together.
Let these captivating rainy day date night ideas make your evening extra special:
13. Wine And Cheese Pairing Experience
Transport yourselves to a charming wine cellar without leaving your home by organizing a wine and cheese pairing experience. Select unique wines and artisanal cheeses, then savor the flavors while learning about the art of pairing. It's a sophisticated yet cozy way to bond over exquisite tastes.
14. DIY Facials And Relaxation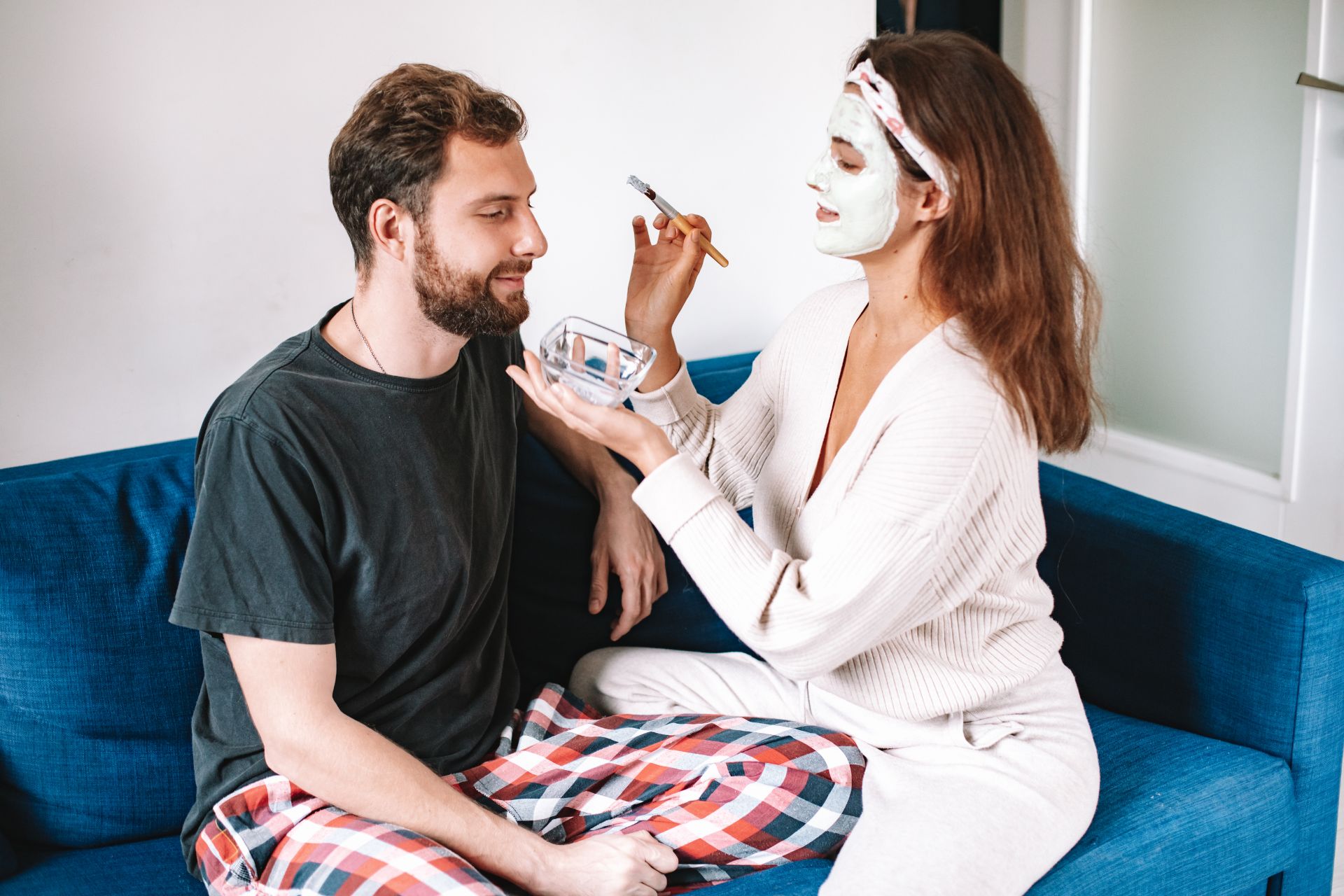 Transform your home into a spa oasis for a night of pampering and relaxation. Treat yourselves to DIY facials, massages, and relaxation techniques. With soothing music and scented candles, you'll unwind and rejuvenate together.
15. Online Dance Or Painting Class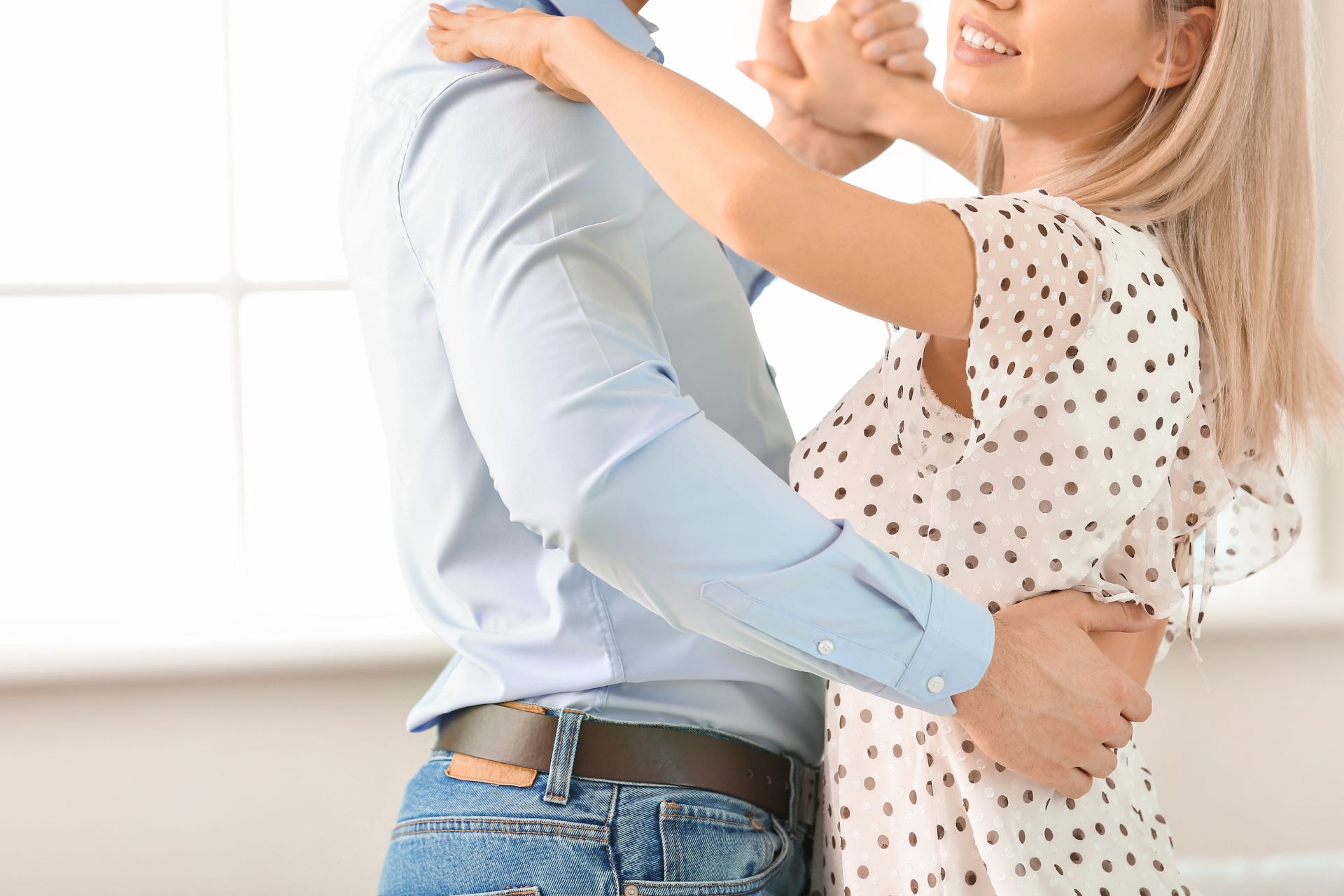 Unleash your inner artists or dancers by taking an online class together.
Whether you choose to create a masterpiece with a painting class or learn some new dance moves, it's a fun and creative way to connect. Plus, you'll have a tangible reminder of your artistic endeavors.
16. Themed Movie Night
Elevate your movie night by selecting films from a specific decade or theme.
Dive into the golden age of Hollywood, explore classic romance, or immerse yourselves in a cinematic genre you both love. Discussing the movies afterward can spark interesting conversations and insights.
17. Tabletop Role-Playing Game
Embark on an immersive adventure by engaging in a tabletop role-playing game.
Create characters, build a world, and embark on thrilling quests together. This imaginative activity encourages collaboration and can be a fantastic way to bond through storytelling.
Rainy Day Date Ideas At Home
Rainy days don't have to be a washout when it comes to your romantic plans. As a matter of fact, they can be the perfect opportunity to bond with your partner in the comfort of your home. Here are delightful rainy day date ideas to make the most of your time indoors:
18. Foreign Cuisine Challenge
Embark on a culinary adventure by challenging your culinary skills with a foreign cuisine-themed dinner. Pick a country or region you both adore but haven't explored in depth. Then, together, research recipes and cook a multi-course meal that captures the essence of that cuisine.
From Italian pasta to Thai curries, this activity allows you to learn, create, and savor delicious dishes.
19. TV Series Binge-Watching
Rainy days are perfect for indulging in a TV series marathon. Choose a series you both love or one that you've been meaning to watch together. Create a viewing nest with blankets and pillows, then settle in for hours of entertainment and shared emotions.
20. Card Games And Board Games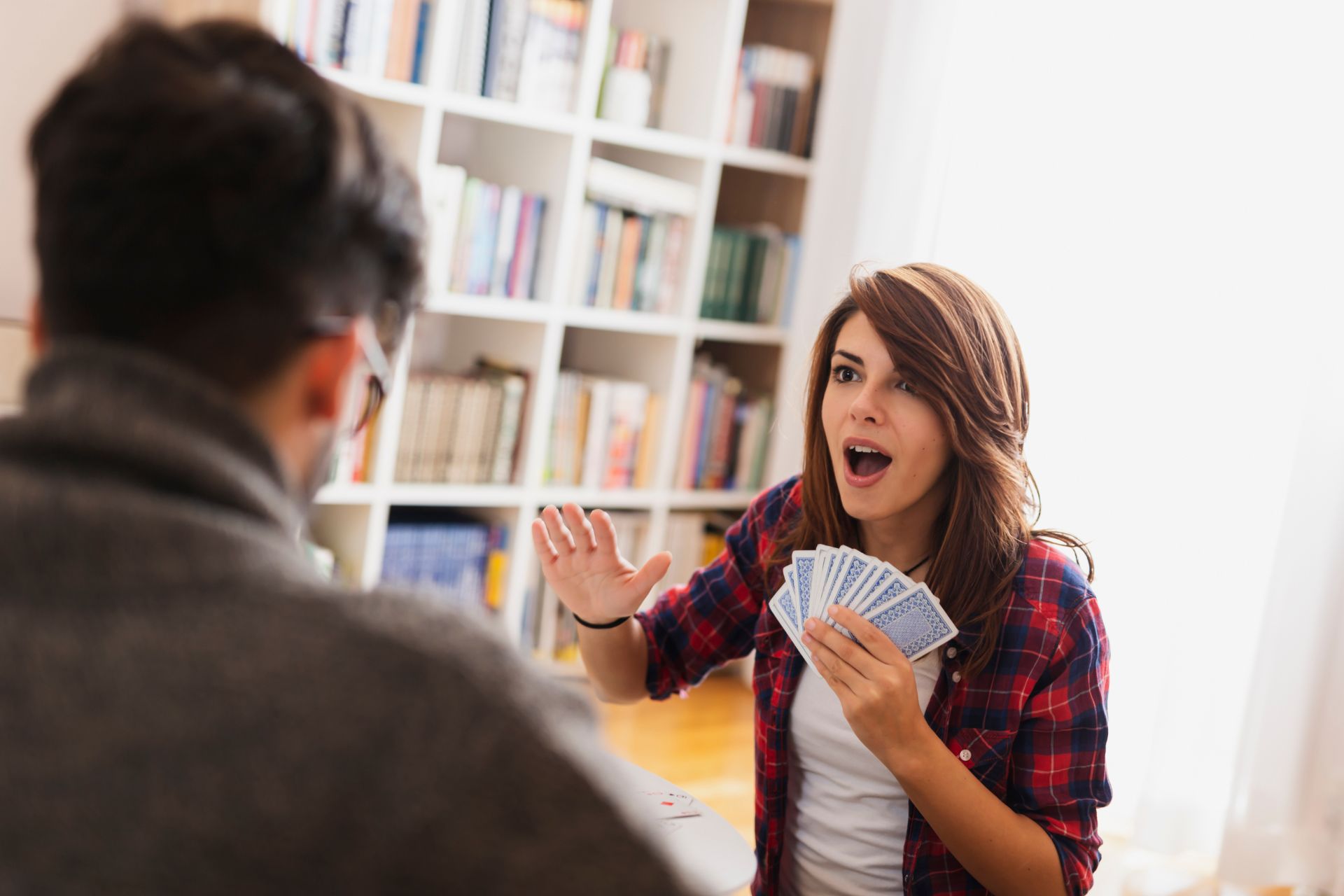 Keep the excitement alive by exploring a variety of card games and board games.
From classic games like Scrabble and Monopoly to more modern ones like Settlers of Catan or Uno, there's no shortage of options to challenge your strategic skills and engage in friendly competition.
Adventurous Rainy Day Date Ideas
Rainy days may seem like a setback for outdoor adventures, but they can actually be the perfect opportunity for thrilling indoor escapades with your partner.
If you're craving some adrenaline-pumping fun, here are adventurous rainy day date ideas to consider:
21. Indoor Obstacle Course
Channel your inner ninja and embark on a thrilling indoor obstacle course at a ninja warrior gym. Test your agility, strength, and teamwork as you tackle challenging obstacles together. It's an exciting and physically engaging way to bond while staying active indoors.
22. Electric Go-Kart Racing
For a dose of speed and competition, head to an electric go-kart track. Race against each other in high-speed karts, navigating sharp turns and straights. The thrill of racing against your partner will surely get your heart pounding.
23. Indoor Trampoline Park
Defy gravity and bounce your way to adventure at an indoor trampoline park. Challenge each other to perform flips and tricks, engage in slam-dunk contests on trampoline basketball courts, or simply enjoy the feeling of weightlessness as you soar through the air.
24. Neon-Lit Laser Tag
Step into the future with a neon-lit laser tag battle in an immersive arena. Strategize and compete against each other in this action-packed game of tag. The futuristic setting and heart-pounding action will make for an unforgettable experience.
25. Indoor Water Park
If you're both water enthusiasts, spend your rainy day at an indoor water park.
Experience the thrill of indoor water slides, relax in wave pools, and enjoy aquatic adventures without worrying about the weather outside. It's like a tropical getaway right in your own city.
A Quick Recap On Date Ideas For Rainy Days
In conclusion, rainy days need not be synonymous with canceled plans or dreary evenings. Instead, they can be an opportunity to explore new dimensions of togetherness, creativity, and adventure with your partner.
Whether you choose to indulge in culinary experiments, cozy indoor picnics, artistic pursuits, or adrenaline-pumping adventures, rainy days provide a unique canvas for cultivating deeper connections and creating lasting memories.
These best rainy day date ideas, rainy day activities for couples, and things to do on a rainy day for couples aren't just about escaping the rain; they're about embracing it as part of your romantic journey. Raindrops can symbolize the moments that make your relationship stronger – a warm meal prepared together, a shared laugh during a board game, or the thrill of racing go-karts side by side.
So, when the weather takes a turn for the wet and gray, remember that inside your cozy abode or at exciting indoor venues, a world of love and adventure awaits. Let the rain be the backdrop to your shared experiences, and relish the beauty of each moment, for it's in these rainy day dates and adventures that your love story finds its own special magic.
Embrace the rain, embrace each other, and let your love shine brighter than ever.
Pin this for later!