As the sun sets and the waves crash against the shore, the beach provides a breathtaking backdrop for romance. With its endless possibilities, a beach date is the perfect way to create unforgettable moments with your special someone. Whether you're walking hand in hand, enjoying a picnic under an umbrella, or gazing at the stars above the ocean, the beach offers a unique charm that never fades.
In this blog post, we'll unveil 28 cute and romantic beach date ideas that will sweep you off your feet and create memories to last a lifetime. So, take your partner's hand and get ready to embark on a journey of love, laughter, and endless sunsets by the sea.
What To Do With Your Date At The Beach?
There are plenty of fun activities to do with your date at the beach, such as swimming, sunbathing, playing beach volleyball, building sandcastles, taking a romantic walk along the shore, and watching the sunset. You can also bring a picnic and enjoy a meal together while listening to the sound of the waves. Just make sure to wear sunscreen and stay hydrated!
4 Tips For A Successful Beach Date
A successful beach date can be an unforgettable experience. To ensure everything goes smoothly, here are some tips to keep in mind:
1. Pick The Right Time
– Consider Sunset Or Sunrise
Timing is crucial for beach dates. Choosing to go during sunrise or sunset can create a romantic atmosphere with breathtaking views. The soft, golden light and tranquil ambiance enhances the overall experience.
– Avoid Crowds
To ensure a more intimate setting, try to avoid peak hours when beaches are crowded. Weekdays, early mornings, or late afternoons are often quieter times.
– Check The Tide
Research the tide schedule for the day to prevent unexpected high tides that can disrupt your plans or make certain areas inaccessible.
2. Safety Measures
– Sun Protection
Protect yourself from the sun's harmful UV rays by wearing sunscreen, sunglasses, and a wide-brimmed hat. Sunburn can quickly ruin a date.
– Swim Safely
If you plan to swim, ensure that you're aware of the beach's current conditions and follow any posted warnings or guidelines. Always swim in designated areas with lifeguards if available.
– Stay Hydrated
Bring plenty of water to stay hydrated, especially on hot days. Dehydration can lead to discomfort and health issues.
– Emergency Kit
Carry a basic first-aid kit, just in case. It can be helpful for minor injuries or incidents.
3. Dress Your Best, But Comfortable
– Appropriate Beachwear
Wear swimwear that makes you feel confident and comfortable. Don't forget to bring a cover-up or light clothing for when you're not in the water.
– Footwear
Opt for sandals or water shoes that are suitable for walking on sand and can easily be removed when you want to dip your toes in the water.
– Layers
Depending on the weather, bring layers like a light sweater or jacket for cooler evenings. It's always better to have more clothing options than not enough.
4. Pack A Picnic Basket
– Food Selection
Plan a picnic with your date's favorite foods. Include a variety of snacks, fruits, sandwiches, and perhaps some indulgent treats like chocolate or cheese.
– Drinks
Along with water, bring refreshing beverages such as iced tea, lemonade, or sparkling water. If you both enjoy it, consider packing a bottle of wine or champagne.
– Utensils And Extras
Don't forget to bring utensils, napkins, a blanket to sit on, and a cooler to keep perishable items fresh. Consider a portable speaker for some background music, but keep the volume low to respect others on the beach.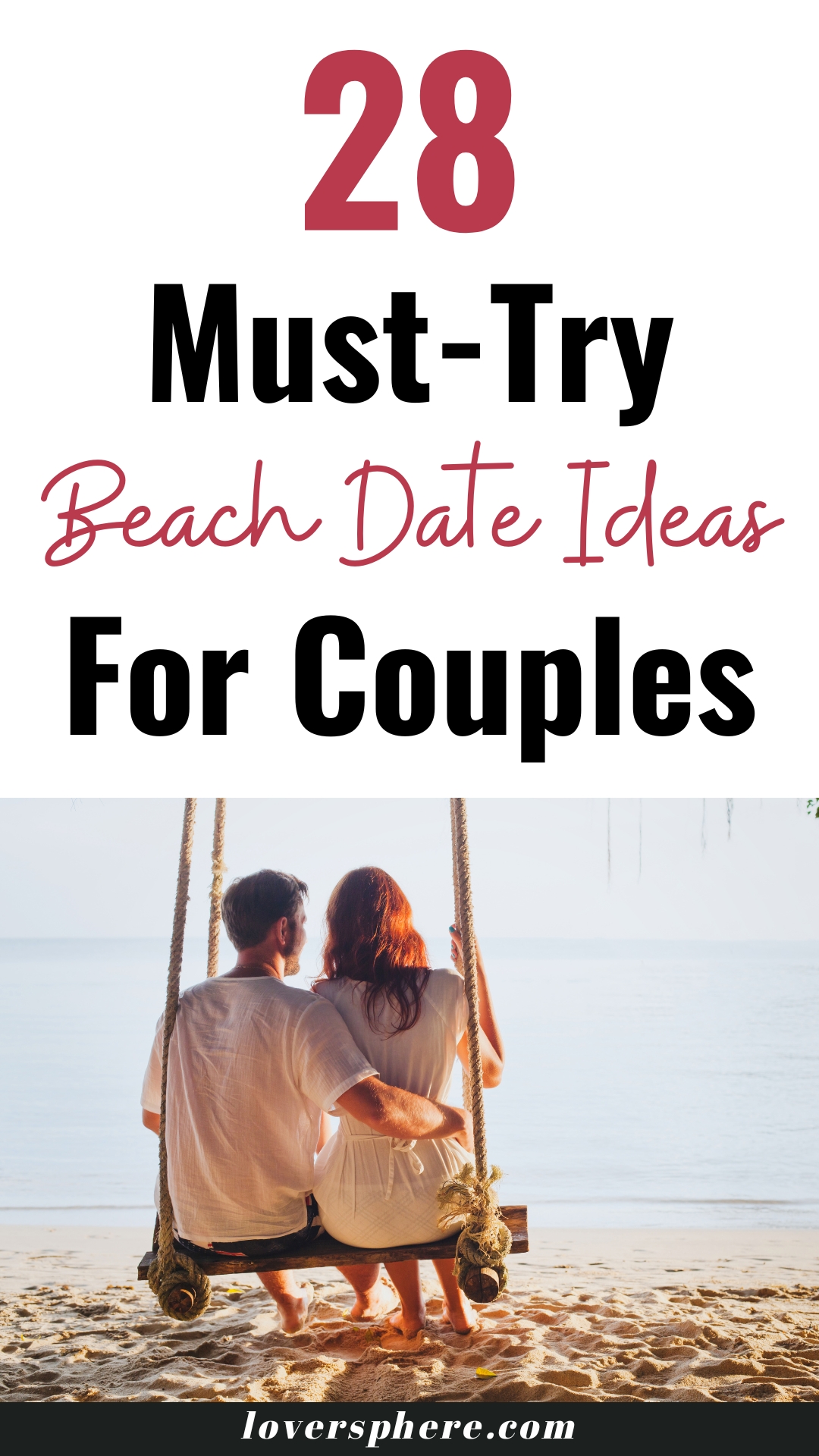 28 Cute And Romantic Beach Date Ideas For Couples
Whether you're seeking relaxation, adventure, or a blend of both, a beach date offers the canvas for a perfect day together, where you can revel in each other's company while enjoying the beauty of nature. Now join me as I unleash these beautiful beach date ideas for couples.
Fun Beach Date Ideas
Get ready for a day of sun, sand, and smiles with these fun beach date ideas. Pack your beach essentials and get ready to connect with your partner while enjoying the beautiful scenery by the sea.
1. Beachfront Bonfire
Picture this: the sun setting on the horizon, a crackling bonfire, and the soothing sound of waves in the background. A beachfront bonfire is the epitome of a romantic and fun beach date night. Gather some firewood, marshmallows, and set up your cozy spot by the fire.
Roast marshmallows, share stories, and enjoy the warmth of the flames together. It's a recipe for a memorable evening under the stars.
2. Beach Volleyball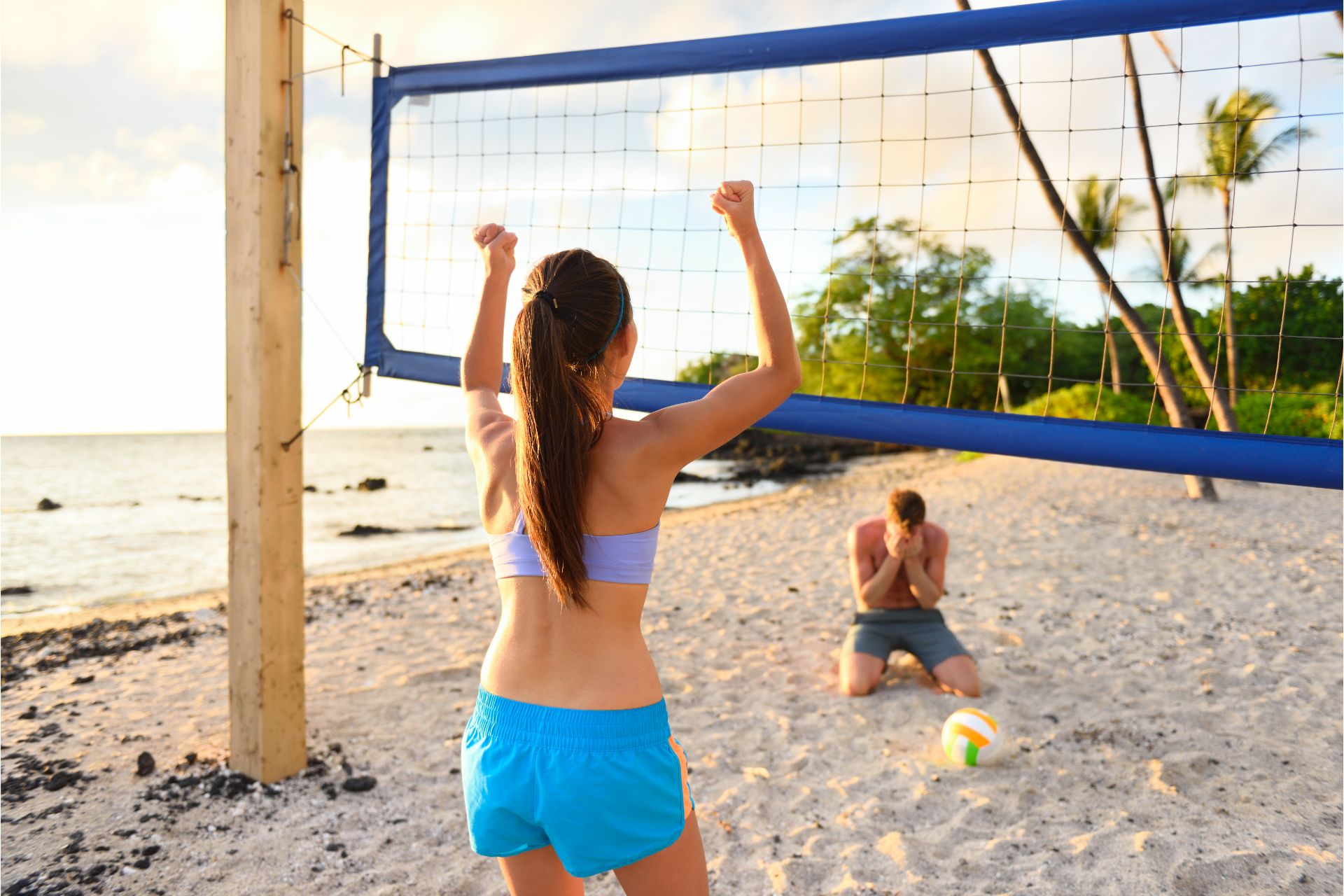 For couples with a competitive spirit, beach volleyball is an exhilarating beach date idea. You don't have to be a pro athlete to have a blast playing in the sand. Grab a volleyball, divide into teams, and let the games begin.
Whether you're spiking the ball or diving for a save, this active beach date will have you both laughing and working up a sweat. Plus, the sandy aftermath provides the perfect excuse for a playful post-game cleanup.
3. Attend Beach Concerts
Many coastal areas host beach concerts during the warmer months. Check local event listings and see if there's a live performance happening near your beach destination.
Dancing barefoot in the sand to the rhythm of live music is an incredible bonding experience. It's a chance to groove to your favorite tunes with the sea breeze in your hair and your date by your side, creating memories you'll cherish.
4. Beach Parties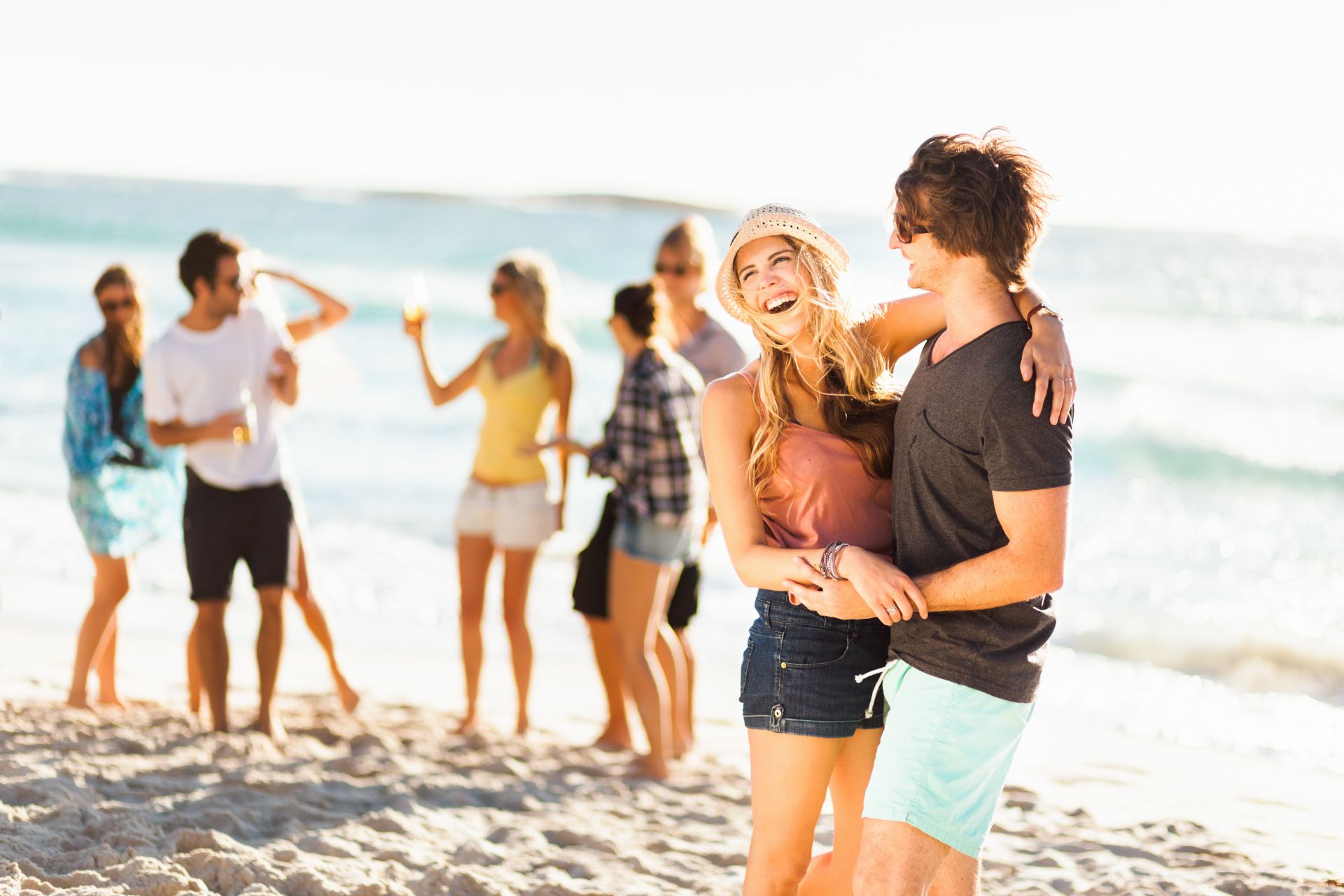 Joining a beach party can add an extra dose of excitement to your beach date.
From lively beach bars to full-blown beach festivals, these gatherings offer music, dancing, and a vibrant atmosphere. Dress in your beachy best, sip on tropical cocktails, and let loose on the dance floor.
It's a fantastic way to immerse yourselves in the local beach culture and meet new people while having a blast together.
5. Beach Race
Inject some adrenaline into your beach date with a friendly race along the shoreline. Challenge your date to a sprint, a relay, or even a sandcastle-building race.
Racing against each other in the soft sand adds an element of fun and competition. Plus, the loser can be treated to a seaside ice cream or a refreshing dip in the ocean, making this date idea a win-win for both.
Romantic Beach Date Ideas
These cute beach date ideas offer a blend of relaxation, adventure, and connection. No matter which one you choose, you're definitely creating cherished memories and strengthening your bond with your loved one. So, embrace the seaside charm and enjoy a day filled with romance and beachside bliss.
6. Picnic On The Shore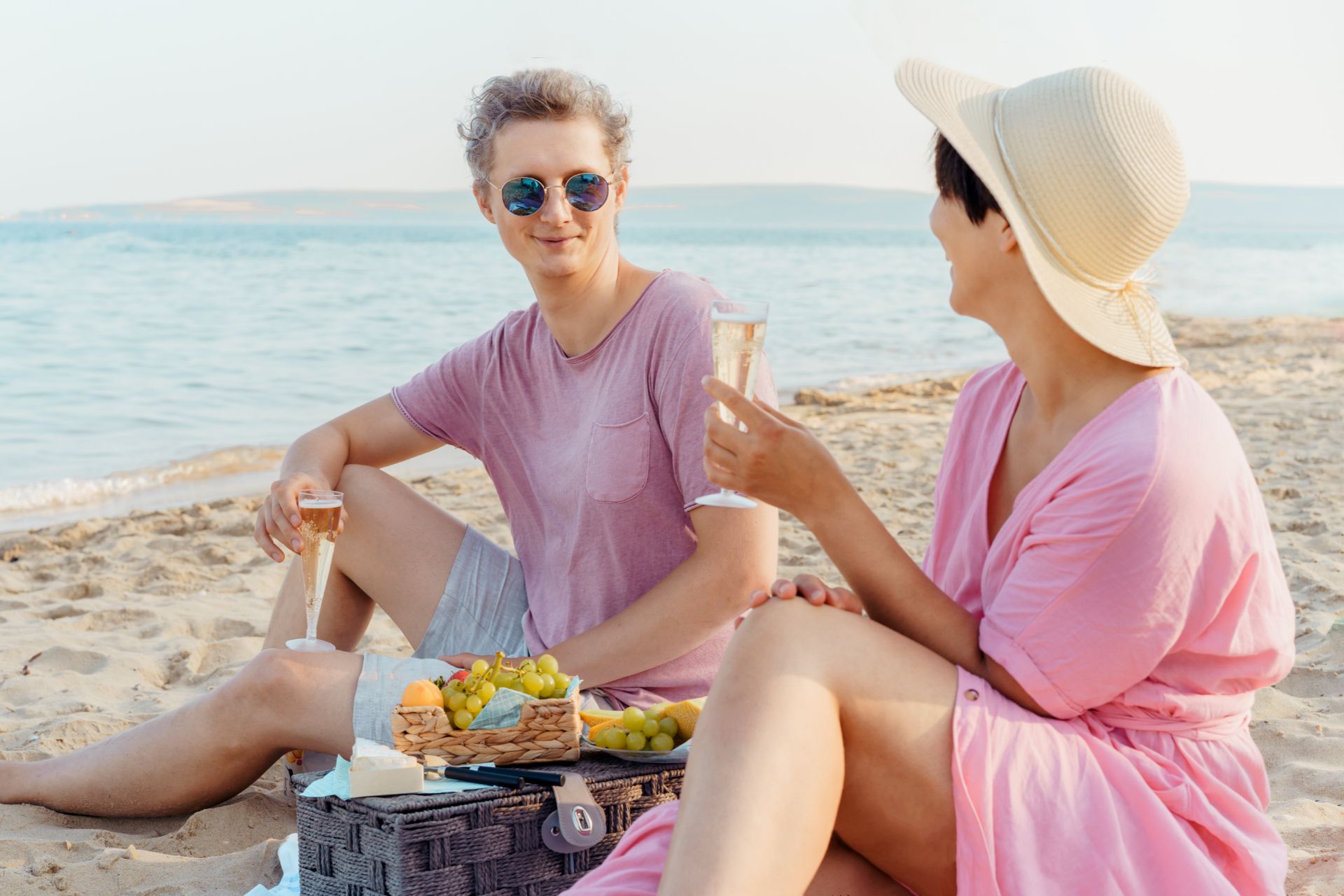 A picnic on the shore is one of the classic and romantic beach picnic date ideas. Pack a basket with your favorite treats – think fresh fruit, cheese, wine, and chocolates – and set up a cozy blanket by the water's edge.
As you share a meal, watch the sunset together, and listen to the waves, you'll create a serene and intimate atmosphere perfect for connecting with your partner.
7. Surfing Or Bodyboarding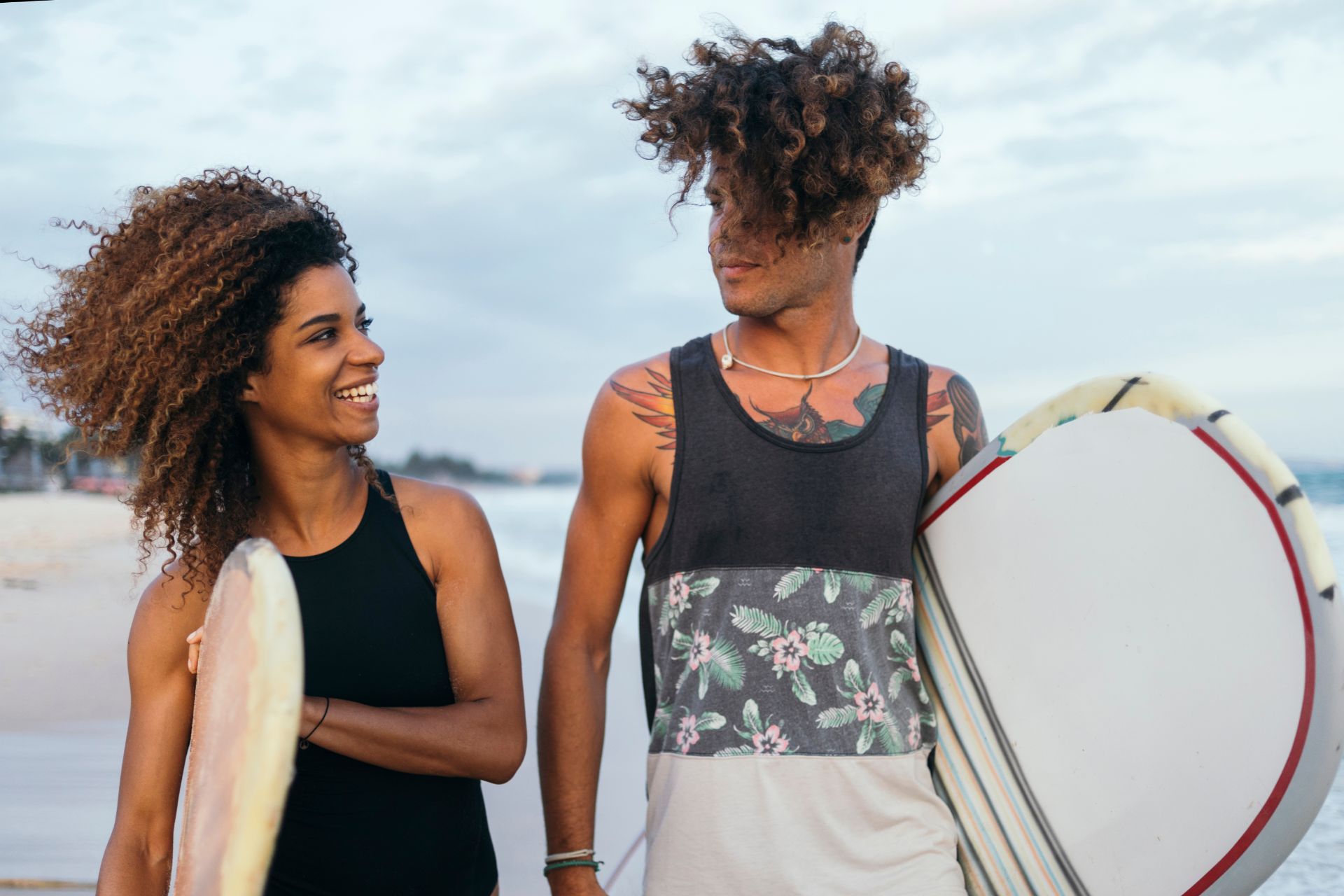 For couples seeking an adventurous date, surfing or bodyboarding can provide a thrilling and romantic experience on the beach.
Whether you are seasoned surfers or trying it for the first time, riding the ocean's waves together can be an exhilarating and bonding experience. Embrace the excitement of catching waves and celebrate each ride as you conquer the surf side by side.
8. Beach Frisbee
Keep things light-hearted and fun with a game of beach frisbee. The soft sand provides a forgiving landing for those diving catches, and the playful competition can lead to laughter and bonding. Plus, chasing the frisbee along the shore gives you both a chance to soak in the sun and enjoy the salty breeze.
9. Paddleboarding
Paddleboarding on calm, clear waters is a serene and romantic beach date option. Explore the coastline together, gliding on the surface of the water while taking in picturesque views. If you're lucky, you might even spot some marine life beneath you.
Holding hands and navigating the gentle waves on a paddleboard can be an incredibly romantic experience.
10. Seashell Collecting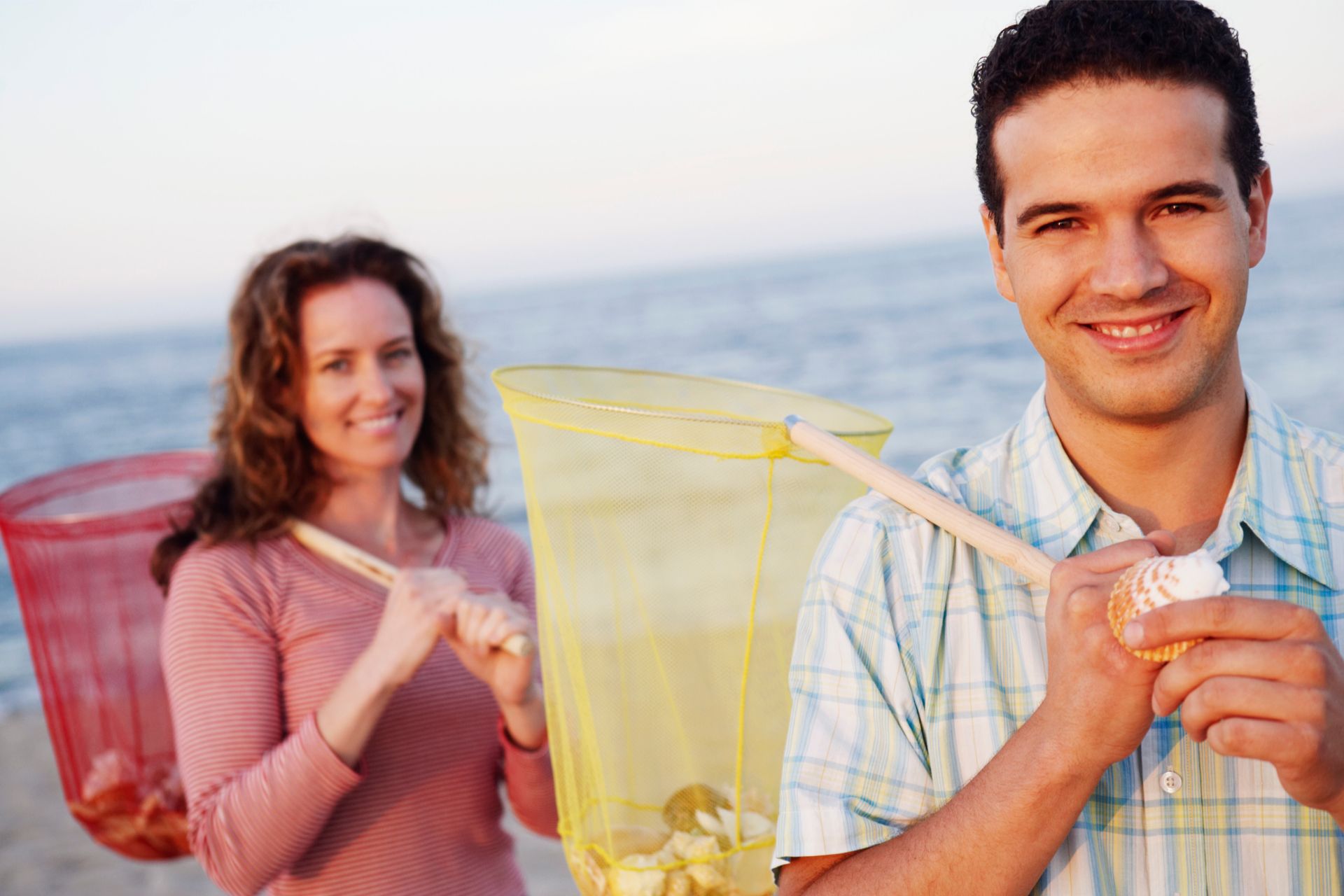 For a more tranquil and intimate beach date, go seashell collecting.
Stroll hand in hand along the shoreline, searching for beautiful shells and unique treasures the ocean has left behind. It's a simple activity that encourages you to appreciate the beauty of nature while sharing quiet moments and sweet discoveries with your partner.
Cheap Beach Date Ideas
These cheap beach date ideas prove that you don't need to break the bank to enjoy a memorable day by the sea. With a little creativity and some simple supplies, you can have a fantastic time while keeping your budget in check. So, head to the beach and savor these affordable and enjoyable beach date ideas with your loved one.
11. Beach Photo Booth
Create your own DIY beach photo booth with just a smartphone and some creativity.
Find a picturesque spot on the beach, set up your phone with a timer or use a tripod, and take candid or posed photos together. Experiment with different backgrounds and props like seashells, beach hats, or even beach towels for a fun and memorable photoshoot.
12. Cocktail Mixes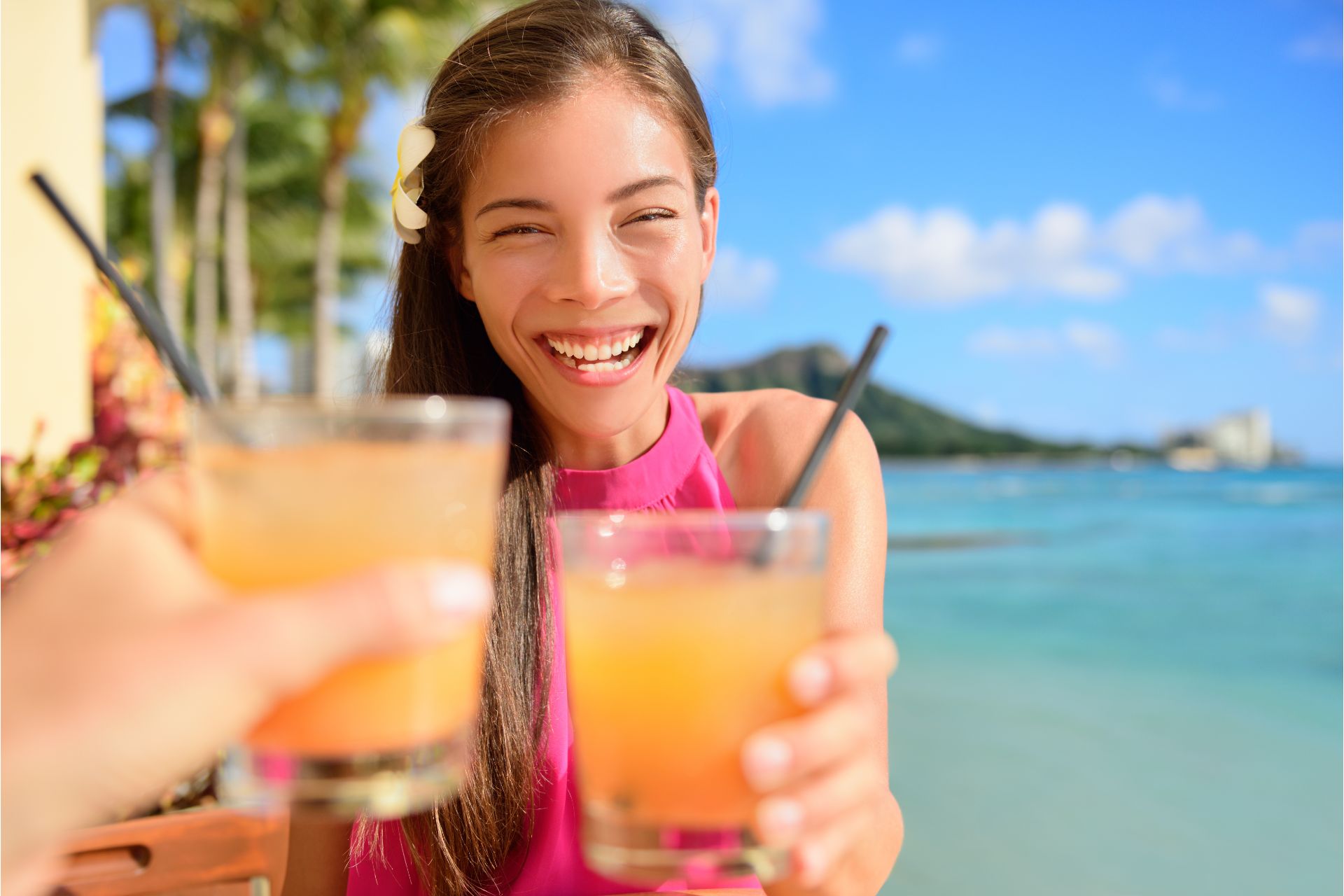 Instead of hitting up expensive beachfront bars, bring your own ingredients for cocktail mixing.
Pack some basic cocktail essentials, such as spirits, mixers, and garnishes, and create your signature beach cocktails right there on the sand. It's a fun way to bond over mixology while enjoying a budget-friendly beach date.
13. Beach Handball
Engage in a friendly game of beach handball with your partner. All you need is a beach ball, and you can set up a makeshift court in the sand. This energetic and low-cost activity offers plenty of laughs and a chance to showcase your teamwork and coordination.
14. Sunset Watching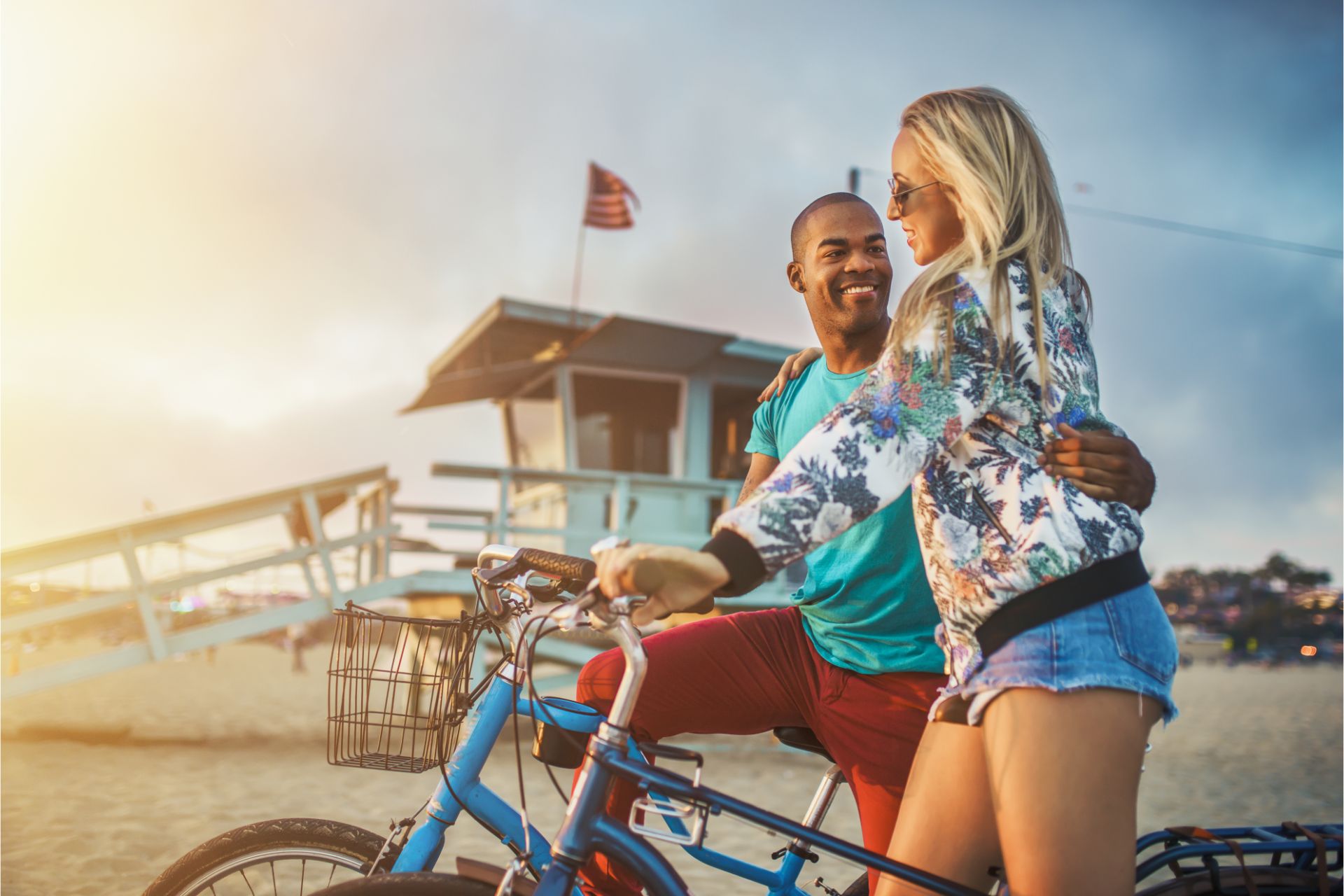 One of the simplest and most romantic beach date ideas is watching the sunset together.
Find a comfortable spot on the beach, bring a blanket, and enjoy the natural beauty as the sun dips below the horizon. It's a free and breathtaking experience that never fails to set a romantic mood.
15. Sandcastle Building
Tap into your inner architect and build elaborate sandcastles together. All you need is sand, water, and a few simple tools like buckets and shovels. Let your creativity flow as you design and construct your dream sandcastle. It's a fun and cost-effective way to bond and express your artistic side.
16. Beachcombing
Explore the shoreline hand in hand while beachcombing for seashells, driftwood, and other intriguing beach treasures. It's a calming and meditative activity that encourages conversation and connection as you search for unique finds. Plus, the best part is, these souvenirs are free!
Beach Date Night Ideas
These romantic beach date night ideas are perfect for creating an atmosphere of romance and connection. Whether you prefer a quiet, intimate evening or something more adventurous, the beach provides an enchanting backdrop for a memorable date night with your special someone.
17. Moonlit Beach Picnic
Turn an ordinary picnic into a magical experience by having it under the moonlight.
Spread out a cozy blanket, light some candles, and enjoy a romantic meal with the sound of the waves as your background music. It's a simple yet incredibly romantic way to spend the evening.
18. Stargazing On The Shore
Lay back on the sand with your partner and gaze up at the night sky. The beach, away from city lights, provides a perfect backdrop for stargazing. Bring along a telescope or simply enjoy identifying constellations and shooting stars. It's a tranquil and intimate date night activity.
19. Beachside Dinner
Many beachfront restaurants offer outdoor seating with a view of the ocean. Plan a special beachside dinner date where you can savor delicious cuisine while the waves gently lap at the shore. It's an elegant and sophisticated way to enjoy the beach ambiance.
20. Firepit And S'mores
If there's a firepit available, make good use of it. Roast marshmallows and create s'mores while cuddling up next to the crackling fire. The warmth of the fire and the sweetness of the treats make for a cozy and delightful beach date night.
21. Beachfront Movie Night
Set up your own outdoor movie night on the beach. This is also one of the best beach date ideas.
Bring a portable projector, a white sheet, and your favorite romantic movie. Snuggle up on a blanket, sip on some hot cocoa, and enjoy a private beachfront cinema experience with your loved one.
22. Evening Beach Walk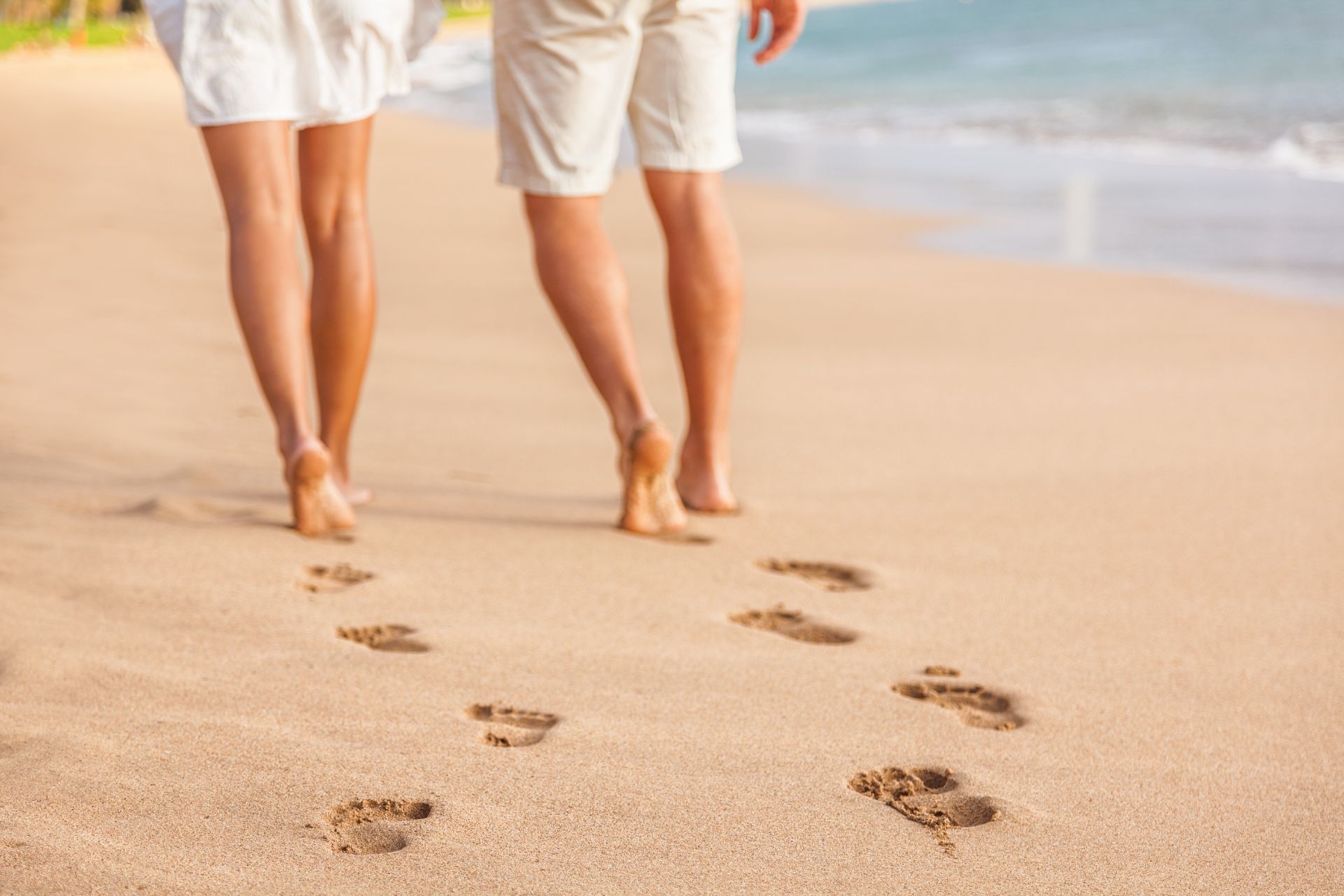 Take a leisurely stroll along the moonlit beach hand in hand. The tranquility of the night enhances the beauty of the ocean, making it a serene and romantic experience. Share your thoughts, dreams, and stories as you walk together, creating lasting memories.
Adventurous Beach Date Ideas
These adventurous beach date ideas are perfect for couples who love action and excitement. Whether you're soaring through the sky, exploring the underwater world, or simply camping on the beach, these activities will provide you with unforgettable experiences and opportunities to bond with your loved one.
23. Parasailing
Soar above the waves and enjoy breathtaking views of the coastline by going parasailing together. Strapped into a parachute, you'll be lifted high into the sky by a speedboat, creating an adrenaline-pumping adventure with your partner.
24. Jet Skiing
Experience the thrill of the open water with jet skiing. Rent a pair of jet skis and take off on an exhilarating ride along the coast. Feel the wind in your hair and the splash of seawater as you zip across the waves in tandem.
25. Snorkeling
Embark on an unforgettable couples' snorkeling adventure and discover the mesmerizing underwater world together.
Equip yourselves with snorkel gear and immerse into the vibrant marine life, marveling at the ocean's stunning beauty. It's an incredible opportunity to strengthen your bond while exploring the depths of the sea.
26. Kayaking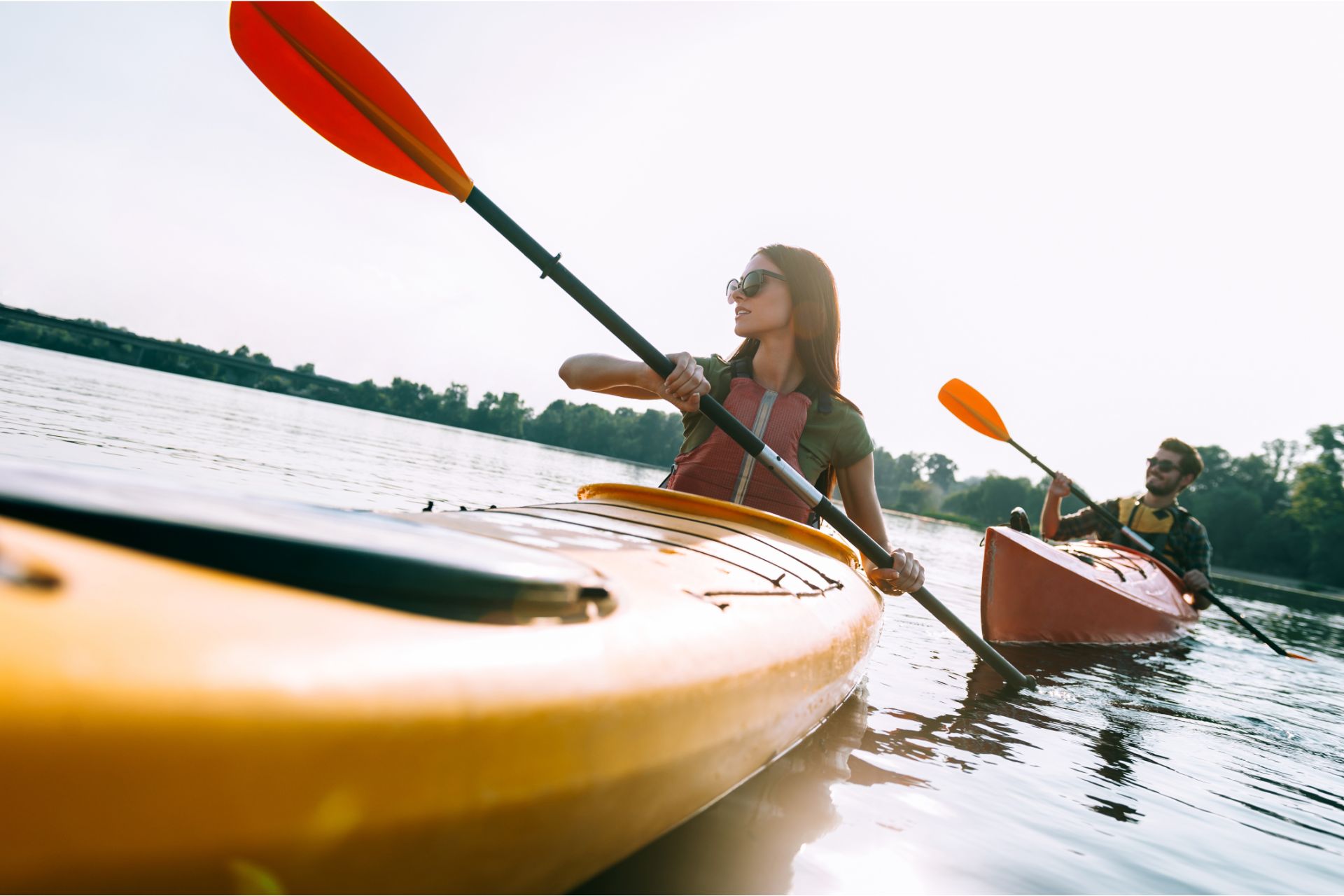 Paddle your way through the calm waters of the coast with a double kayak. Kayaking offers a fun and active date option, allowing you to work together as a team while enjoying the serenity of the sea.
27. Beachside Camping
Take your adventurous spirit to the next level with a beachside camping date. Set up a tent on the sand, build a bonfire, and spend the night under the stars. The sound of the waves will be your lullaby, and waking up to a sunrise over the ocean is an experience like no other.
28. Beach Horseback Riding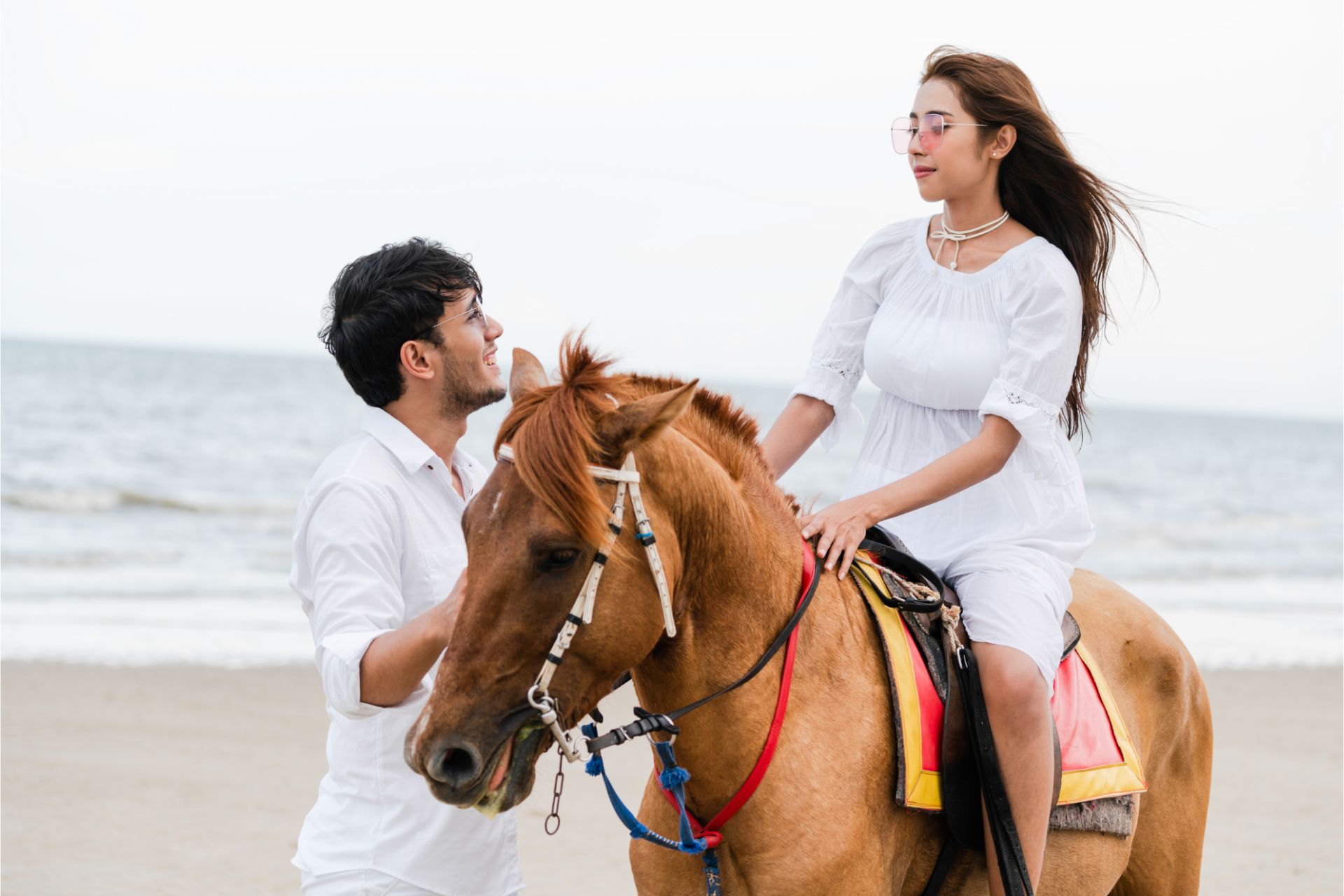 Enjoy the thrill of horseback riding on the beach. Many coastal areas offer guided horseback rides along the shoreline. It's a unique and exhilarating way to explore the beach and create memorable moments with your partner.
Final Words On Beach Date Ideas
To sum up, the beach is not just a place to relax and soak up the sun, it's a place where you can create unforgettable experiences and strengthen your relationship with your significant other.
Whether you're in the mood for a romantic evening under the stars or an adventurous day of water sports, the beach offers endless possibilities for a memorable date. From moonlit picnics to horseback rides by the shore, the beach provides the perfect setting for every type of date.
By the way, if you find this post on beach activities for couples helpful, please share them with your friends.
Pin this for later!